Prepare your home for independent living without a full remodel.
By emily.bailey
Wednesday, August 23, 2023
Whether you are interested in making accessibility updates to your home or the home of a loved one, these tips are a great starting place for making a home more comfortable and safer for the future.
For adults wanting to stay in their homes as they age, preparing the home for independent living now can make that goal more practical. Whether you are interested in making accessibility updates to your home or the home of a loved one, the tips below are a great starting place for making a home more comfortable and safer for the future.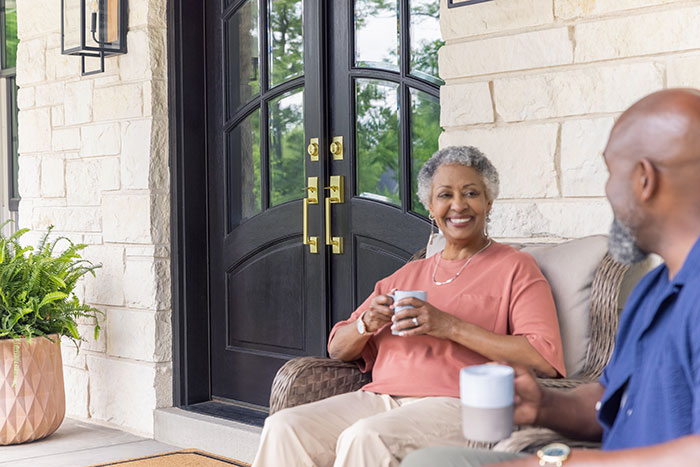 Have all living essentials on the main level
The most basic place to start is to have your bedroom, bathroom, kitchen, and laundry all on the main level of your home. This may mean moving your washer and drier up from the basement or converting a room on the main level into a bedroom. Eliminating the need to go up and down stairs for any of these essentials will help facilitate independent living for longer.
Update your bathroom for accessibility
Bathrooms are notoriously difficult to navigate and are one of the most common places in the home for a fall. A few changes to your bathroom can make it safer for independent living. Start by adding a handrail by your toilet, and if it is low to the ground, consider upgrading to a chair-height toilet that will be much easier for sitting down and standing up. Next, make changes to your bath or shower. The best option is to have a low or no threshold shower with a wide doorway and grab bars both at the entry/exit point and in the shower itself. Other helpful additions including swapping your shower head for a wand, adding non-slip pads in the shower and on any floor tile and placing a bench or teak stool in the shower.
Increase lighting
As our eyes age, additional lighting is a necessary help. Consider how you can increase both natural and electric light in your home. While it may be tempting to add lamps in every corner, it is also important to think about reducing cords that could pose a trip risk and making lighting easier to access. For example, updating window treatments to a remote-control option can make it easier to welcome natural light during the day and changing to smart light bulbs or switches makes turning the lights on or off as easy as a simple voice command to your smart home hub.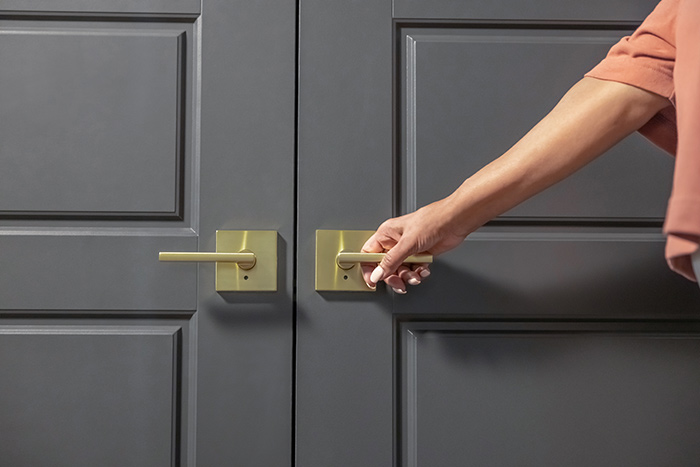 Swap doorknobs for levers
For those with arthritic hands or who have trouble gripping things, levers are much easier to operate than doorknobs. Fortunately, there are many stylish and secure options when it comes to door handles and levers – this is one change that can make your home more beautiful and functional for independent living!
While you're at it, consider ease of use for other home hardware as well. Appliance pulls, cabinet hardware, and faucets are all simple to switch for a more ergonomic option.
Widen doorways and slope transitions
While this is a more extensive project, widening your doorways makes it easier to move throughout your home and may be necessary if you need a walker or wheelchair. Wider doorways also enable medical equipment or emergency personnel to come and go more easily. A Certified Aging-in-Place Specialist (CAPS) is the perfect resource for navigating these modifications.
As you evaluate your doorways, it's also a good idea to measure transitions between different types of flooring to make your home more accessible. Any transitions that are taller than a quarter inch should be changed to a sloped transition to prevent any trip hazards.
Add handrails
While it may seem excessive now, installing a handrail by all steps throughout your home will make independent living easier. Don't forget exterior steps to make your outdoor space more accessible as well – this will help you enjoy your outdoor living spaces well into the future.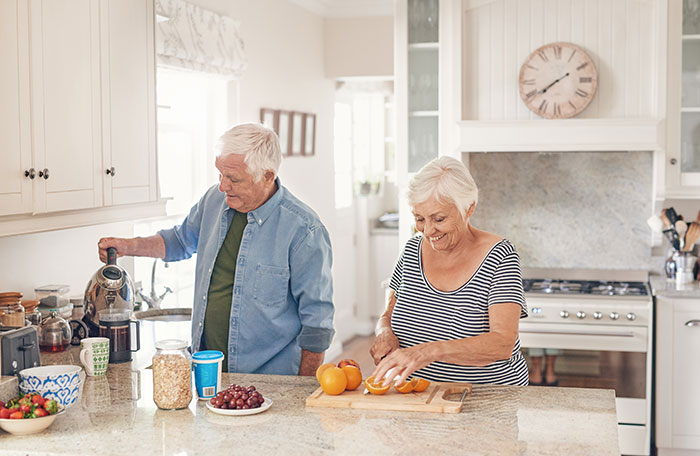 Raise furniture and appliance heights
Any furniture that is low to the ground or difficult to get in and out of should be replaced with a taller option. Additionally, placing appliances like washers and driers or the dishwasher on risers will make everyday tasks easier and safer. If you love to cook and bake, consider installing a wall oven at a height that will be convenient for years to come. For areas in the kitchen that may be difficult to get to, like bottom kitchen cabinets, install pull-out shelving units to minimize hassle.
While you are in the process of raising furniture and appliances, make sure you have at least a few outlets in each room that are at an easily accessible height.
Smart home technology for aging in place
Integrating smart home technology into your daily life can ease some of the challenges you may face as you age. From high-tech options like a fall detection robot to simple solutions like motion activated lighting, there are smart home solutions for almost every need. One top recommendation is to set up a voice assistant like Google Home or Amazon Alexa throughout your home – they can help simplify your daily routines and make it easier to immediately call for help in the case of an emergency.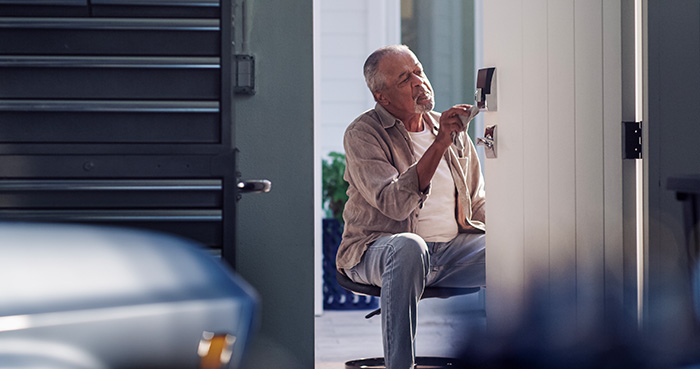 Install smart locks
One of the best smart home technologies to make independent living simpler and safer is to install smart locks, particularly on exterior doors. Smart locks give you better control of who has access to your home and when; by granting unique access codes to trusted family, friends and caregivers, you can maintain independence and improve home security. To be thoroughly prepared for an emergency, you may even choose to have an access code on file with your local 911 dispatch center so that emergency personnel can quickly access your home if needed.
Through the Schlage Home app, you can check the status of your lock, lock and unlock your door, and see real-time activity logs. While this is certainly helpful for you, it may also be a smart idea to consider giving app access to your loved ones so that they can detect any changes in your activity. Schlage smart locks are also compatible with top voice assistants, so controlling your lock is as easy as "Hey Google, lock the front door." With all of these features, smart locks for aging in place can give both you and your loved ones peace of mind.
Use our get help deciding tool to pick out a smart lock that will simplify home access and security to help you enjoy independent living well into the future. For more home updates for aging in place, check out the ADA accessibility checklist and follow the Schlage blog for more independent living ideas.