Guide to dutch doors on a budget.
By emily.bailey
If you want to add a dutch door to your home while keeping your project on budget, we can help you achieve the look for less!
It's no surprise that dutch doors are a popular design choice for traditional and modern styles alike. Dating back to the 17th century, these doors are certainly not new but homeowners that value casual style are embracing this trend all over again. They offer a charming way to add a little more character to your home while maintaining utility and providing lots of value. If you want to add a dutch door to your home while keeping your project on budget, we can help you achieve the look for less! Before we get to our favorite dutch door DIYs, let's learn a little more about dutch doors themselves.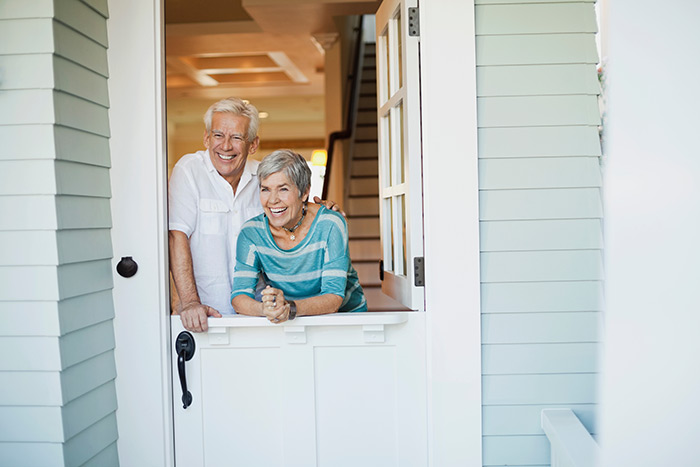 What is a dutch door?
Dutch doors are essentially a single door that is split in the middle to allow the top half to open while the bottom half remains shut. They are secured together with a latch that allows homeowners to keep the door as one when needed. They typically feature a standard door knob or lever on the bottom half and can house a deadbolt on the top half when used as an exterior door when more security is needed.
What is the purpose of dutch doors?
Now that dutch doors have made a comeback, you'll spot them replacing ordinary doors everywhere. From front doors to garden sheds and even inside homes, dutch doors can provide many benefits no matter what space you choose to put them in.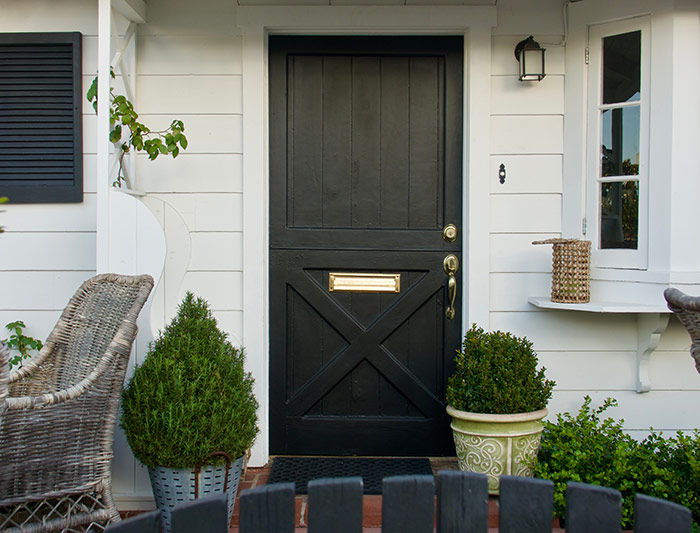 Character and Style
With their distinctive design and timeless appeal, dutch doors can instantly elevate the aesthetic of any home. Whether you have a traditional or modern style, they add the perfect touch of character and personality to set your space apart. It is a small detail that leaves a lasting impression on anyone who enters your home.
Let in fresh air
One of the major benefits of dutch doors is the ability to let fresh air into your home while keeping pets and children safely inside. By opening the top half of the door, you can enjoy a gentle breeze without compromising security or risking any unwanted critters sneaking into your home.
Enhanced interaction
Whether you are chatting with your neighbors, receiving packages, or wanting to keep an eye on the kids playing outside, the divided opening allows for seamless conversations and improved communication. It is the perfect way to create a welcoming atmosphere and foster communication with those outside your home.
Customizable for your needs
Dutch doors can be easily customized to suit your individual preferences. If you value added privacy, you can opt for dutch doors with windowpanes or a solid top half. They can also serve various purposes, such as keeping pets safely contained or replacing unsightly baby gates. With dutch doors, you have the flexibility to personalize your space while maintaining functionality and style.
How to DIY a dutch door
Taking an existing interior door and adding a little DIY sweat and skill is a great way to save several hundred dollars. HGTV put together a thorough tutorial for this interior upgrade to help you get the look and functionality for way less. Below are a few more of our favorite dutch door projects to inspire you.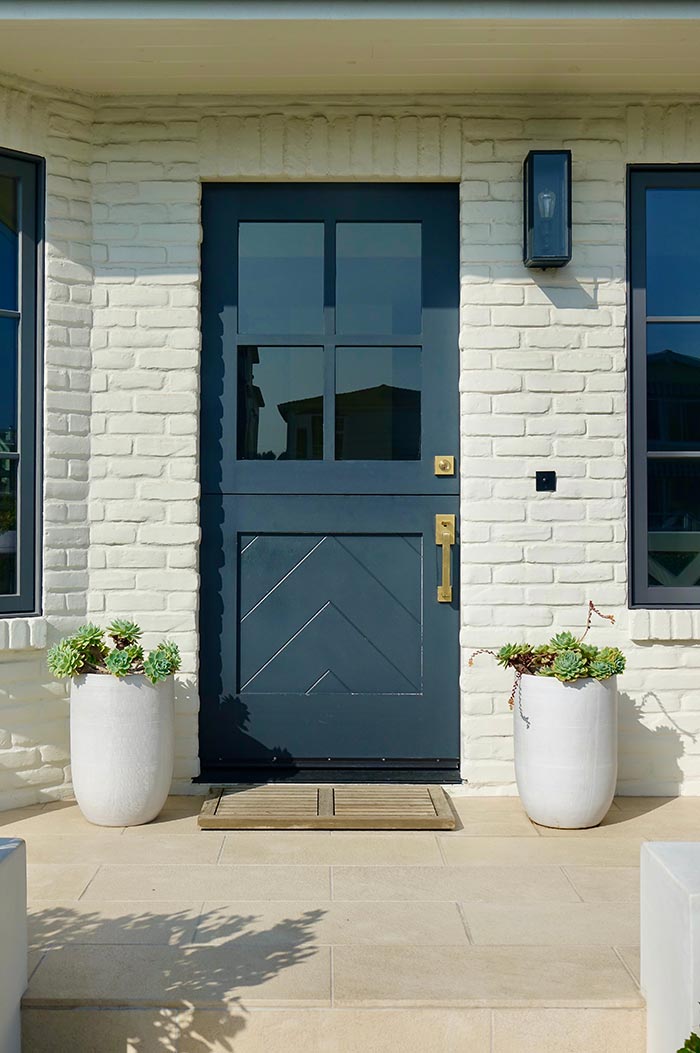 Exterior dutch door
Just like with interior doors, you can take an existing front door and give it new life as a dutch door. Would you believe this project from This Old House only cost $63 to complete?! By adding a few details where the door is halved, you can keep this project from looking like you just...you know...sliced a door in half.
Juniper Home turned a standard door into a beautiful backyard feature. It's as stunning from the kitchen inside as it is from the patio outside. We're probably a bit biased, but those Schlage® Siena door knobs really help complete the look, too.
Split doors for sheds
A gardening shed, backyard office or other ADU could be the perfect place for you to install a dutch door. Because these sheds often don't have A/C, natural air flow is important. Nitty Gritty Dirt Man now has somewhere he can store his tools and work in comfort.
When Twelve on Main built their own greenhouse, they included a dutch door for the same reasons.
Dutch…or French?...doors
If one is nice, two must be even better, right? Double dutch doors make a striking entrance. With these examples from Rasmusen Painting and Design and Houzz, you can easily see how a pair of dutch doors works for different styles of homes, from modern farmhouse to coastal cool.
DIY dutch barn door
Feeling like putting your carpentry skills to use? Check out this DIY from Remodelaholic and get all the steps you need to create your own rustic, dutch barn door.
Dutch doors with details
Don't forget the charming shelf on the lower half of your dutch door. Get all the tips and tricks from Skaie of HomeJelly. If this is a project you'd rather not DIY, she has wonderful advice for working with a professional (and still saving a little dough!).
Shelves are traditional for half doors, but there's no reason you should stop there. Add windows or frosted glass, faux paneling or shiplap. Nearly any of these budget-friendly ideas for a hollow core door upgrade would work, especially on an interior dutch door. And if you have an arch-topped door? Embrace the architectural detail and highlight it with a round dutch door like we see in this example from Southern Studio.
Screens with style
If the fear of bugs and other unwanted pests are keeping you from your dutch door dreams, consider adding a retractable screen. They are often secured by magnets and can retract from top to bottom or side-to-side for taller doors. When not in use, they are inconspicuous enough to not detract from the look of your dutch door, unlike most bulky screen doors.
This next one might not be the kind of screen you were expecting, but if you're a pet owner, you know it's a great dutch door design idea. Try installing a screen on the bottom half of your door like Rustica . That way, dogs can still see you through the pet screen even if you've had to put them in a mudroom or other area while you're busy. Now you can make dinner without your pup getting underfoot or stressing out because you aren't together.
Creative paint jobs
Don't be afraid to get a little creative with your paint choice for your dutch doors. Consider painting the exterior a different color to add an interesting pop when the door swings inward like we see in this example from House Beautiful. This can be a great way to create a cohesive look between two spaces as you consider a shade that complements both.
Dutch door locks
The split nature of the door is usually the main attraction when you decide to make your own dutch door. Even though you can open the top to let in the light and breeze, you still need to be able to secure your home. Choosing the right door hardware for your dutch door is vital. In Home Depot's DIY dutch door tutorial, they installed the Schlage Encode™ Smart WiFi Deadbolt (and then apparently had pie). What's not to love!
Just as you would with any door hardware, choose a style and finish that perfectly complements the rest of the home. Dutch doors might trend on the traditional side of architecture, but hardware is an easy way to give it a more modern update like we see with this bold yellow door and dark handleset.
There are so many great reasons to consider dutch doors for your home. Find everything you need for these DIY projects and more at the Schlage blog and Pinterest.