WFH in your backyard with the perfect tiny office.
By emily.bailey
You don't need us to tell you that a lot of things, including how we work, changed during the coronavirus pandemic. With more people facing the reality that working from home could become permanent, now might be the right time to jump on the auxiliary dwelling unit (ADU) trend. Here's what you need to know – plus some Instagram inspiration – for your backyard tiny office.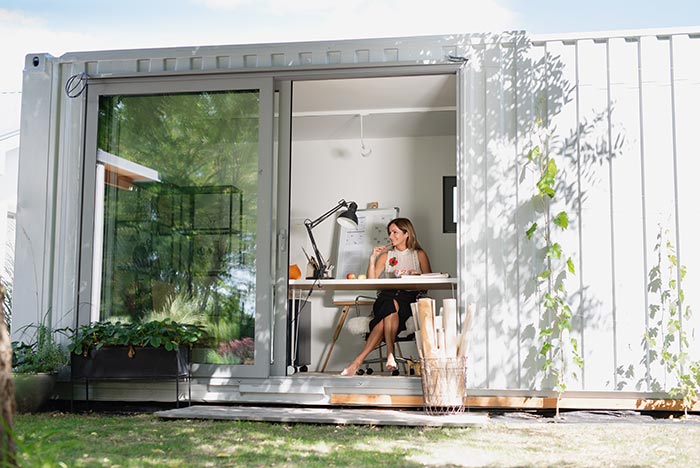 Take advantage of backyard offices
Privacy became a hot commodity in the time of COVID. What are the other advantages of a backyard office?


Eliminate distractions: Whether it's the kids asking for snacks (again), someone else on another video call or that pile of laundry staring you down, getting out of the house to a dedicated work space can improve focus and productivity.


Improve relationships: Many have found that when they aren't constantly crowding each other, their relationships are less strained. An ADU can provide important physical distance and alone time. Because there is a such thing as too much quality time.


Find balance: The change in scenery can help you make the mental break from the workday and shift your mindset so you're fully present for your family. In the absence of a commute, that short walk can do wonders to start reclaiming some work-life balance.


Get outside:

Working remotely outdoors

offers a range of potential health benefits such as lower blood pressure and anxiety, better creativity and problem solving, and more vitamin D from natural sunlight. Throw open the windows or include a small patio in your backyard office plans.
Plan before you build
Now you're sold on a backyard office. What do you need to make it a reality?
New construction vs. conversion: Will you convert an existing garage or shed? Or will you take advantage of the growing number of companies and specialty contractors to build something brand new?


Professional help: It's possible to build some of these structures yourself, especially if you're converting a garage.

You may still need a pro

for some projects, though, such as when installing electricity.


Local regulations: Follow your city's zoning and permit laws. If they allow building a new structure, there may be regulations about size, proximity to the main house, whether it needs its own address and more.


Long-term opportunities: Will you use this ADU for something else – a yoga studio/home gym, in-law suite or rental property, for example – when you no longer need it as an office? Plan with the long-term future in mind so you can include features like plumbing you don't need now but might want later.
Mix in multipurpose furniture
Just as if you were designing a small space in your primary residence, you want to choose multipurpose furniture for your office ADU.
Light hacks: A stylish mirror can make the space feel larger and reflect more light, which might be especially important if you're converting a garage with smaller windows.


Storage: Storage that rolls out of the way when you don't need it makes the space more flexible and convenient. A bench seat can be a comfortable place to read through documents or take a coffee break. With shelving underneath or storage inside, you have a flexible piece that's functional and stylish.


Wall hangings: Hooks can also be surprisingly multipurpose. Not only are they ideal for that spare cozy sweater, but you can also use them to hang baskets for office supplies and other odds and ends. Use them to easily hang artwork and beautify your workspace. You can attach your hooks directly to the wall or on a peg board for even more design flexibility.
Be energy efficient
Because of its smaller size, it shouldn't be too difficult to keep your office ADU energy efficient.
Materials: Even with a smaller footprint, you still need to choose your materials wisely. A smaller A/C unit that doesn't drain tons of energy from the grid will still be a letdown if you don't have good insulation or if the

windows and doors let it drafts

.


Soundproofing: Many of the things you do for energy efficiency, like insulation and quality windows, can also help with soundproofing. This could be especially important if you need to block out road noise or barking neighborhood dogs.
Remember power and internet
Electricity might not be at the top of your priority list for a meditation space, but it certainly is for an office.
Plenty of power: Your new workspace will quickly lose its charm if you have to run back to the house every few hours to recharge your laptop. Remember enough outlets not only for your computer and phone, but also for anything that else – a coffeemaker, smart speaker – that makes the space more comfortable.


Strong WiFi: You could run an internet line directly to your backyard office or, depending on how close it is to the house, invest in a WiFi extender to provide a connection that reaches your private workspace.


Think ahead: Remember your future plans. If you hope to turn your ADU into a rental property, for example, make sure that whatever electricals you add have the juice to safely run appliances like a mini fridge.
Stay secure
You need to protect your computer and other devices in your new home office. You might even have confidential documents to keep under lock and key.
High-quality locks: Your office ADU is a great place to try a

Schlage smart lock or electronic deadbolt

. Not only are they among the most secure locks available for residential homes, but they have the added convenience of you not needing to carry a key. What better way to start your work day than to walk out to the yard with your cup of coffee, punch in your unique access code and immediately get down to business?

Plus, when you choose a connected smart lock like the

Schlage Encode™ Smart WiFi Deadbolt

, you can control your lock remotely through a compatible app. That means you can check that your office is locked, even if you're already in bed. And if you did forget, simply lock the door through the app, no need to wander out in the dark and rain. You can also receive notifications if there's a disturbance at the door, giving you even greater peace of mind that everything is as it should be.


Motion sensors: Motion-activated lights on the outside of your ADU or a camera that records when it senses activity can also add to your security. You might choose a camera or security system that connects to your WiFi or mesh network so that you can receive videos and other notifications on your phone, no matter where you are.


Reinforced windows: Similar to

securing a door with windows

, consider using reinforced glass or a security film to existing windows. A film can make it especially hard for intruders to shatter the glass and gain entry.
These tips cover the essentials. But once the must-haves are under control, think about your home office décor. A beautiful space that's comfortable and welcoming will make going "into the office" that much more enjoyable. Find more tips and inspiration for your WFH space at the Schlage blog.