Ready to nest? Ideas to help you find your nursery décor style.
By emily.bailey
You're expecting! If you and your partner can't decide on the décor, try these nursery design ideas.
You're expecting! You can't wait to get all those adorable little clothes, fun toys and, most importantly, decorate the nursery. If you haven't been dreaming about it already, or if you and your partner can't decide on the décor, try these nursery design ideas.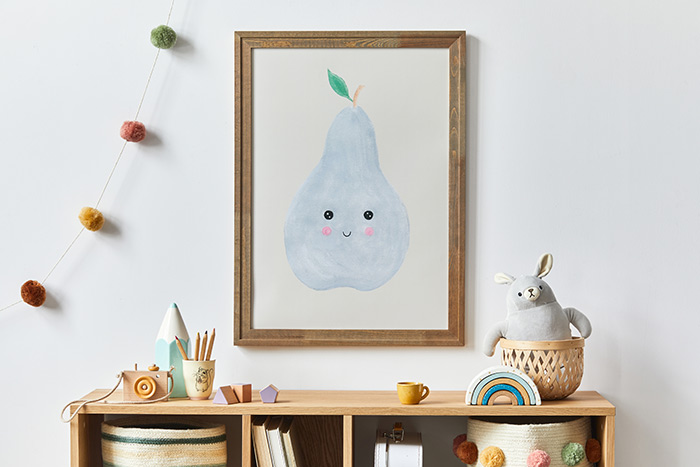 Gender neutral nursery ideas

If designing a gender-neutral nursery is important to you, check these out for inspiration. Looking at popular posts on Instagram, we found you're most often to come across paint schemes in green and yellow. You'll notice in these nurseries from @homestyle_at_7 and @justsimplyjessica that although the greens are dramatically different – a dark almost hunter green in one and a softer dusty shade in the other – they're still completely adorable.
In addition to gender-neutral colors, many of these nurseries focus on nature and animal themes to complete their look. What kid wouldn't love to be surrounded by their favorite plants and animals?
Traditional nursery ideas
Traditional nurseries are the perfect choice if the rest of your home's architectural style can be best described as "charming and full of character." They're also ideal if you have family heirlooms you plan to use in your nursery décor, such as an old crib or classic quilt handed down from your grandmother.
We noticed a lot of wallpaper in our research, particularly in traditional baby rooms. There's no need to cover every inch off wall space, but an accent wall with a classic print is a great focal point to help pull the rest of your furniture and accessories together.
Mid-Century Modern nursery ideas
It's not too hard to create a Mid-Century Modern look in the nursery. These moms- and dads-to-be took their inspiration from the 1950s and focused on colors and classic furniture to stay true to the style. One of the upsides of a Mid-Century Modern baby room is that it can be cute without seeming too childish. Try this look if you're looking for a new level of sophistication.
The slim legs on the cribs and dressers are classic Mid-Century Modern style as are the darker wood finishes. The goldenrod walls and dark green crib in the @morgancaddellphoto nursery are also key characteristics of Mid-Century Modern.

A comfy chair is a must-have for a nursery. Just think of all the time you'll spend rocking and feeding Baby at all hours of the day and night. Few furniture pieces scream Mid-Century Modern than the classic Eames chair, although they're more commonly seen in studies and living rooms. Fortunately, though, @theohheygirls shows that it can also fit beautifully in the nursery.
While very different from the Eames chair, the curved back and arms of this rocker help keep it true to the era. We also love @lovelyladythings' choice of turquoise blue for this room.
Coastal-themed nursery ideas
Whether you live seaside or just wish you did, a coastal-themed nursery is another great way to combine kid-friendly whimsy with a touch of grown-up style. Opt for natural materials like sisal, distressed-looking woods – think driftwood-inspired finishes – and colors in the blue and green family.
While a highlight of @jensgatheringnest's nursery is that woven jute rug, remember to use similar natural materials for accessories like baskets. They'll help you keep your home organized with a newborn in the house, and when Baby gets more mobile, the soft-sided storage will be less of hazard if they trip and fall into it.
Wall art can also really bring home the nautical theme. We're not sure which we love more, the simple waves in @tsecalligraphy's nursery or the sailboat wallpaper in @oh.eight.oh.nine's.
Boho modern nursery ideas
Bohemian modern style, with its focus on natural materials, artisanal accessories and slightly funky aesthetic has been a popular home trend for some time now. It's no surprise then, that we see it quite often in Baby's room, too.
If you're looking for that one-of-a-kind crib, look no further than @arrowsandbow. The entire bed looks to be made of materials like jute and bamboo, woven and latched together in a simple yet decorative style.
There are so many highlights in this @meganmolten nursery that capture a clean, Boho feel. Light woods and fabrics, not to mention the fringed light fixture are beautiful details. Plus, those oatmeal-colored linen and cotton shades not only look gorgeous but because they're also cordless are a great way to childproof your home and help prevent choking hazards.
Best colors for nurseries
The sky's the limit when it comes to the colors you choose for your nursery. While looking at popular nurseries on Instagram, we saw a full rainbow, from the super colorful, like these from @jens_den09 and @quirkybubba, to monochromatic.
Despite being just black and white, this nursery seen on @houseofrounds is anything but boring. The different prints on the curtains, bedding, rug and throw blankets add for visual interest in an otherwise neutral color scheme.
If you're looking for some middle ground between ultra-colorful and monochromatic, take a page from @thejessstyle. The varying shades of blue give the room some extra life despite it actually being just two colors.
A final note on color. One combination that continued to pop up in our research was pink and gray. Some leaned toward the neutral and simple, like the predominantly gray nursery shown by @cheriekayhome, while others embraced the glam and frilliness that might be perfect for the little princess in your life.
Outfitting your new little one's nursery is perhaps one of the most exciting parts of nesting. Once you know what look your hoping to create, see which DIY projects for growing families can help you pull it off. And don't forget to add some of those important nursery items to your baby gift registry. Find inspiration, how-to's and more on the Schlage blog.