15 storage ideas to stay organized when you have a new baby.
By emily.bailey
These 15 storage and organization hacks for new parents are just what you need to stay organized.
When you bring a new baby home, it can be easy to feel overwhelmed. But if you plan ahead with proper storage and organization, it can help you adjust to your new routines more easily. These 15 storage and organization hacks for new parents are just what you need, whether you're trying to keep the home clutter-free or your mind focused.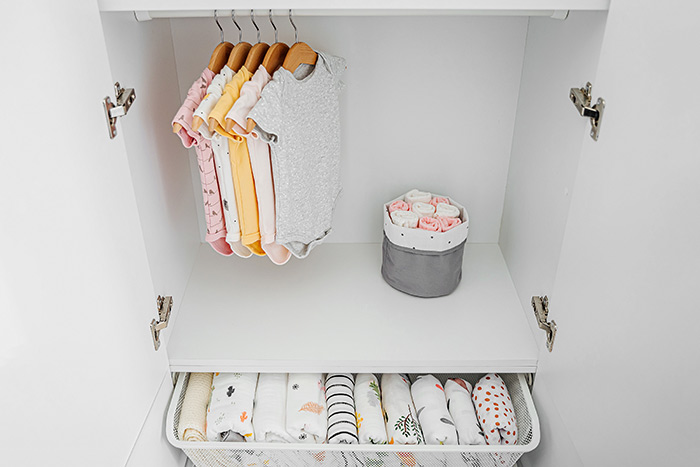 1. Choose soft storage
When Baby starts to get more mobile, you'll want to limit the number of places they can bonk their heads. Instead of a hard bin for storage, looks for soft-sided baskets, such as those made of cloth or seagrass.
2. Choose self-serve storage
As Baby becomes Toddler and eventually Kiddo, they'll start being more independent. Choose low toy bins and hang shelves at kid height. Not only will they be able to get what they need without bugging you every 30 seconds, but they'll also be able to clean up after themselves better (theoretically).
3. Make a pegboard wall
We see this DIY hack for craft rooms and garage workspaces all the time. It's also great for Baby. Two of the things we love most about this – besides storage, of course – is that it's customizable and versatile. Paint it to match the color scheme of your nursery, no matter how traditional or out there it might be. Also, as Baby's needs change, you can easily change the configuration to work better for you.
4. Use a dresser as a changing table
This is a great way to upcycle a piece of furniture you already have or get cheap at a secondhand shop. Not only will you have someplace to change Baby's diapers and get them dressed, but with the dresser drawers, you have plenty of room to store anything you might need – extra diapers, wipes, towels and blankets, spare footie pajamas, you name it.
5. Use all the space
Whether it's in the nursery, the laundry room or anywhere else in your home, take advantage of every nook and cranny for storage. That includes the walls, up near the ceiling and below other furniture. Put a skirt on the crib and then slide under-the-bed storage trays down below. Hang a tension rod near the laundry room's ceiling for instant and out-of-the-way drying space.

Use a hanging shoe rack inside a closet door to hold all those tiny clothes and toys. You could also use one inside the pantry to stash tiny bottle parts and other food-related accessories. Floating shelves are another great way to use wall space for storage, whether it's for books, linens or all those wipes and baby powders near the changing table.
6. Seriously, use ALL the space
If you're hanging coats and dresses in a closet, you're probably using all the space, top to bottom. But with tiny baby clothes, there's a lot of wasted real estate in a typical closet. To maximize the storage opportunities in your nursery, try one of these ideas. Hang a closet organizer for instant (and temporary) shelving. Install a tension rod about waste height to have multiple racks for hangers. Put a small dresser inside the closet. Or really customize it with built-in shelving.
7. Divide your drawers
Just as closets are designed for adult-sized belongings, most drawers are designed for larger clothes. If you want to keep Baby's dresser organized, use drawer dividers. The smaller compartments will help you keep track of tiny socks, those adorable little onesies and other pint-sized accessories that are always rolling to the back where you can't find them.
8. Turn a bookshelf into a storage bench
If you dream of cradling Baby bathed in natural light, flip a sturdy shelf like the IKEA Kallax and turn it into a window seat with storage nooks below. You'll love the multifunctionality of this piece for stowing away toys, linens or anything else you need handy but want underfoot.
9. Prepare to do loads and loads of laundry
The amount of wash you have – little clothes, blankets, bibs, burp cloths, towels of all sizes, cloth diapers – is about to expand exponentially. Having an organized laundry room will help ease the burden. Quality hampers, maybe on wheels, are a must. A DIY over-the-washer counter is a great worktop for folding and sorting so you aren't dragging clothes and clutter all over the house.

And don't forget storage. A cabinet that you can shut securely is important for keeping Baby away from detergents and other potentially harmful items. Choose something that's compact and serves multiple functions like this one, which also has a fold-down ironing board and hooks. Take advantage of the slim space between appliances with skinny rolling storage.
10. Think outside the box
Sometimes the best storage solutions are right under your nose. Lots of families have hung towel holders beneath shelves. This gives you another place to line-dry those little clothes as they come out of the wash. You can also hang baskets from hooks on the towel racks to store any number of things. This keeps them within reach without taking up counter space. Try this in the nursery, laundry room, bathroom and kitchen.
11. Amp up the kitchen storage
Babies come with all kinds of do-dads, especially when it comes to feeding them. Try bins to help corral all those bottles, pump parts and accessories. If you're going to keep them in the cabinet, they don't have to be fancy, just functional. On the other hand, if you think you'll end up storing them on the countertop, look for a solution that you also find attractive.

HGTV star Mina Starsiak Hawk took this into consideration when designing a forever home. "I know babies have all the gadgets and the bottle warmers," she told TV Insider. "So when I did my kitchen layout, I had a cabinet that literally sits right on top of the counter and has outlets inside of it. So, you can leave things plugged in and close the cabinet, so your counter doesn't look cluttered."
12. Remember attic storage
This is where you're going to put everything you don't need on hand right away. Whether it's clothes that are too big right now, toys they've outgrown and you're holding onto for Baby #2 or items with sentimental meaning, have a plan for storing them safely. Try airtight and waterproof containers to protect them from bugs, moisture and other damaging pests.
13. Organize your schedule
Baby brain is real, and it doesn't go away right after you give birth. Try using a family command center to keep track of everyone's schedules and manage your sanity. This is also helpful if you have friends and family stopping by to help you get settled. Leave them instructions, give them a place to drop the mail they picked up for you and more, and keep it all in one place.
14. Get a dry erase board...or at least a marker
Like the family command center, this is all about leaving and keeping track of important messages. Apartment Therapy suggested using a dry erase marker to leave laundry instructions on the washer door, right where helpful hands can see it. Especially if you feel like the grown-ups are merely ships passing in the night or your sleepy brain is feeling forgetful, a dry erase board can help you get organized.
15. Make portable storage easy
There are two ways to look at this. First, put your in-home storage on wheels or choose bins and baskets with handles. This will make it easier to move items from room to room or to scooch them around for cleaning. Common suggestions include using a Raskog cart from IKEA as a mobile diaper station, cloth totes for toys and, like we said earlier, clothes hampers on wheels.

Second, think about organization that you can take with you when you leave the house. This could be your diaper bag, a car seat organizer or stroller storage. For your diaper bag, choose one with compartments or get a bag organizer, and take inventory regularly. Replace any supplies right away so you're ready to go at a moment's notice. You don't want to be away from home when you realize you don't have extra diapers.