11 home remodeling projects you can do without a professional.
By emily.bailey
Thursday, August 27, 2020
If you'd like to spruce up the look of your home but don't have the time or money to hire someone else, try one of these 11 home remodeling (or re-decorating) projects to make a big impact in one weekend.
Taking on a remodeling project can be a huge expense when you have to rely on professionals to get the job done. If you'd like to spruce up the look of your home but don't have the time or money to hire someone else, try one of these 11 home remodeling (or re-decorating) projects to make a big impact in one weekend.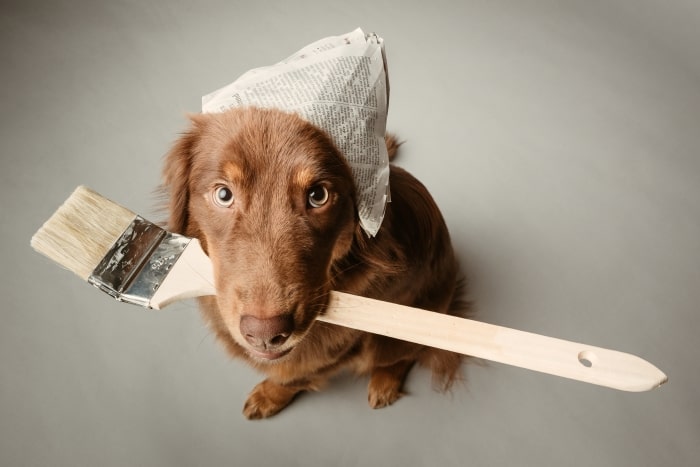 1. Fresh paint
Your walls take a lot of abuse, resulting in chips and scratches, but a fresh coat of paint can help reverse that wear and tear. If you're not interested in painting a whole room, try adding a new coat to your trim instead for a polished look. Or try painting an accent wall. Get inspired by PPG Paint's 2020 Color of the Year, Chinese Porcelain, or Behr's earthy 2020 Color Trends Palette.
2. Backsplash
Adding a backsplash above your kitchen counters is an easy way to add an impressive touch to your kitchen. With a steady hand and well-planned pattern, installation can be done by even the newest DIYer. Here's a great backsplash tutorial from Houzz to help you get started. It doesn't have to be traditional tile, either. Try beadboard, tin ceiling tiles or stainless steel.
3. Faucets and showerheads
Bathrooms are often where inspiration goes to die. What can you do with a room full of hard-to-paint tile and susceptible to dampness? Switch up your look by replacing the showerhead and faucets with something more suitable to your tastes.
4. Lighting
Replacing an existing light fixture with something more modern is definitely a project you can complete on your own. Just be sure to carefully read all the manufacturer's instructions and turn the power completely off. If you're looking to move a light fixture from one area to another and you aren't an experienced electrician, this would be the time to call in a professional.
5. Cabinet hardware
There's no reason to completely replace a perfectly good set of cabinets. Save some time and money by swapping the outdated knobs and drawer pulls with a design that better reflects your personal style. This is also a prime opportunity to create a cohesive look throughout the home, matching your light fixtures, cabinet hardware and door hardware style and finish.
7. Stair runner
If your stairs are slippery or you just want to add some color, try a DIY stair runner. This Old House's tutorial results in a look that's both gorgeous and budget-friendly.
8. Furniture shift
You don't have to be the handy type or break out the tools to rearrange your existing furniture. Refresh your look, make the room feel more open or find a unique use for a statement piece of furniture just by shifting things around. You can also try trading furniture between rooms. Maybe the dining room's sideboard would make a nice touch in the foyer instead.
9. Window treatments
Curtains, blinds or shutters? Any of these can really transform a room. Choose breezy curtains to soften a room's overall décor or blackout curtains for a sleep-inducing bedroom. We love these top-down blinds for combining light and privacy, especially in bathrooms. And interior shutters add architectural detail. Window treatments are a double-win too when they deter prying eyes and improve your home's security.
10. Flooring repair and carpet cleaning
Whether you have hardwood, tile or carpet, your floors have likely endured a lot of traffic through the years, leaving behind scratches and stains. There are plenty of tutorials that will teach you easy ways to remove scratches from hardwood and refresh your grout. If you have carpet that needs a deep clean, it may be worth calling in the pros to handle this one. But if you just need to focus on a few areas, save some money by renting a carpet cleaner, available from most hardware stores for not much money.
11. Curb appeal
Upgrading your curb appeal doesn't have to entail a total exterior renovation. Paint your front door and pair it with a new handleset to create a welcoming exterior. Finish the look with a new wreath, freshly potted flowers or inviting patio furniture and you'll be catching your neighbors' attention in no time.
What if I need a pro?
Like we said before, some jobs, like electrical work, are best left to the professionals. What if need a pro but are worried about letting strangers into your home during the coronavirus pandemic? Here are six questions you might ask before hiring someone for the job.
Will the technician or service provider be wearing a mask? Will they wear gloves?


Am I expected to wear a mask and/or gloves?


Do I need to be home while the work is being done? If you don't need to be present, this could help limit exposure to germs. You might consider providing the technician with a smart lock code for contactless access if you trust the company you're hiring.


Can I sign contracts and other documents digitally to avoid exchanging papers and pens that might be contaminated? For the same reason, can I pay and tip the worker by phone?


Do you screen your employees daily for temperatures and other COVID symptoms?


Do you clean tools and other materials regularly? This may be particularly important for any item they bring into your home.