How to choose a front door paint color.
By emily.bailey
Choosing a paint color for your front door is often easier said than done. With so many options available, the process of narrowing down your choices can be overwhelming. One thing's for sure, at the end of the day, the color you choose should be a reflection of your personal style.
The good news is that there are a number of tips for choosing an exterior paint color. Many of the same tricks can be used for choosing your front door color, but here are some additional things to consider.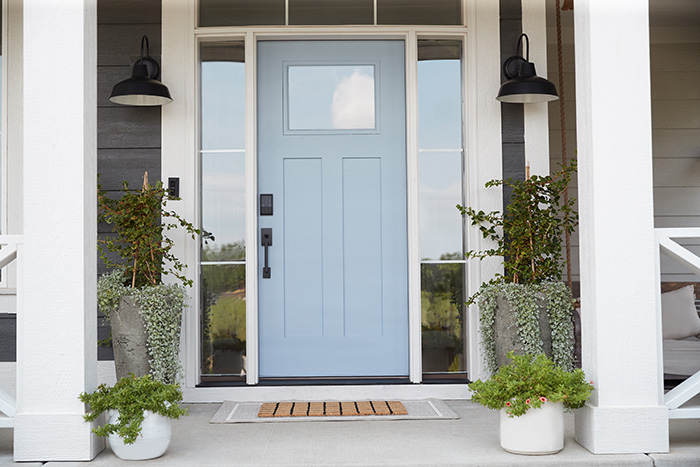 Should you choose a neutral or colorful paint for your front door?
How adventurous you want to be with your front door paint color is entirely up to you. There are pros and cons of each. Neutral colors are more classic, and classic colors have more longevity. In other words, you might love that lime door now, but what about in a year? A more neutral shade like Hunter green or sage might be the safer choice.
Neutral colors, because they are … well, neutral … complement a wider range of exterior paint colors. If you're worried about your door matching the rest of the outside of your house, go neutral. Don't be fooled into thinking this means only black, white, brown and grey, though. Include slate blue, earthy greens and even some reds such as terra cotta.
The upsides of a bold color like coral or canary yellow is that they are often cheerier and make a stronger welcoming statement to guests. Relatively speaking, your front door is also small real estate. Painting it a striking color won't feel as overwhelming as if you painted your entire exterior in that hue. A grape front door? Beautiful and unique, yet restrained. Grape siding everywhere? That's probably a bit much.
There are two schools of thought for what you should paint your front door when you're selling your house. On one hand, a neutral color will appeal to a wider range of prospective buyers. A study by Zillow found that, compared to other colors, black doors can get about $6,000 for your home at resale. On the other hand, a bold color will help your home stick out in buyers' minds when they've been viewing multiple properties. Just make sure it sticks out for the right reasons.

Consider complementary colors.
We hinted at this already. When choosing a front door color, make sure it goes with the other hues on your home. That doesn't mean you have to match them exactly, though. Deep contrast, such as with a bright blue door on a white home, can be especially attractive. Consider how a new door color will go with trim, window shutters and a screen door as well as the home's overall exterior.
Many paint companies create complementary color palettes on their websites. Try picking a color that matches your home's exterior and see which hues they suggest to match.
Play up your curb appeal.
A refreshed front door can do wonders for your curb appeal, but only if your new color works well with the landscaping and hardscaping you already have. Some color experts shy away from green front doors because of the amount of green we typically have in our gardens. Similarly, you might not want a red door if it clashes with the brick pavers. Navy blue might be the better choice in that case.
Consider door hardware finishes at this stage, too. If you have existing hardware you plan to keep, choose a paint color that complements that finish. For example, Matte Black often looks great with bold yellows, while Satin Nickel is ideal for darker blues.

Test it outside.
Once you think you've found a good match, go look at it outside. If you can get a large swatch to take home, tape it to your front door and see how it looks at different times of day. What looks beautiful in the bright morning sun might look dull at dusk. What was gorgeous in the store could look less enticing in the sunlight. And on the flip side, what you were unsure of in the store might turn out to be perfect once you get out from under the florescent lighting.
This is a good time to consider how bright your porch is, too. If you have a covered patio, that will affect how bright the front door color seems. A darker color could feel overbearing in the shade of a porch.

Send the right message.
Your front door makes a first impression on every guest who enters, whether it's a longtime friend or a prospective homebuyer. You can use this as an opportunity to set the tone for what they'll find inside. If your interior décor is filled with bright colors, pick a front door paint color that's also uplifting and happy. If you lean toward monochromatic minimalism, your front door should reflect that as well. More of a Mid-Century Modern fan? That style has some characteristic colors – mustard, turquoise, chocolatey brown – so you can start to tease the aesthetic from the first step.

Choose the right kind of paint.
Because your door is obviously outdoors and exposed to the elements, direct sun and possibly kicking, scratching and daily life, you need to choose a durable paint. First, make sure it's labeled for exterior use. Next, research which type of paint – water- or oil-based – is right for your door. This depends on your door material. Metal doors need an oil-based paint, while fiberglass doors need a water-based, or latex, paint. Wood doors are a little tricker since the type of wood will dictate the type of paint.
The next thing you need to think about when buying paint is the finish. For a front door, choose semi-gloss. This finish is more wear- and stain-resistant than some of the others and is also easier to clean.
The opportunities are endless when it comes to painting your front door, but don't let that scare you off. Have fun with it, whether with color, wreaths and other décor, hardware or all of the above. Once you've selected the best color for you, use these easy tips for how to paint a door.