How to add decorative details and character to your front porch.
By emily.bailey
With all the activity – fireworks, parties, pool fun – it can get a little overwhelming and scary for your furry friends. Here are nine ways to keep your pet safe on the Fourth of July.
Taking your curb appeal from blah to beautiful can feel overwhelming. From landscaping and
porch pots
to front door
design
,
hardware
, and
paint colors
, there are so many ways to make the front of your home more welcoming and unique. One option you may not have considered to boost the character of your home is to add architectural details that give your home a custom feel. Browse our favorite options below to see what decorative details you can DIY to add character to your front porch.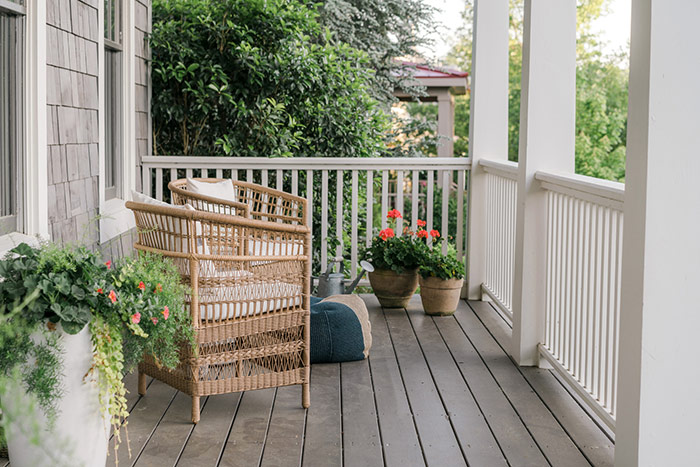 Columns
Many homes come with standard 4x4 or 6x6 front porch columns that can easily be upgraded according to your style preferences. Wrapping your existing front porch posts with larger boards or PVC column wraps (available for purchase at most building supply retailers) can give your whole porch a more solid and custom look. We love @ispydiy's natural wood-stained front porch columns for a modern rustic aesthetic – so homey!

Corbels
One easy DIY idea for increasing the architectural interest of your front porch is to add corbels. These decorative supports come in a variety of unique styles and shapes and serve as a point of interest to draw the eye. When adding corbels to an existing structure like the interior corner between a porch post and roof beam, make sure to choose a size that looks functional, even if it is purely decorative. For example, the corbels on @jennasuedesign's porch add the perfect touch of adornment to complement the overall porch style.

Bracket
Brackets are very similar to corbels, though they tend to be less ornate and more functional. These brackets on the @hgtv 2019 Dream Home serve an important structural purpose while also adding visual impact. You can purchase and install decorative brackets to give a more solid and stylish look to porch ceilings, gables, doorways, columns, and porches.

Crow's Feet
Crows' feet are decorative supports used at the peak of a gable end. This architectural detail tends to lend a sense of rustic elegance to a home's exterior. If you have gable ends at the front of your home, consider adding crow's feet for a special touch of visual appeal.
Trellis or Plant Wall
This project is perfect for the plant enthusiast or anyone looking to add a sense of organic charm to the front of their house. A trellis is a flat frame typically made of metal or wood that provides a vertical support for climbing plants. While certainly a functional gardening feature, a trellis can also make an architectural statement to the front of your home – pick a larger trellis in a contrasting color to layer over a front wall or add privacy by using a trellis to frame out the end of a porch or to create a seating area. Similarly, a plant wall is a creative way to add planting space and beauty to an exterior wall. This simple plant wall from @ispydiy is a fun focal point that coordinates effortlessly with the home's aesthetic.

Pergola
If you are looking for a cost-effective and relatively easy way to add a front porch to your home, a front porch pergola is the perfect solution. While typically thought of as a structure for a garden or back deck, a front pergola can transform your curb appeal and provide partial shade for a relaxing outdoor seating area.
Railing
Upgrading your existing front porch with a railing is a lovely idea for intentionally framing your space. These clean railings from @courtney.tracy are a quaint farmhouse touch that help make her front porch more cozy and pleasant. For a completely different railing style, check out the traditional iron railing from @babybently18 – we love how it provides stability, ease and elegance to a simple front porch.

Shutters
For a classic home front that never goes out of style, shutters are an obvious choice. They can add character and color to enhance your home with subtle appeal. If you already have shutters, but they are looking a tad drab, it's time for an easy refresh. A quick scrub down or pressure wash will likely do the trick – or go for a more impactful update by painting your shutters in a fresh hue. To take the upgrade a step further, consider painting your front door trim to coordinate with your shutters like @cuckoo4design – what a charming look!

Front Door Casing
Adding more intricate and robust casing trim around your front door is an often-overlooked way to layer some personality into the front of your home. This front door from @bleaktochicohio is a perfect example of how decorative casing can elevate your front porch style. For even more drama, paint your front door casing in a contrasting color from your front door. @porchdaydreamer nails this look with bright trim framing an elegant dark door.