9 tips to help keep pets safe on the Fourth of July.
By emily.bailey
With all the activity – fireworks, parties, pool fun – it can get a little overwhelming and scary for your furry friends. Here are nine ways to keep your pet safe on the Fourth of July.
Did you know that more pets run away on the Fourth of July than on any other day? They're probably not seeking freedom and independence, though. With all the activity – fireworks, parties, pool fun – it can get a little overwhelming and scary for your furry friends. Here are nine ways to keep your pet safe on the Fourth of July.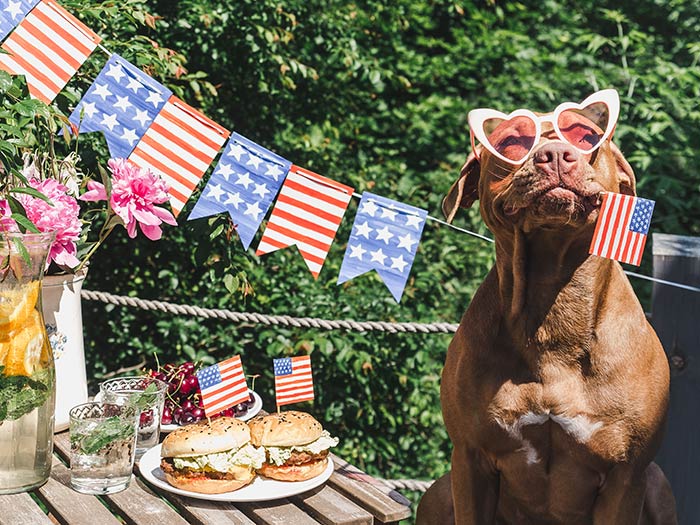 Secure "Hairy" Houdini
With guests arriving in the front door or coming and going out the back during the cookout, it's important to make sure your little furballs don't do a disappearing act and slip out. Use a dog tie out or keep them in a closed or gated room. Missing out on some of the fun will be worth keeping them safe and secure.
Tag 'em
Make sure your pet's tags are up to date and secured to their collar. If they're microchipped, double-check that your contact info in the database is current. This is especially true if you've moved recently. These steps will make it much easier to track down your pet later if they do make a run for it.
Keep calm and enjoy the show
Fireworks, with all their loudness, are one of the most obvious risks to pets, and if you're lighting firecrackers in your own backyard, the danger gets even higher. To keep them calm with everything bursting in air, try crating them or keeping them indoors, either in an interior room or one where you can close the windows, curtains and blinds. You can also play music or turn on the TV to help drown out some of the noise. A Thundershirt might also be helpful.


If you're lighting firecrackers or sparklers at home, you definitely want to remove your pet from the action. The last thing you want is for Fido to grab a lit sparkler and have it pop in his mouth or burn him. Take the pup inside.
Only you can stop furry fires
Take a cue from Smokey the Bear: beware the dangers of fire of any kind, not just firecrackers. Keep your pet away from grills, outdoor kitchen ovens and firepits so that they don't singe their tail or worse. Practice fire safety by having a water bucket and flame-retardant blankets nearby, just in case. People and pets alike will thank you.
Mind their diet
Even if you're diligent about not feeding your pet table scraps and all your guests know not to toss an unsanctioned treat, avoid the temptation of a buffet. Keep party food out of your pet's reach, whether it's on a high counter or in a room they can't access. You'd be surprised how many human foods can make man's best friend sick.
You might even go an extra step and prepare spreads that are healthy for everyone, including those with four legs. Rover.com recommends fruit trays with cranberries, blueberries, strawberries and raspberries, all of which are safe for dogs. Or your veggie tray could include carrots, cauliflower, broccoli and cucumber, perfect for both Great-Aunt Polly and Princess.
Treat them well
Instead of feeding your pet potentially dangerous people food, have plenty of animal treats on hand. Give guests who want to shower your pet with love a healthier option and everyone will feel special. One of our doggo friends (good boy, Brutus) loves these pumpkin peanut butter biscuits from Recipe Boy. We doubt your dog will mind that it's not PSL season yet.
Keep your hot dogs cool
There aren't too many places in America that aren't just plain hot on Independence Day. If you let your pet outdoors, make sure they have access to plenty of water and shade to help keep them cool. Try this DIY self-watering dog dish from Instructables to keep them hydrated. We also love DIY Show Off's upcycled dog bed with umbrella.
Work it out
Getting your pet a lot of healthy exercise prior to the festivities can help calm them down later in the day, especially if they're prone to overexcitement. Plan on a long, long walk or an extra game of tug in the morning to help wear them out.
Tails for traveling
If you're hitting the road for the holiday weekend, you'll need to make sure your best pup or kitty is taken care of. Arrange for a trusted friend to check up on them. This could include providing special feeding instructions, sharing contact info for the vet in case of an emergency or even giving them a code to your smart lock for easy yet secure home access while you're away.
If you're traveling with your pet, practice good car safety by securing them in a crate or with a seatbelt-like harness. Have snacks and water on hand to keep them healthy and happy during pitstops. Give them a toy or a frozen treat to keep them occupied so they don't distract the driver.