Sharing access is easier than ever with Schlage smart locks.
By emily.bailey
Sharing access with your smart lock is much safer and more secure than hiding or copying keys. Here's how to do it.
Every home is as unique as the family that lives in it. That's why Schlage continues to offer a variety of ways to protect and allow access to your house. With smart locks that work with different types of technology and plenty of options for remote access, our goal of creating innovative security solutions just for you is now a reality
Thanks to smart locks, sharing access with unique user codes or virtual keys is much safer and more secure than hiding or copying keys. You may even save money – and time by never having to head to the hardware store to copy a key again. No more headaches trying to keep track of the keys you've handed out or worrying when one is lost or stolen, and no more keys weighing you down on your morning run. Adding an electronic lock to your home is definitely a lifestyle change – for the better.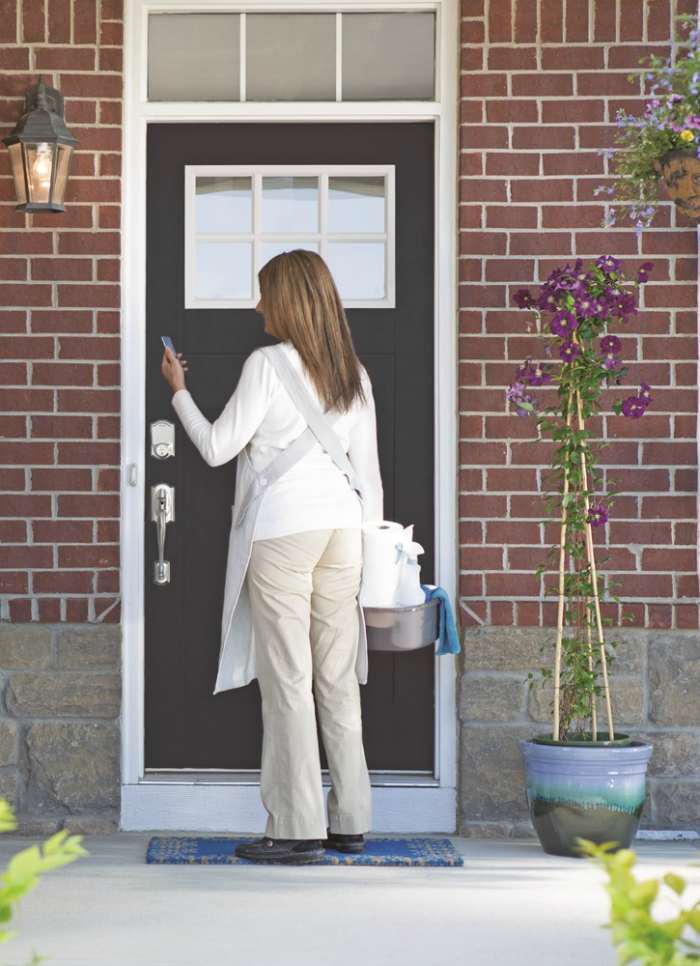 Easy access for everyone
The Schlage Encode™ Smart WiFi Deadbolt and Schlage Sense™ Smart Deadbolt hold multiple unique access codes that are entered on the lock's touchscreen. This lets you create a personalized code for each trusted individual – friends, family or service providers – you'd like to allow into your home, even if they don't have a smartphone. That means Mom, Dad and the babysitter can all have their own codes.
The Schlage® Home app makes it easy for you to add codes for your Schlage Encode and Schlage Sense deadbolts in just a few taps. Keeping track of codes is simple because you can name each one according to who it was shared with. (Please note that the Schlage Home app is not compatible with the Schlage Connect™ Smart Deadbolt.)
To add new user codes through the Schlage Home app: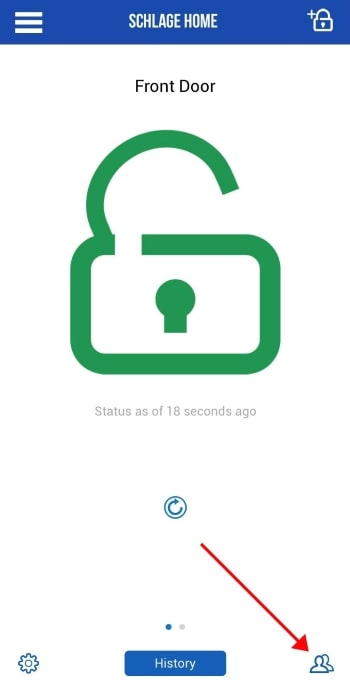 Tap the "Users" icon in the bottom right of the screen.
Under the "Access Codes" tab, tap the "+" in the upper right of the screen.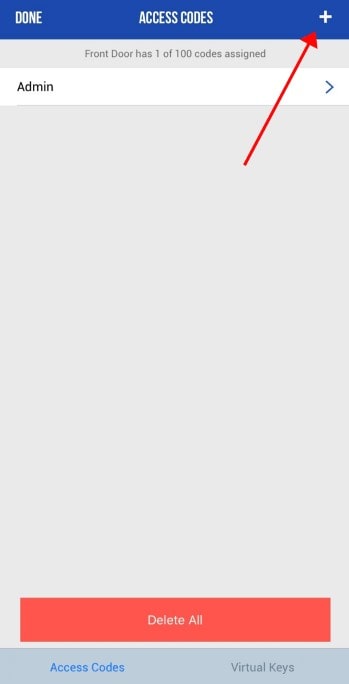 Enter a name and digits for the access code. Choose between granting "Always" or schedule the code for a specific time period. Keep reading for more tips on scheduling codes.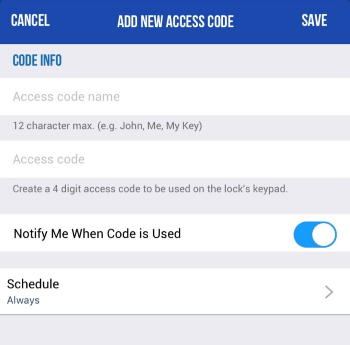 Tap "Save" in the upper right corner to save the code. You'll then be prompted with the option to share the new access code with your guest through text or email.
Custom schedules
The Schlage Home app gives you even more control over access sharing by allowing you to set schedules so each code will only work when you want it to. For example, if you want the babysitter to be able to use her code to enter your home only on Tuesday and Thursday afternoons, you can do that. The rest of the week, the code won't work.
It's also easy to delete codes with the app when you no longer need them – much easier than tracking down a spare key or re-keying your lock because a spare has been lost or stolen.
Here's how to schedule access codes for your Schlage Encode or Schlage Sense locks: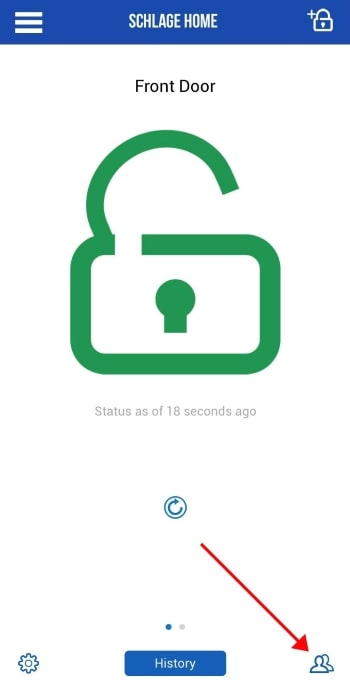 Tap the "Users" icon in the bottom right of the screen. Select an access code to manage or create a new one by tapping the "+" in the upper right of the screen.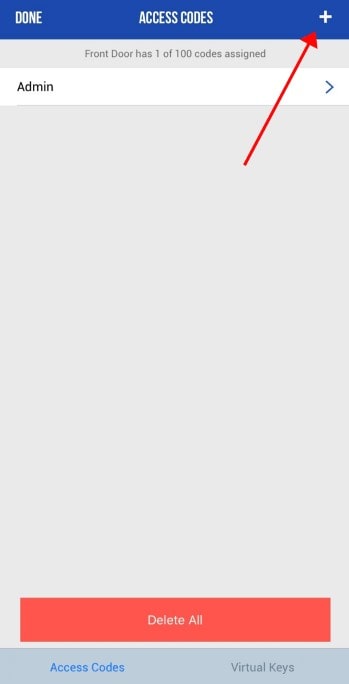 To change the access schedule, tap "Schedule."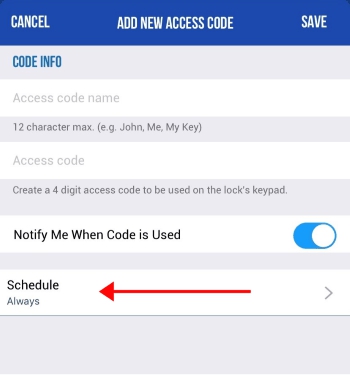 Choose between "Always," "Recurring" or "Temporary."*
* Note that if you have a Schlage Sense lock, you cannot set a "Temporary" schedule. This feature is only available with the Schlage Encode lock.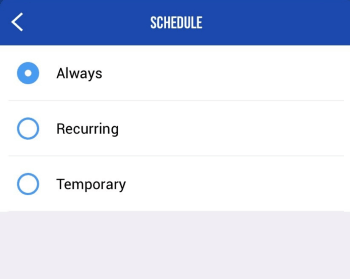 For recurring schedules, simply tap the day of the week you want to deactivate. Active days will remain blue. You can then set a timeframe.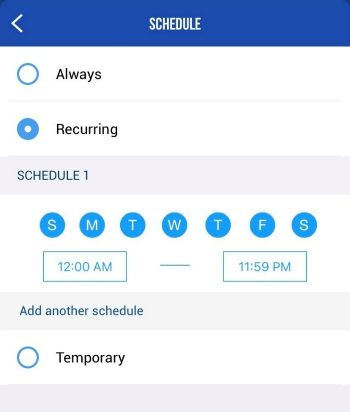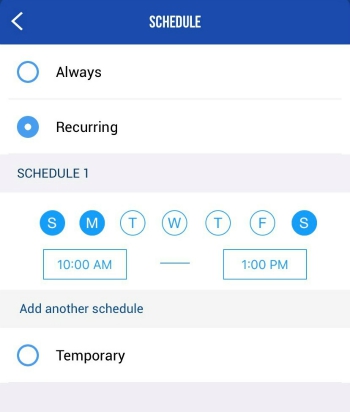 If you need that same code to also be active during a different time on another day – say, Wednesdays from 12 to 2 p.m. as well as Saturday through Monday from 10 a.m. to 1 p.m. – tap "Add another schedule" and repeat the steps directly above.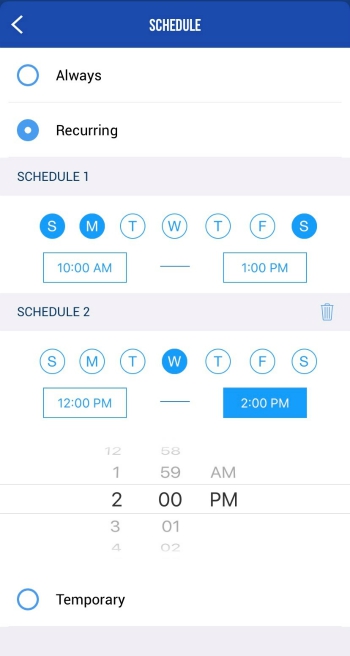 Temporary access codes (available only with the Schlage Encode lock) can be scheduled for a range of days, like for a week beginning Dec. 2, or for a specific timeframe on a single day, such as from 2 to 5 p.m. on Thursday, Oct. 5.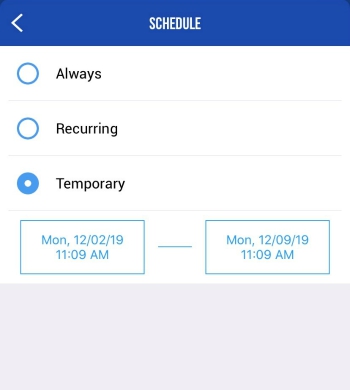 Once finished, tap the "<" on the top left of the screen, then "Save" on the top right.
Virtual keys
If your guest has a smartphone, you can send them a virtual key through the cloud from wherever you are – even if you don't have the lock set up for remote access Virtual keys are like electronic credentials. Your guest will receive a secure link that expires within 24 hours and leads them to the Schlage Home app where their virtual key is accepted. When they arrive at the door with their Bluetooth®-enabled smartphone, the lock will recognize their secure credentials and allow access. Thanks to the Bluetooth connection between the lock and their phone, they'll be able to unlock the door right then and there using the Schlage Home app.
*It's important to note that virtual keys will not work with Schlage Sense locks set up using the Apple HomeKit™ option. If you'd like to take advantage of virtual keys, you will need to reset your lock to factory settings and re-pair it using the Schlage system setup. See our FAQs for Schlage Sense for more information.
Here's how to send virtual keys: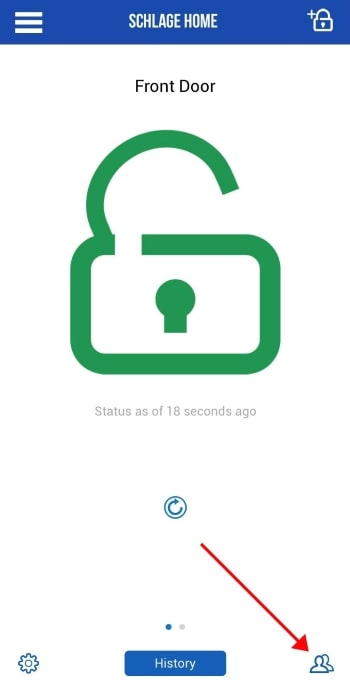 Open the app and select which lock you would like to send the invite for. Tap the "Users" icon on the bottom right of the screen.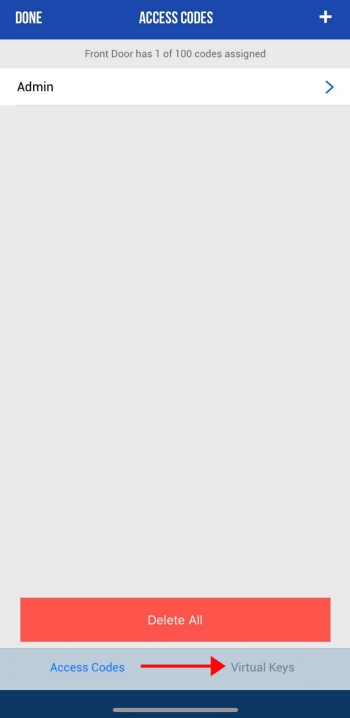 Tap "Virtual Keys." on the bottom right of the screen. You will then be able to edit existing virtual keys or add a new virtual key by tapping the "+" in the top right of the screen.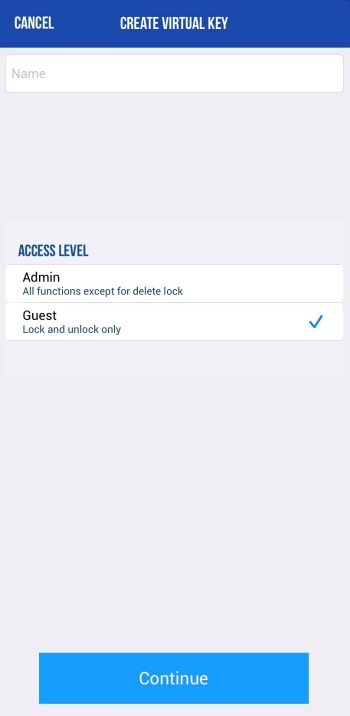 Enter name of invited user and indicate whether you'd like to provide Admin access or Guest access (recommended).
You will then be prompted to select a method, such as email or text, to send the invite. The invitation will be available for 24 hours before it expires. When the user is near the lock with Bluetooth turned on, they will be able to use the Schlage Home app on their smartphone to lock or unlock the deadbolt.