Looking for a Ring door lock? You want a Schlage.
By emily.bailey
Wednesday, August 9, 2023
When you combine a Schlage Encode™ Smart WiFi Deadbolt with Ring video doorbells and cameras, you get the best security features that both have to offer so you focus on everyday life.
Just as you rely on your entire car – seatbelt, airbags, brakes – to keep you safe, you should be able to rely on your entire entryway – door, deadbolt, frame – to protect your home and family. That's why, even though we make locks, Schlage encourages you to take every precaution and ensure your security fits your needs and lifestyle.
You might think of a smart lock-security camera bundle as your home's version of a front-collision warning system, which uses cameras, lasers and other technology to keep you safe while you focus on driving. When you combine a Schlage Encode™ Smart WiFi Deadbolt with Ring video doorbells and cameras, you get the best security features that both have to offer so you focus on everyday life.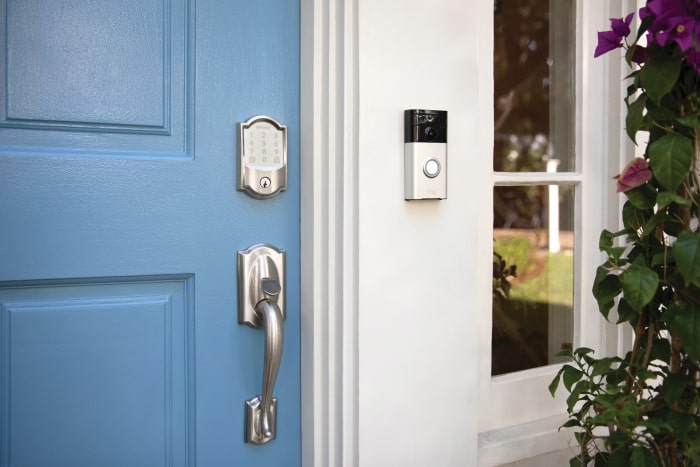 What are the advantages of a home security camera?
There are many advantages to installing a video doorbell or camera on your front door beyond peace of mind. Some of the tangible benefits include:
Make intruders think twice. Sometimes just seeing a camera will deter thieves from even attempting to enter your home, so make the camera obvious.


See who's snooping. If someone does try to break in or steal a package, video footage of the event could help to identify the culprit.


Know when deliveries are made. Most of us have received a notification that a package was dropped off only for it to go MIA, either because the delivery wasn't actually completed or porch pirates swiped it.


Know who's in your home. See when your kids or service providers come and go.


Screen visitors. Whether you're at work, don't want your kids to answer the door for a stranger or are simply too comfortable to get off the couch, see who's knocking without actually going to the door.


Improve resale value. A growing number of homebuyers are looking for smart home technology included in the deal.


Lower home insurance payments. Some companies will reduce your premium when you add security measures.
Why should I trust my home to the Schlage Encode lock and Ring?
Bundling your Schlage Encode deadbolt with a Ring camera or video doorbell lets you take advantage of the lock's best features and then some. All Schlage products come backed with 100 years of experience in keeping your home secure. Add to that our limited lifetime warranty and you can be confident you're getting the quality and durability you expect and need.
It's more than that, though. The Schlage Encode deadbolt offers greater levels of convenience from the minute you install it to the countless moments you use it every day. There's no hardwiring needed during installation and because of its built-in WiFi, no hub is required for remote access. Check the lock's status from anywhere, so you never have to worry or make a return trip home to doublecheck if your door is secure. Create and schedule up to 100 access codes so the people you trust most have access only when you want them to. And don't forget about Alexa. Ask the voice assistant to lock and unlock your door (you'll verify the unlock command with a PIN) and make the lock part of your favorite Alexa routine.
Bring the Ring Video Doorbell into the mix you put even greater security and convenience at your fingertips. Lock and unlock the door directly from the Live View of your camera in the Ring app. This is perfect for when you get held up in the office or at the airport and need to let a dog walker or babysitter in the house. Or maybe you want to unlock the door for a friend while you finish dinner in the kitchen.
It's not just about the "Ring door lock," though. You also get the benefit of being part of the Ring community. With Ring's range of devices and accessories, you can protect your home in more ways than just securing the front door. Consider adding compatible smoke and carbon monoxide alarms as well as flood and freeze detectors as part of your complete home security. There's even a Ring Neighbors app that helps communities work together for a safer neighborhood.
With this flexibility and customizable options, you can easily update your surveillance as your needs change. It's the perfect way to build the right security system with only the features you want and trust. Plus, when you choose Schlage and Ring, you're choosing two of the industry's leaders in home security, doing exactly what they do best. Can you think of a better way to peace of mind?
Learn more about the Schlage Encode Smart WiFi Deadbolt and the devices it works with at Schlage.com. You can also find out more about the Schlage Connect™ Smart Deadbolt's integration with Ring Alarm on our blog.