Schlage and Ring. Making smart home security even smarter.
By emily.bailey
If you're looking to make your home more secure affordably and conveniently, we have good news for you.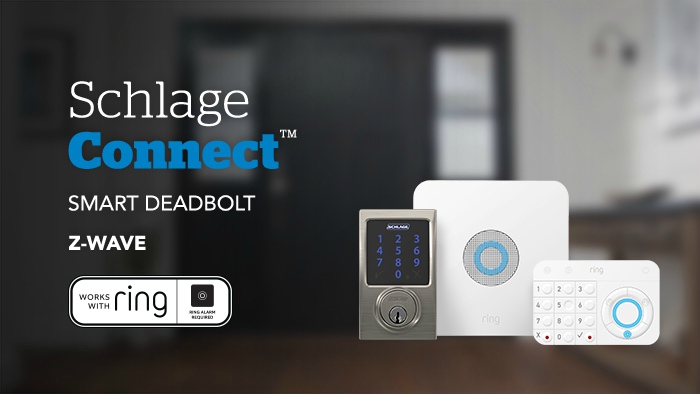 If you're looking to make your home more secure affordably and conveniently, we have good news for you. Schlage, together with the home security innovators at Ring, is giving you the ability to monitor your home 24/7 from just about anywhere using your smartphone. Say hello to a new wave of DIY smart home security.
Convenience on your doorstep
Schlage and Ring are leading the way with cross-compatible technologies that work together seamlessly to address home security challenges. The Ring Alarm Base Station operates on a Z-Wave mesh network. That means that the Z-Wave-certified Schlage Connect™ Smart Deadbolt and the Ring Alarm work on a single, integrated network, simplifying the process of making smart homes more secure and convenient.
How can synching Ring Alarm with your Z-Wave enabled, Schlage Connect™ Smart Deadbolt add convenience and security to your life? After pairing the devices, you can lock and unlock your door from anywhere, add or remove access codes, and get alerts when a code is entered, all from one spot – the Ring App. You can also check your lock's battery level via the Ring App.
Ring Alarm, with its Z-Wave ecosystem and cloud-based app, is currently compatible with a range of in-home devices taking home security customization to another level. Including the Schlage Connect, you can also pair your Ring Alarm Base Station with compatible carbon dioxide and smoke detectors, flood and freeze censors, and motion and contact censors. If you're looking for the added convenience of voice activation, Ring also works with Amazon Alexa. Now you can simply ask Alexa if your door is locked, or ask her to lock or unlock it for you.
Simply secure
The possibilities of a secure smart home are growing rapidly, but don't let this intimidate you. Adding these security capabilities to your home is simple, especially with Schlage's easy installation. Schlage smart locks are designed to fit standard doors without the need to drill additional holes and can be installed with just a screwdriver. Because they're battery operated, there's also no need for wiring or to call an electrician.
Setup is just as convenient with quick and easy system synchronization between the Schlage Connect smart deadbolt and your Ring Alarm. Simply follow the instructions in the Ring App to pair your devices.
Bring it home
Do you already have a Z-Wave-compatible Schlage Connect smart lock and want to add it to a new Ring Alarm? Do you already have a Ring Alarm system and are interested in adding a smart lock to improve the security of your home? Maybe you're starting your DIY project from scratch and are looking to add both? Visit our product pages to learn more about the Schlage Connect™ Smart Deadbolt and find a retailer near you.
While Schlage Connect Z-Wave and Z-Wave Plus are popular choices to pair with Ring Alarm, any of our Z-Wave-connected products will work with the home security system. This includes Schlage keypad levers, which also make a great option for the entryway from your garage to your house, extending your Ring of Security even further. Learn more about these and other Schlage smart locks at
Schlage.com
.