Which Schlage Encode™ wifi smart lock is right for me?
By monica.reedy
The Schlage Encode™ family of products is perfect for those who want to simplify access solutions for their homes. Here, we break down the features that are included in each Encode product as well as what makes each product unique.
In the age of the smart home, it can be overwhelming to choose from all the different tech solutions that help us better manage our homes and our lives. When there are so many smart options for everything from lighting to locks, how do you know what solution best fits your needs? At Schlage, we have an ever-growing portfolio of innovative smart locks to give you peace of mind from anywhere. The Schlage Encode™ family of products is perfect for those who want to simplify access solutions for their homes. Below, we break down the features that are included in each Encode product as well as what makes each product unique.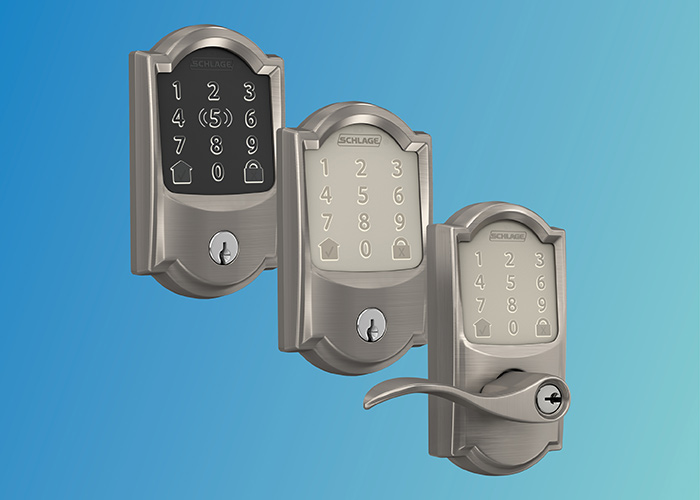 The Schlage Encode™ Family
Backed by a century of expertise in designing the most trusted locks, the Schlage Encode™ family offers the finest access point protection anywhere in the home and seamless integration with leading smart home technology like Google Home™ and Amazon Alexa.
The Schlage Encode Plus™ Smart WiFi Deadbolt, Encode Smart WiFi Deadbolt and Encode Smart WiFi Lever share core qualities that live up to the legacy they were built on. While each is unique, the features below are true to all Schlage Encode devices.
Anywhere access
Built-in WiFi compatibility enables an easy setup and secure connection to a home WiFi network. Use the Schlage Home app to control and monitor locks from anywhere.
Peace of mind
Manage multiple locks at once, each with up to 100 access codes. View timestamped past activity, schedule temporary codes and customize notifications via the Schlage Home app.
Voice control
Use Amazon Alexa and Google Assistant for optional hands-free control when paired with a voice-enabled device and the Schlage Home app.
Automation
Auto-lock relocks doors on schedule, if desired. Try one-touch locking at the exterior touchscreen to lock up more easily.
Advanced Security
A secure, encrypted connection supports a built-in alarm system to detect forced entry attempts. Featuring a fingerprint-resistant touch screen, 20-minute UL Fire Rating and graded highest by ANSI/BHMA.
Easy install
DIY in minutes with a screwdriver and Schlage's Snap 'n Stay™ design for hands-free installation with guided instructions. Fits standard doors.
Battery Operated
Four AA batteries are needed and included with packaging. Get up to six months of battery life with weeks of advanced low battery notice. One backup key also included.
Bluetooth
In case of a WiFi outage, Schlage Encode Smart WiFi devices are Bluetooth compatible to prevent lockouts when paired with the Schlage Home app.
Warranty
Users get a limited lifetime mechanical and a three-year electronics warranty. Details can be found at schlage.com.
These features make the Encode family the perfect choice for simple home access and remote lock management. With the free Schlage Home App on your smartphone, you can check the status of your locks, set up temporary or recurring access codes, and view lock activity logs – peace of mind in the palm of your hand. To learn which Encode smart lock is best for you, check out the features and best use applications unique to each product outlined below.
Schlage Encode Plus™ Smart WiFi Deadbolt
Best for Apple Home Key Integration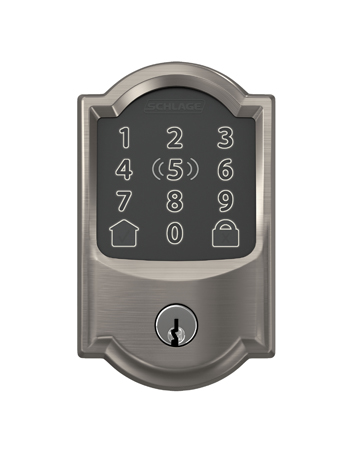 If you like to go all in with Apple devices and compatibility, the
Encode Plus Smart WiFi Deadbolt
is your ideal smart lock. Encode Plus works with Apple® home keys, so you can easily lock and unlock your door using your Apple Watch®, iPhone® and HomeKit®, plus seamlessly manage codes and more with the Schlage Home App. No more fussing with physical keys – simply
tap to lock and unlock
with your Apple Watch or iPhone using the digital key stored in your Apple Wallet®. Enjoy smarter home access with trusted convenience and security.
Schlage Encode™ Smart WiFi Deadbolt
Control and monitor your home from anywhere with built-in WiFi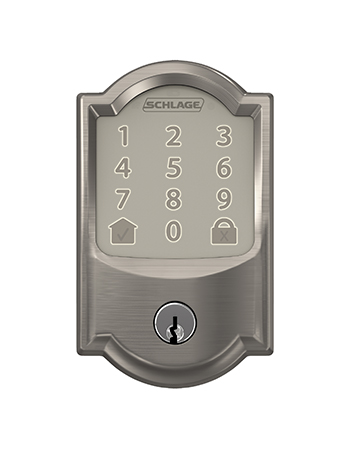 With the
Encode Smart WiFi Deadbolt
, there's no need to purchase an extra accessory or hub to control your lock from anywhere. Simplify your home access with a lock that uses built-in WiFi to give you total control and peace of mind at your fingertips. You can also pair your Encode Smart WiFi Deadbolt with Alexa or Google Assistant to control your lock with simple voice commands. The perfect solution for smart homes utilizing a range of technologies, the Encode Smart WiFi Deadbolt has a
wide variety of integrations
to work seamlessly within your smart home system.
Schlage Encode™ Smart WiFi Lever
Smart access control inside and out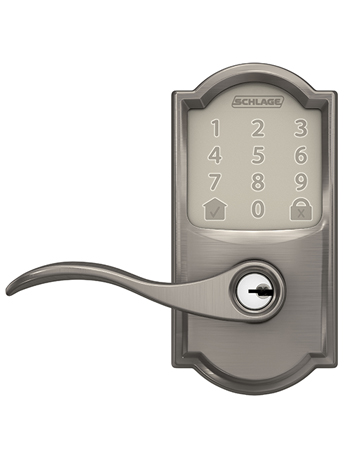 The
Schlage Encode Smart WiFi Lever
brings easy and secure access to even more doors throughout your home. Easily upgrade any residential door that uses a knob or lever to a smart door handle, enabling seamless access from anywhere to control more doors in your home. Ideal for exterior side entry and garage doors or interior doors like offices, basements and utility rooms, this is the best smart lock choice for any door prepped with a standard single bore hole. With the Encode Smart WiFi Lever, smart access doesn't stop at the front door.
No matter which product you choose, you can have confidence that the Encode family of smart locks is backed by over a century of durability and strength from Schlage. Since Walter Schlage's invention of the first push-button lock in 1920, we've led the industry in innovation. Schlage door hardware meshes security and beauty with modern technology for highly durable, forward-thinking home access solutions. Our Encode family of products are built to withstand and uphold our commitment to quality design and construction. Learn more about our smart locks and trust your home to Schlage.