4 things you need to know about Schlage Connect™ and Amazon Alexa
By emily.bailey
Schlage continues to lead the security industry in innovation. The evidence: The
Schlage Connect™ Smart Deadbolt
is now compatible with a growing list of smart home systems, meaning it's easier than ever to access your lock via Amazon Alexa-enabled devices. Here's what you need to know to use your Schlage Connect lock with Amazon Alexa.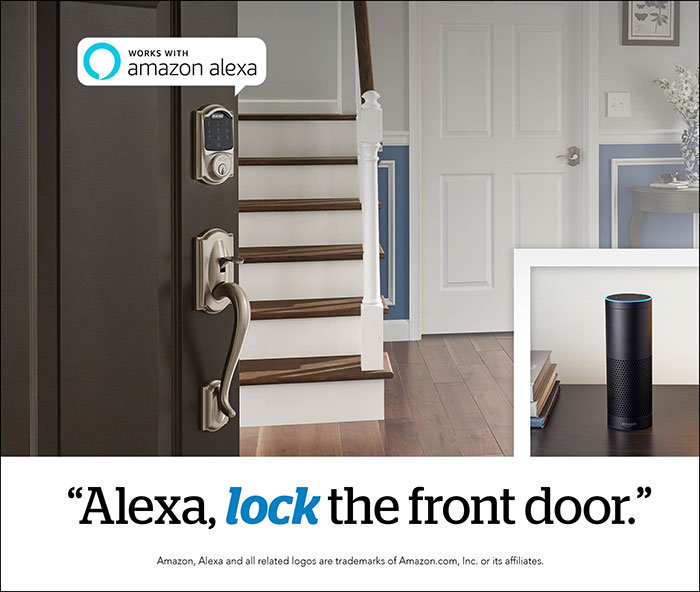 1. Are all Schlage Connect models compatible with Amazon Alexa?
Yes. The Schlage Connect lock with Z-Wave Plus technology is compatible with Amazon Alexa-enabled devices. You will need a compatible smart home hub to pair your lock to the device.
2. How do I connect with Amazon Alexa?
In order to utilize the Schlage Connect lock via Alexa-enabled devices, users must pair the deadbolt to a compatible smart hub. The following hubs are compatible with the Z-wave certified Schlage Connect Smart Deadbolt:
Samsung SmartThings
Wink
Ring Alarm
Blue by ADT
Honeywell Home
Once your lock is connected to your smart hub, you will be able to access your lock via voice activation. For the most up-to-date instructions on how to give Alexa permission to control your Schlage Connect lock with voice commands, try our guide to pairing your lock with your new smart device or follow the steps provided at the hub's website.
3. What can the Schlage Connect lock and Amazon Alexa do?
After connecting the devices, you can ask Alexa to lock and unlock the door, and check the status of your Schlage Connect deadbolt. This offers the peace of mind and convenience of knowing your home is always locked and protected by one of the strongest, most convenient locks on the market.
Voice unlocking is one the newest functions available in the integration between Schlage and Amazon Alexa. The feature was made possible through technological improvements that now requires Alexa to authenticate the user's identity prior to unlocking the door. The additional step helps to maintain the superior security you expect from Schlage while still enjoying the convenience of voice activation.
4. What else should I know?
Already trusted in over 40 million homes, Schlage always aims to create carefully designed products that bring the possibilities and potential of every door in your home to life – keeping you safe and making life easier and more connected. We are unwilling to compromise that, especially when it comes to smart home integration. With this in mind, Amazon Alexa is not enabled to check battery status or create/maintain secure codes. This ensures that control of these features remains directly in consumers' hands rather than relying on third-party components.
The Schlage Connect deadbolt will continue to work even if it's not connected to the internet if, for example, you choose not to use remote access or if your internet is down. In these instances, you can lock and unlock the door and manage access codes at the touchscreen. However, if you would like to control your lock from anywhere and take advantage of the features listed above, you will need that home automation hub.
Whether asking Alexa from bed if the front door is locked or manually securing your deadbolt from the touchscreen, the Schlage Connect Smart Deadbolt provides all users with keyless convenience and confidence in their home security. Add to that additional benefits that come when you pair your lock with the other technology in your home and it's proof that smarter homes start with Schlage.
Learn about our other smart home integrations for the Schlage Connect locks at schlage.com. If you have questions about setting up your smart lock, message us on Facebook or Twitter.