Top tips for a festive at-home Fourth of July.
By emily.bailey
Here are some tips for a safe Fourth of July that's also full of fun for the whole family.
Parades, festivals and patriotic parties have become staples of summer. With many cities canceling their fireworks shows because of COVID-19, however, many of us are looking for new ways to celebrate Independence Day at home without giving up our favorite traditions. Here are some tips for a safe Fourth of July that's also full of fun for the whole family.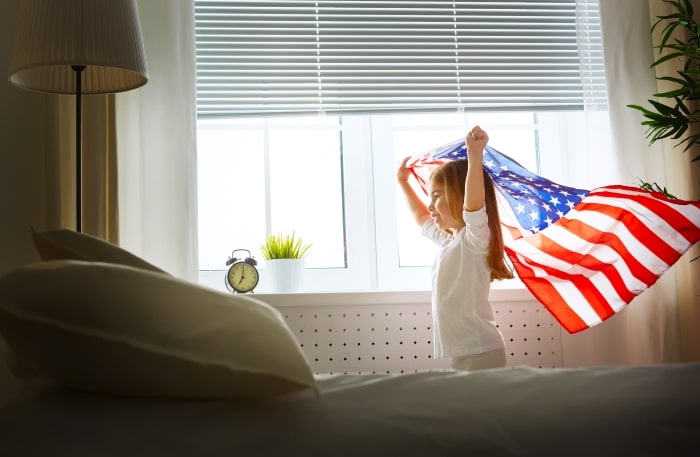 Patriotic décor ideas
More holidays are becoming simple family affairs while some people continue to social distance. That doesn't mean you can't still rock your favorite Fourth of July front porch décor, though. Sprucing up porch railings is always popular for patriotic holidays. Think back to the classic bunting you see in old-timey photographs. Make your own bunting from bandanas or construction-paper chains. We're not sure if we love this idea more for front porches or back decks. Try some of these wreath ideas for your front door, too.
Break out the fabrics. Try red, white and blue cushions on your patio furniture or a throw inspired by the stars and stripes for your porch swing. If you have a picnic table, go with a patriotic table cloth or runner. It'll help protect the furniture and boost the holiday vibes at the same time.
Use flowers to show your pride in the red, white and blue. A flower box with all three together is gorgeous and unmistakably festive. You can also make a tabletop floral arrangement with flag-inspired blooms or a decorated pot. This could come in handy if you have to move the party indoors. And here's a bonus tip. Smaller flower pots can be used to hold napkins, utensils and other BBQ items to keep them from blowing away.
Your home's not the only thing you can decorate. Kids in particular will enjoy dressing for the holiday. Take inspiration from Halloween and make an Uncle Sam or Lady Liberty
costume
. If you're putting on your own neighborhood parade – or simply riding your bikes around the block –
add streamers to their handlebars
.
Safety tips for the Fourth of July
We're much more likely to pop in and out of the house when we're celebrating in the summer. In most cases, we usually hope we remembered to lock the door on the way out. Who wants to leave the neighborhood block party to check their front door? On a holiday like the Fourth of July, though, you might also hope that you haven't accidentally locked yourself out in the midst of backyard cookouts, family bike rides and pool fun. With a smart lock like the Schlage Encode™ Smart WiFi Deadbolt, you can check the lock from down the street (or from farther afield) without ever leaving the party. You can also use your unique access code on the touchscreen to let yourself in if the door does lock behind you with the key still inside.
Your furry friends want to enjoy the holiday as well. If there are fireworks in your area, protect pets who might be frightened of the noise. But even if that's not a concern, remember that there are other risks. All that in and out of the house we just mentioned? Stay vigilant so Fluffy doesn't make a run for it the moment the door opens. Try a dog gate and ties to help keep them safe and healthy.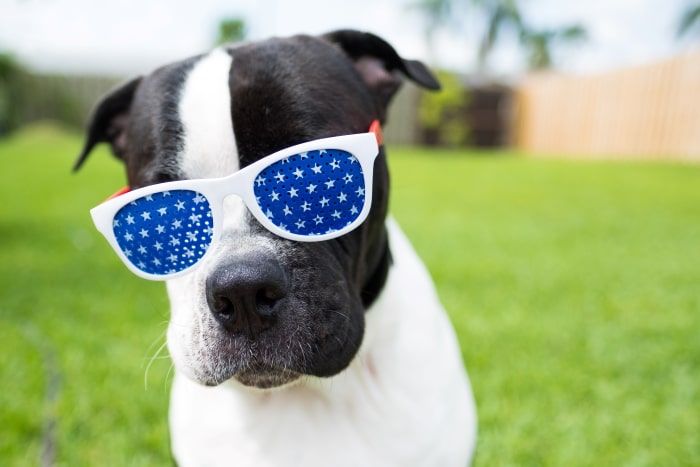 Practice good grill safety. You've probably barbecued at least once by the time Independence Day rolls around, but it's still a good idea to give everything a good cleaning before you start to cook. Make sure propane tubes and connections are in good shape or make sure there are no shorts in your electric grill. Double-check there is enough space between the grill and the house, tree branches, holiday décor and anything else you don't want to catch fire. Mind the kids and pets while things are hot, too.
Turn on some lights. It's tempting to go totally dark when you're attempting to catch the fireworks show, but leave a few on. At least make sure any pathway lights are working to avoid tripping hazards. A well-lit house can also deter would-be thieves from attempting to break in while you're distracted.
Independence Day activities for the family
Keep the kids entertained before and during the party with snacks they can help prepare. Even the younger set can make red, white and blue rice krispie treats or these fruit sparklers. Once the festivities get underway, they'll love making their own sundaes. Kids with a few decades under their belts might enjoy assembling their own treat at a boozy ice cream bar cart.
Make a water obstacle course that kids of all ages will love. TGIF shares their ideas for squirt gun races. Set up a light show sprinkler for extra entertainment, day or night. We also think a classic slip and slide is a solid option.
Test your IQ with some patriotic trivia. Set up teams to compete for bragging rights or play individually for prizes throughout the night. Now, can you name the only president born on July 4?
If you want to use the Fourth of July to teach your kids about our nation's history, Education.com offers a variety of ideas with meaning. Find recipes, crafts and activities for learning about founding fathers and important black leaders in our history, all adapted for a range of ages.
Festive alternatives to fireworks
Put a color flame log in your firepit to mimic the effects of fireworks. Toasting marshmallows just got a lot more interesting.
Put up a DIY outdoor movie screen. What you show is entirely up to you. Stream fireworks displays from other areas or past years, host a movie marathon with Independence Day, Glory, Top Gun or your family's favorites, or use it for a laser show.
For the sparkle and fun of fireworks without the flames, go for unique outdoor lighting. Lanterns are popular for Independence Day, and you can make your own from
mason jars
or
colorful paper
. Purchasing pre-made
floating lanterns
for the pool or pond is another option. Then use LED lights for the illumination.
If none of those feels like quite enough to really capture the fireworks experience, give the kids glow sticks and let them run around the yard or let them explode party poppers. Sparklers are another good alternative. They're safer than fireworks and can make for
creative Fourth of July photos
.
Visit the Schlage blog or follow us on Pinterest for more holiday inspiration from New Year's to Thanksgiving and everything in between.
By the way, Calvin Coolidge is the only U.S. president born on the Fourth of July.