Home décor inspired by your favorite vacation destinations.
By emily.bailey
Whether you're trying to hang on to the aura of your last trip or can only dream of hitting the road in the future, here are some ideas that will transport you to another world without ever leaving the house.
For those with wanderlust, nothing is as inspiring as the sights and sounds of a new city. Whether you're trying to hang on to the aura of your last trip or can only dream of hitting the road in the future, here are some ideas that will transport you to another world without ever leaving the house.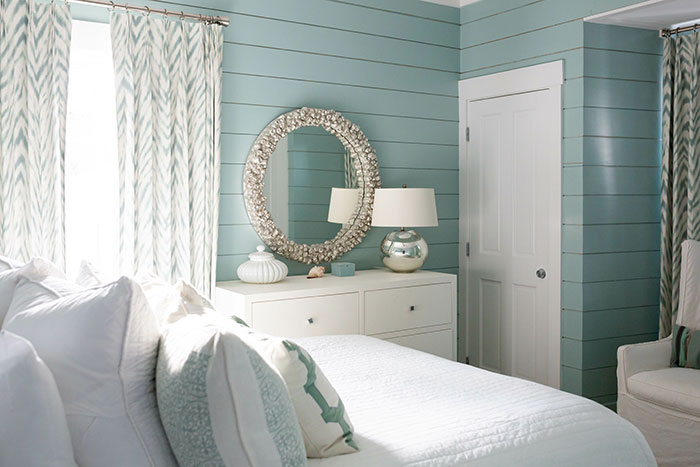 Take me to the beach
The smell of the ocean, the sand on your feet, the breeze in your hair. There are few places as refreshing and rejuvenating as the coast.
Location inspiration: Virgin Islands; Outer Banks, North Carolina; Laguna Beach, California


Style & Décor: Natural materials rule. Think wicker, raw wood and jute, for example. We think a coastal-inspired porch or yard calls for a hammock, but pick what's cozy and relaxing to you. Taking your décor literally is OK in our book. Display the seashells and beach photos you collected from your last vacation. If you prefer a more subtle touch, artwork with wavy lines and items with free-flowing silhouettes will spark your sea-faring imagination as well. Whatever you do, keep it light and airy.


Colors: Start with blues, greens and whites. Complement these base colors with pops of boldness like coral and yellow.


Finishes: With cool blues and greens, think cool, silver finishes. These include Satin Chrome and Bright or Satin Nickel.

Let's get cozy in a country cottage
Few places are better for an escape than a snug hideaway in the countryside.
Location inspiration: England, rural France, Vermont


Style & Décor: These smaller homes are primed for creating relaxing nooks. Even if your home is more spacious, you can create the same cozy feel. Take your favorite armchair – the kind that's plush and always so inviting – soft lighting and an understated end table to escape to. Few architectural details say "rustic and cozy" like ceiling beams and

Dutch doors

. Reclaimed materials, including raw wood and stone, are also a good fit. Use them for tables, chairs, countertops and fireplace surrounds.


Colors: Because you want to incorporate nature in your "countryside escape" whenever possible, look to earth tones as your primary color scheme. Whitewashed walls can give you that remote European feel as well.


Finishes: Darker finishes like Aged Bronze or moodier gold tones such as Aged Brass complement the rustic, country ambience you're hoping to create.

Make mine a metropolitan getaway
Craving a hip night out on the town surrounded by the bright lights and buzz of the city?
Location inspiration: New York City, Paris, Tokyo


Style & Décor: Choose clear, crisp furniture silhouettes for the contemporary, edgy style that reminds you of your favorite major city. You won't want a ton of furniture, though. These chic cities announce their style with smart use of open space, and decorative elements are strategically chosen so as to not suffer clutter creep. A sleek, rounded couch might also be a sculptural statement.


Colors: Contemporary spaces tend to be minimalist, which often means white. But when you're looking for more and the drama of the Big Apple calls your name, try moody colors like charcoal, teal and bright red. A good way to get that modern look is using a bit of both, with stark contrast of white and dark tones.


Finishes: We love Matte Black finishes in a chic cosmopolitan space because of that stark contrast we just mentioned. A dark-finish door knob or lever might seem like a small thing, but when you complement it with other dark metallics found in lighting fixtures or the furniture itself, you'll solidify your reputation as the cutting-edge friend.

Travel sustains me
Blur the lines between indoors and out with a green getaway that's good for you and the environment.
Location inspiration: Australia, Costa Rica


Style & Décor: The map location is less important than simply being connected to nature. Indoor-outdoor living spaces, verandas and open floorplans are almost a necessity. If you don't live where you can open the patio doors 24/7, let in as much natural light as possible through your windows. Remove heavy drapery and rearrange your furniture to take advantage of sightlines. Using sustainable materials is a must. Furniture of reclaimed wood, upcycled accessories, and all-natural and insect-friendly gardens all part of the eco-lodge essence.


Colors: When you're trying to be a friend to Mother Nature, use some of her favorite colors. Earth tones dominate, but it doesn't have to be all brown and green. What décor colors can you steal from a sunset or vibrant fish at a seaside lagoon?


Finishes: Particularly if you've chosen décor made of reclaimed materials, you'll want to stay away from high-sheen finishes like chrome. Instead, look to matte or satin finishes such as Distressed Nickel or even an Aged Bronze.

I wanna go global
Looking for one more exotic stamp in your passport? Why not two or three … or 12?
Location inspiration:

Morocco

, Mexico, India, wherever


Style & Décor: One of

Domino's top tips

is to not limit yourself to one destination. Pick and choose pieces tastefully representing a range of cultures. It might be a

desk with Asian-inspired cutouts

, a couch piled with heavily embroidered pillows or bamboo patio furniture. If it's handmade, you're on the right path. A common quality of global décor is eclecticism. Middle Eastern décor is known for its hand-dyed rugs and blankets. Consider baskets for their natural, artisanal quality. Use items beyond their original purpose, too. Those baskets and blankets could be your favorite wall art, for example.


Colors: Because of global décor's vibrant colors, start with a neutral foundation like khaki or stone-gray for walls or larger pieces of furniture. Then layer in the bold. Think orange, red and gold, as well as deep blues, purples and greens. And don't be afraid of patterns.


Finishes: Gold tones tie in nicely with the color palette so often seen in global décor. Look to brass finishes for door hardware, lighting and more to get the rich look on a not-so-rich budget.

"I love places that remind me how small me and my problems actually are." (via Wanderlust Crew) Whether you're traveling abroad or staying close to home, we could all use a sense of adventure from time to time. Start your journey with Schlage's DIY tips and design ideas.