6 best practices to keep your smart lock safe and secure.
By emily.bailey
Smart home technology is quickly rising in popularity as homeowners choose products and devices that not only make day-to-day activities more convenient, but also give them peace of mind. When it comes to outfitting your home with this technology, it pays to understand the steps you should take to enjoy the features and benefits to the fullest. Here are six best practices to ensure your smart lock is as safe and secure as possible.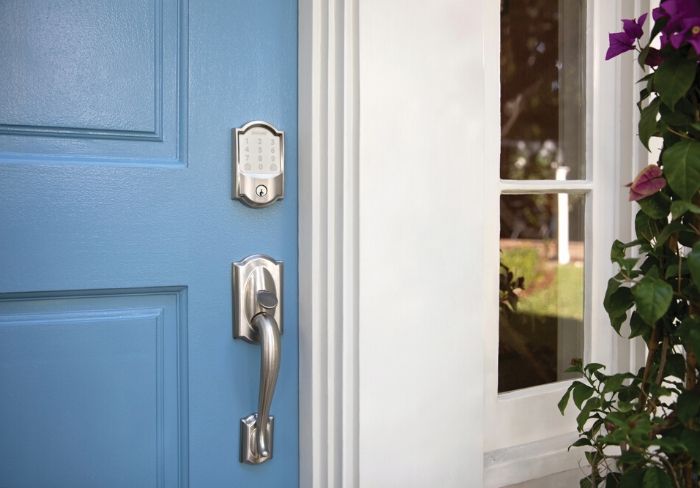 1. Choose a secure access code
When choosing an access code for your smart lock, choose a combination that you are able to remember but cannot be easily guessed by others. Follow best practices for secure access codes: don't have repeat numbers and use a long code instead of short. All four Schlage smart locks – Schlage Encode Plus™ Smart WiFi Deadbolt, Schlage Encode™ Smart WiFi Deadbolt, Schlage Sense™ Smart Deadbolt and Schlage Connect™ Smart Deadbolt – accept codes from four to eight digits long. The length can be selected during lock setup.
Keeping track of all the user codes you've set up and knowing whether or not you've deactivated outdated ones is key to keeping your lock secure. Keep track of these codes through the Schlage Home app or store your codes in a spreadsheet or notepad in a secure location.
2. Keep an eye on the battery life
Each of the Schlage smart locks gives a low battery warning well in advance of the battery dying. Low battery warnings can be found on the lock or in the Schlage Home app if you've paired it with your compatible deadbolt. While you'll have plenty of time to make the switch, it's important not to put this off too long to avoid being locked out.
3. Find a home for the backup mechanical key
In the event that your battery does die before you are able to change it, all of Schlage's smart locks come equipped with a reliable backup, such as a mechanical key or a 9V battery. Be sure to place these backups in a secure location that can be accessed when you need them.
4. Lock your smartphone
Whether you use the Schlage Home app to control your Schlage Encode Plus, Schlage Encode or Schlage Sense Smart Deadbolt or another compatible app for Schlage Connect Smart Deadbolt, be sure to set up a pass code on your device. Smartphone apps allow you to lock and unlock your deadbolt from anywhere, so it's important to keep them secure.
5. Maintain a strong door
No matter how smart your deadbolt is, if your door is warped or the jamb is cracked, you may not be as secure as you want to be. Periodically check that your door is in good condition. Find more front door essentials with this list of 10 must-haves for security and style.
6. Leverage safety features
Schlage's smart locks come equipped with additional features designed to keep your home safe. Whether or not you choose to embrace remote connectivity in your lock, you can still take advantage of unique features such as built-in alarm technology and auto-lock. With the built-in alarm, you can set your deadbolt to alert you any time the lock is tampered with or a significant amount of force is applied to the door. With auto-lock, you can rest easy knowing your lock is set to automatically lock after a chosen period of time. No more worrying if you locked the door on your way out.
For interactive instructions and tips for setting up each of these features, visit our FAQ section or check out our videos on YouTube.