Designing for durability: Choosing hardware and finishes for bathroom.
By emily.bailey
Thursday, October 12, 2023
In this guide, we will explore how to enhance your bathroom's aesthetics, functionality, and durability.
In the bustling rhythm of our daily lives, bathrooms are often the unsung heroes of our homes. Think about it – you style your hair, take refreshing showers, conduct your skincare rituals, clean it with tough chemicals, and, of course, answer nature's call, all within the confines of this compact room. But amid all this activity, they endure a considerable amount of wear and tear. This high traffic is precisely why it's imperative to consider every element that makes up your bathroom, from the right paint finishes on the walls to the faucets and door locks you choose. In this guide, we will explore how to enhance your bathroom's aesthetics, functionality, and durability.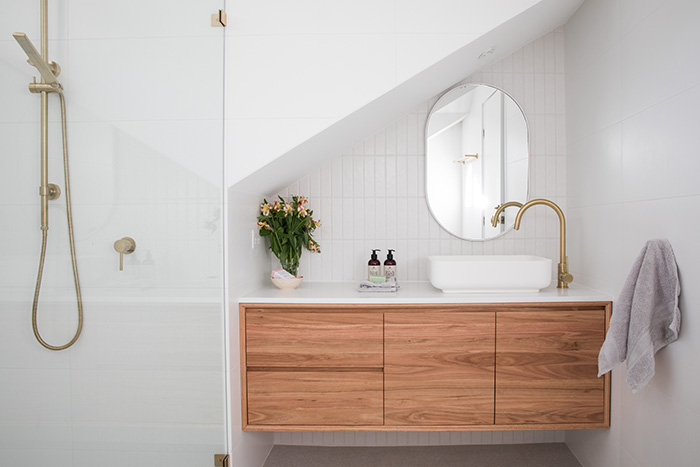 Selecting bathroom wall paint that lasts
Bathrooms are high-humidity environments and endure frequent use, making durability a top priority. The correct type of bathroom paint will not only resist moisture but also withstand the daily challenges of this busy space. Here are some things to consider when selecting bathroom wall paint to ensure that your walls stay looking fresh and vibrant for years to come.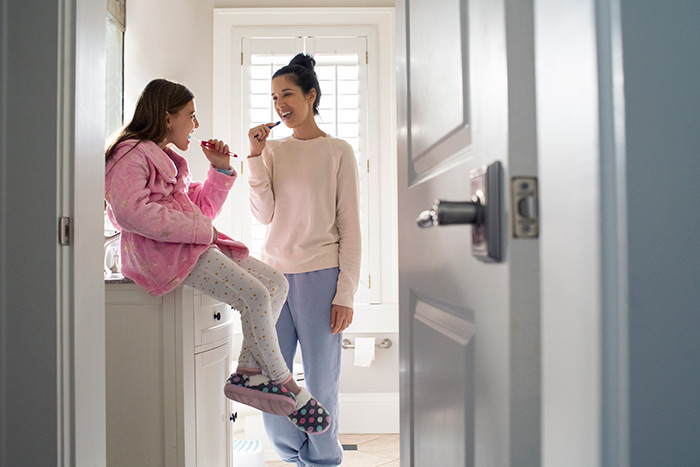 Best paint for bathroom walls
For bathroom walls, it's essential to use a high-quality, moisture-resistant paint. Look for paints labeled as "bathroom paint" or "kitchen and bath paint." These paints are formulated to resist moisture and prevent mold and mildew growth.
Best paint finish for bathrooms
The finish of your paint determines not only the appearance but also how it stands up to moisture, water, and cleaning agents. In a bathroom, where these elements are ever-present, the right finish can make a significant difference in the longevity and maintenance of your walls. Satin and semi-gloss finishes are excellent choices as they provide a slight sheen that's easy to clean and can withstand the occasional water splashes and humidity.
Satin vs. semi-gloss
When deciding between a satin and semigloss finish for your bathroom paint, its essential to consider both aesthetics and practicality. Satin finishes offer a soft, subtle sheen that strikes a balance between matte and glossy, providing an elegant and inviting look. On the other hand, semigloss finishes are more reflective, making them highly resistant to moisture and stains. They are an excellent choice for bathrooms with high humidity levels or frequent splashes. Ultimately, your choice should depend on your bathroom's specific needs and your design preferences. Satin for a touch of sophistication and semigloss for durability in a moisture-prone environment.
High-humidity bathrooms
Extra precautions should be taken when choosing paint for bathrooms with exceptionally high humidity levels, such as those without proper ventilation. Consider using a high-quality primer before painting to create a moisture-resistant barrier between the wall and the paint or selecting mold-resistant paint that is specifically formulated to resist mold and mildew in high moisture areas.
Choosing the right hardware finishes for bathroom
When designing your bathroom, it's essential to pay attention to the hardware finishes you choose for faucets and door locks. These elements not only contribute to the overall aesthetics but also play a crucial role in functionality and maintenance. Here are some key factors to consider when selecting hardware finishes that can withstand antibacterial cleaners, are easy to clean, and resist dust and water spots.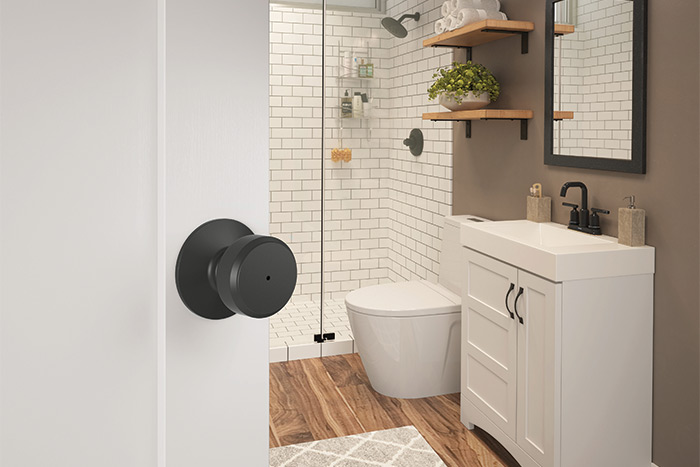 Antibacterial cleaner compatibility
When selecting hardware finishes, opt for materials that can safely withstand the use of antibacterial cleaners without deteriorating over time. Stainless steel, brass, and chrome are excellent choices as they are highly resistant to the corrosive effects of cleaning agents. These finishes not only maintain their appearance but also ensure a sanitary environment.
Ease of cleaning
Bathroom hardware is exposed to moisture and daily use, which can lead to the buildup of soap scum, water spots, and fingerprints. To simplify maintenance, choose finishes that are easy to clean. Smooth, non-porous surfaces like polished chrome or brushed nickel are less likely to trap dirt and grime, making them a breeze to wipe down with a damp cloth.
Resistance to water spots
Water spots can negatively affect the look of your bathroom fixtures. Opt for finishes that are known for their resistance to water spots, such as chrome or stainless steel. These finishes not only repel water but also make it easier to maintain a spotless shine with minimal effort.
Dust and grime resistance
Some finishes are better at hiding dust and smudges than others. Matte finishes, like oil-rubbed bronze or matte black, are more forgiving in this regard, as they tend to camouflage fingerprints better than polished options. If you are looking to conceal dust, a textured finish is the way to go. Consider distressed nickel to make particles appear less visible.
Consider your bathroom's aesthetic
Beyond durability and maintenance, your hardware finishes should align with the overall style and aesthetic of your bathroom. Choose finishes that complement your design scheme, whether it's classic, modern, industrial, or rustic. Coordinating finishes can enhance the cohesive look of your bathroom while still meeting the practical criteria mentioned above.
A well-chosen paint finish and durable bathroom hardware will ensure that you don't need frequent replacements. Remember to consider factors like the bathroom's style, moisture levels, and maintenance requirements when making your choices. And for expert guidance in finding the perfect bathroom door hardware, make use of our style selector tool designed to help you match your individual needs and preferences with the ideal hardware style for a bathroom that is both functional and stylish. For more home design trends and tips, make sure to check out the Schlage blog and follow us on Pinterest, TikTok and Instagram.