How to properly clean your smart locks and door hardware.
By emily.bailey
Keep your door hardware looking as good as the day you installed it. Here's what you need to know to properly care for each unique finish.
Today's current environment has us thinking differently about our household's high-touch surfaces. Now more than ever we are focusing on the importance and what it means to keep a safe and healthy home.
We've included the tips below to help you navigate how to properly clean and disinfect your smart locks and door hardware.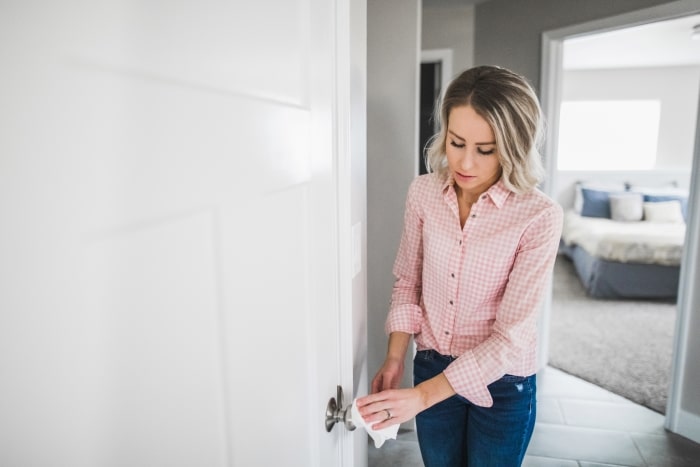 Step 1: Clean your door hardware
Before you can apply disinfectant, you need to remove any dust, dirt or debris that could keep that disinfectant from working effectively. To do this, Schlage recommends starting with a mild liquid dishwashing soap detergent mixed with water.
Gently wipe the surface of your door hardware with the mild soap and water mixture.


Using water only, wipe surfaces again to remove any detergent left behind.


Immediately dry all surfaces with a clean towel.


Do not spray or immerse the hardware in liquid at any time.
Step 2: Disinfect your door hardware
Once you have removed excess dirt and grime from your hardware, you're ready to disinfect it. Pay special attention to the disinfectants' ingredients. Some contain harsh or abrasive chemicals that will damage the finish of your hardware. Be sure to refer to the product's manual for more information.
Follow the

Centers for Disease Control & Prevention (CDC) guidelines

under "How to clean and disinfect." There you will find easy-to-prepare bleach or alcohol solutions.


Wipe surfaces gently, and do not spray or immerse your hardware in the disinfectant. When cleaning the keypad of your smart lock, do not leave disinfectants applied for a long period of time.


Per CDC guidelines, do not dry the surfaces. Instead, allow them to air dry to give the disinfectant time to work effectively.
Do not apply cleaners or disinfectants to your door hardware in direct sunlight or elevated temperatures. Doing so can harm your hardware's protective coating.
Step 3: Keep your door hardware looking like new
The following tips will help maintain your door hardware and protect it from tarnishing from natural elements.
For clear-coated finishes
Initial care for most finishes requires only periodic cleaning with mild non-abrasive soap and light buffing with a soft cloth. We also recommend coating most finishes, including chrome finishes, with a non-abrasive car wax to preserve the color and protect it from the elements. Particular care should be taken to avoid paint smears, thinners and strong cleaning agents as they will quickly destroy the protective coatings and subject the finish to rapid oxidation and discoloration.
Bright Brass
Polished Nickel
Antique Brass
Satin Nickel
Satin Brass
Antique Pewter
Aged Bronze
Matte Black
For oil-rubbed bronze finish
Oil-Rubbed bronze finish is a living finish that changes over time to give it a constantly evolving presentation. Since it does not have a clear coat, the flat brown coating eventually wears down to a copper penny color.
To care for this finish, wipe with a little vegetable oil on a soft cloth, but be careful not to use too much. Too much oil may leave residue on your hands with use. Household detergents and mild abrasive powder may be used to restore the high metal color without seriously affecting the original compound of the metal. Finish by rubbing with furniture paste wax.
Oil-Rubbed Bronze
For chrome finishes
Simply wipe your chrome hardware with a damp cloth. If needed, a high-grade chrome polish may be used according to directions to clean and restore the original shine and satin finish.
Bright Chrome
Satin Chrome