Choosing the right bathroom door locks for your home.
By emily.bailey
Whether your bathroom door locks need an update due to outdated knobs, loose levers or you simply want a style change, there's a bathroom door lock waiting for you! Making this simple change can elevate your home's style with a small yet impactful touch that can make all the difference. Upgrade your bathroom door locks and enhance your home's aesthetic appeal effortlessly.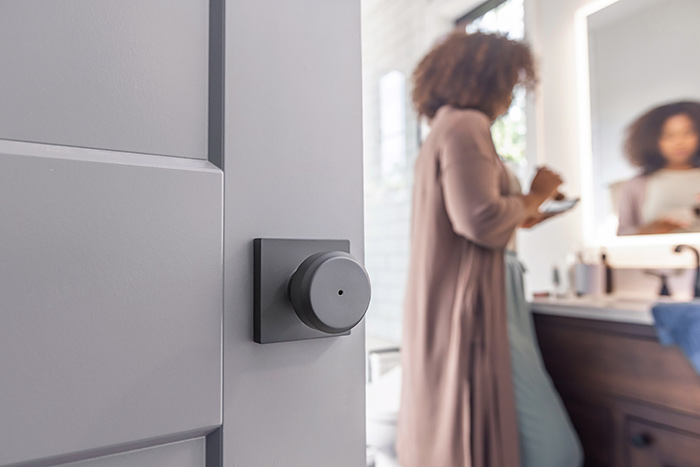 Lock function
First things first, you need to determine the function of the door handle. In most cases for your bathroom, you want a privacy, or Bed & Bath, lock. "What does this mean?" you ask. A privacy lock lets you lock the door from one side using either a push-lock mechanism or a thumbturn.
While a privacy lock is appropriate for most bathrooms, you may find that, depending on your living situation (small children, individuals needing special care, etc.), you would prefer to have access to the bathroom at all times. When that's the case, a passage, or Hall & closet, lock is the desired function. A passage lock allows you to latch the bathroom door knob or lever to the door, but it will not lock on either side.
Although if your bathroom is likely to be used by guests as well, there may be a better solution instead of having an unlockable bathroom at all times. Schlage Custom™ Door Hardware has Combined Interior functionality. That means that you get both passage and privacy functions in the same lock. Switching between the functions is easy and convenient. Simply insert and rotate the privacy pin to convert it from passage to privacy. With the versatility of Schlage Custom Combined Interior functionality, you never have to worry about miscounting how many of each kind of lock you need. And you never have to replace the entire lock if your needs change.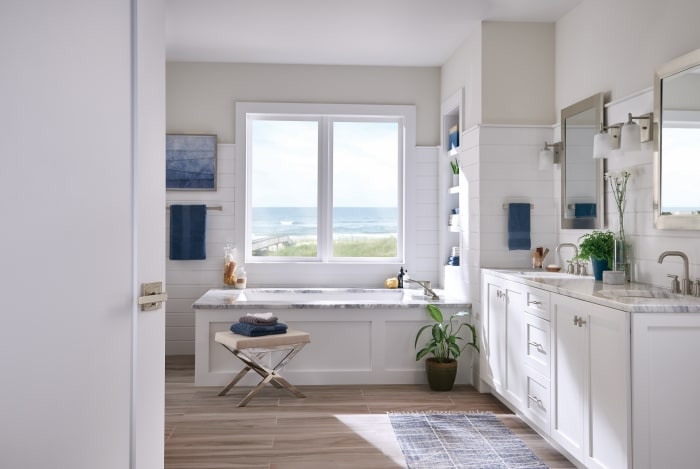 Quality bathroom door handles
Just as with any purchase, you want to make sure you are purchasing your interior door hardware from a trusted lock company, like Schlage, that manufactures high-quality bathroom door locks. Look for companies that honor both a lifetime mechanical warranty and a lifetime finish warranty. Because let's face it – sometimes things happen and you want to ensure you're buying a quality door lock from a company that offers great service and will stand by its products and warranties.
Door lock handing
In addition to deciding on the finish, you need to consider whether a door knob or lever would work best in your bathroom. What difference does it make? While door knobs and levers operate the same internally, they do provide a different look and style to the room. Additionally, levers are often ideal for young children or those with arthritis or need the extra leverage a lever provides to open the bathroom door. Levers are also different than door knobs in that they are ADA compliant.
f you choose a lever, you might need to pay attention to the handing. This impacts the way the lever is installed, specifically which way the lever points when it is affixed to the door. When you purchase a Schlage interior lever, your hardware comes with a pin tool that allows you to switch the handing of the levers if necessary. Watch this video to help you adjust the levers to the appropriate handing during installation.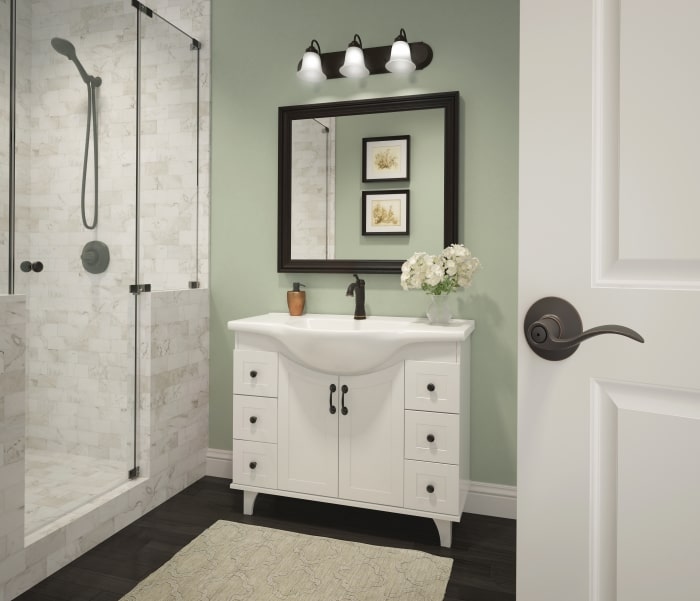 Best bathroom lock finish
When it comes to selecting interior door hardware for your bathroom, or any room, you want to look at the finish. These finishes can range from historically popular finishes like Bright Brass and Satin Nickel to more modern finishes like Satin Brass and Matte Black. A good rule of thumb is to complement your interior door hardware with your current bathroom fixtures. For example, if your faucets and lighting are a timeless satin nickel, you might not want to choose Bright Brass for your bathroom door lock. Selecting Satin Nickel will coordinate better and make your bathroom look that much more polished.
You can even create more visual interest by mixing finishes. Just because you have appliances in one finish doesn't mean everything has to have the same metallic look. Copper and nickel, satin brass and polished nickel, aged bronze and satin brass are all classic combinations that make a statement.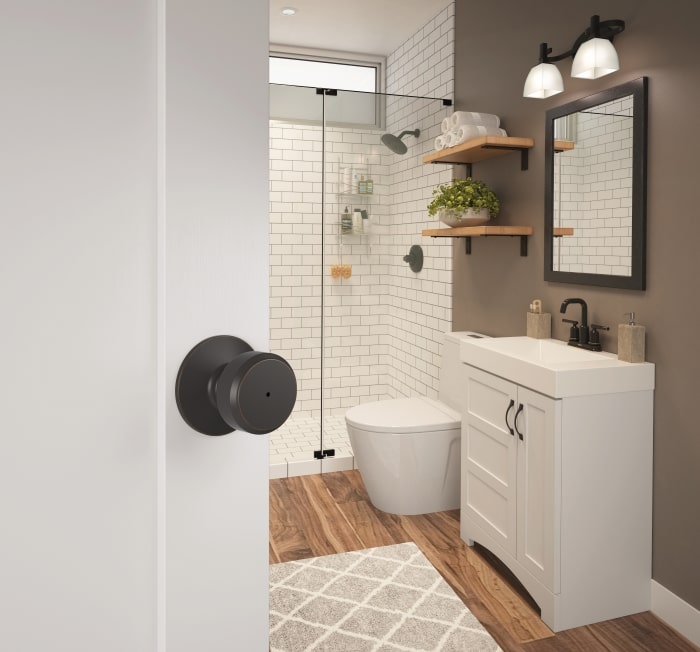 Door lock style
Part of completing your perfect look is choosing the right style of door hardware. Schlage offers designs that range from traditional to modern and clean and minimalist to ornate and eclectic, so you can find the door knobs, levers and trim that are right for your home and your own unique sense of style. Use our Style Selector tool to find the designs and finishes right for your décor.
You might also choose to match door hardware in other parts of your home. Because Schlage offers locks in a variety of functions, you can easily create your ideal look no matter what door you're updating, from the front door to back porch and everywhere in between.

If you find yourself in need of inspiration, check us out on TikTok, Pinterest or Instagram. You can also discover which bathroom door locks fit your home and personal taste at Schlage.com.