How to mix hardware finishes the right way.
By emily.bailey
Mixing metals and finishes can create visual interest that is both refined and intriguing. Here's how to get the look right.
Mixing metal finishes can add dimension and visual interest to a room. Instead of a monochromatic, one-note space, you create intrigue and the illusion of texture with small touches. A mix of finishes can blend styles and make a room more reflective of your personal taste.
So how do you get creative without making your home feel like a fun house? Follow these four simple steps.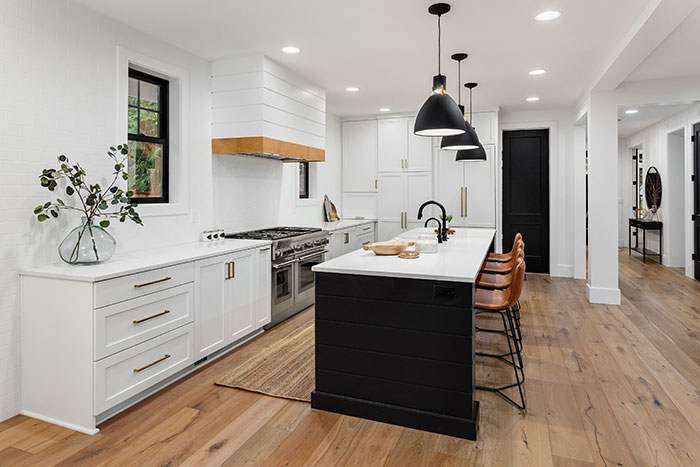 1. Find inspiration in something that already exists
Maybe you have a polished nickel faucet you love, or you're tired of seeing brass all over the house. Maybe there's a statement piece in your décor that needs a complementary finish. Find or imagine one metal finish in your home which you absolutely can or cannot live without. Whatever it is, consider either replacing or accentuating it.
Sometimes this means shifting your style around appliances you cannot replace. Even if that is the case and you don't love what you're starting with, it helps to have a guide when choosing new hardware to transform your space.
2. Mix and match finishes
The most important thing to remember when mixing finishes is not to go overboard. Avoid creating more chaos than style and keep your designs between two to four finishes, starting with a matching element.
Notice how the chrome faucets pair nicely with the gray countertops and flooring in this bathroom image on Houzz. They set the foundation for contrasting gold elements.
3. Choose a complementing contrast
Once you have a foundation like a color palette or theme to work with, choose a contrasting finish that complements the others. The best rule of thumb is to consider an opposite finish—for matte or brass tones, look to chrome or other bright metals. Below are a few suggested finish pairings and links to beautiful examples online.
Black & Gold hardware + Stainless Steel Appliances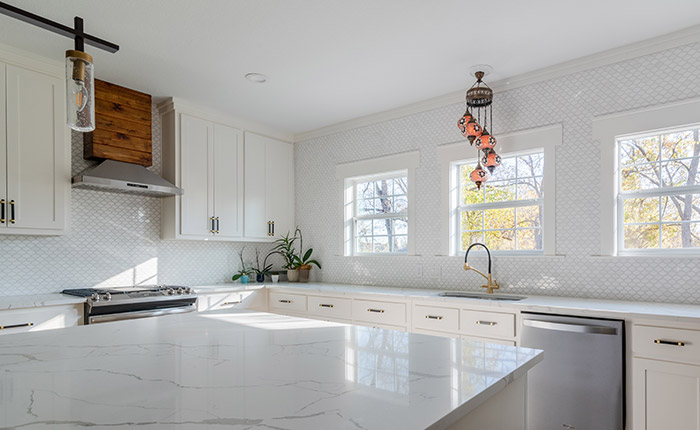 Matte Black Hardware and Bedding + Brass Lighting from I Spy DIY

Matte Black Door Hardware, Lighting & Faucet + Gold Mirror & Cabinet Pulls from Jenna Sue Design

Once you've created just the right amount of balance and visual interest, it's time to put the finishing touch on the room. If you're trying to add a little glitz and glam to a traditional space, Lucite accessories and sparkling chandeliers are the perfect way to tie it all together. If your room already sparkles enough, consider a linen shade or softer accessories to tone it down.
An antique brass chandelier and mirror provide just the right amount of warmth to this cold bathroom on Houzz while polished nickel plumbing gives it just the right amount of modern flair.
Oil rubbed bronze and antique brass cabinet pulls are brought to life by the reflective canisters on the counter in
this calming kitchen
.
And don't forget that some metallics aren't metal at all. Fabrics with a metallic sheen can combine balance and contrast in an unexpected way. The silver of the pillows contrast beautifully
in this bedroom
with the gold light fixture and other sheen in the wall décor.
Mixing hardware finishes is one way to make a statement. Schlage has crafted a range of designs and finishes that can help you show off your style in the details of your home.
Not sure what your look is yet? Try our interactive Style Selector or join us on Pinterest for plenty of inspiration.