8 front door design ideas to inspire you.
By emily.bailey
With a gorgeous front door, your house is sure to make a great first impression. Spark your creativity with this list of eight modern front door ideas.
At Schlage, we believe the front door sets a tone for the entire house. While there are many styles to choose from, the best option is timeless, functional, and reflective of what you want your home to embody. Whether you're looking to overhaul your entryway completely or simply give your front door a new coat of paint, these eight front door design ideas will help you get started. From bold and bright to understated and elegant, there's something for everyone here.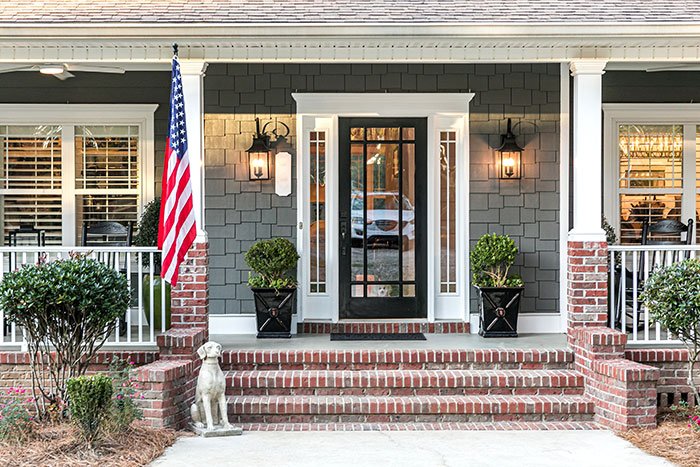 1. Doorway with sidelights
A front doorway framed by sidelights is a perfect way to add a touch of class and style to any home. Not only does it add visual interest, but it also creates a sense of symmetry and balance as well as an inviting entryway. By breaking up space, it helps to make the doorway appear larger and eye-catching.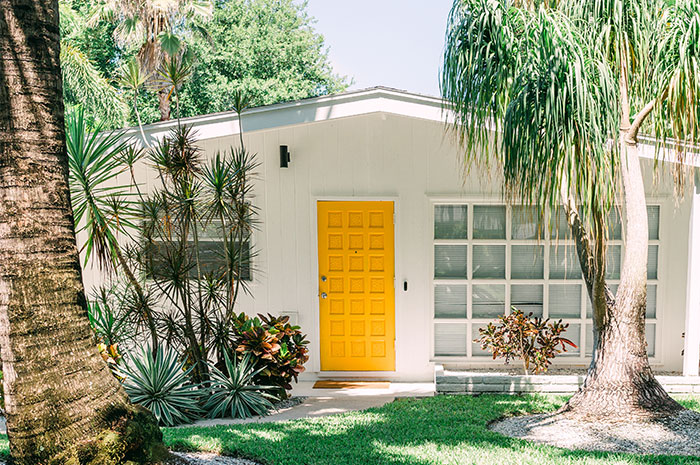 2. Geometric details
One of the most striking features of a well-designed front door is the use of bold geometric details. A strong vertical line can add a sense of height and grandeur while a striking pattern can add a touch of whimsy and personality.
Geometric details also add luxury to an otherwise simple design. In this example, bold windows and symmetric lines give the door an eye-catching look that will entice guests to step inside. You could elevate this design even further by pairing a front entry handle with a smart lock instead of a knob or lever.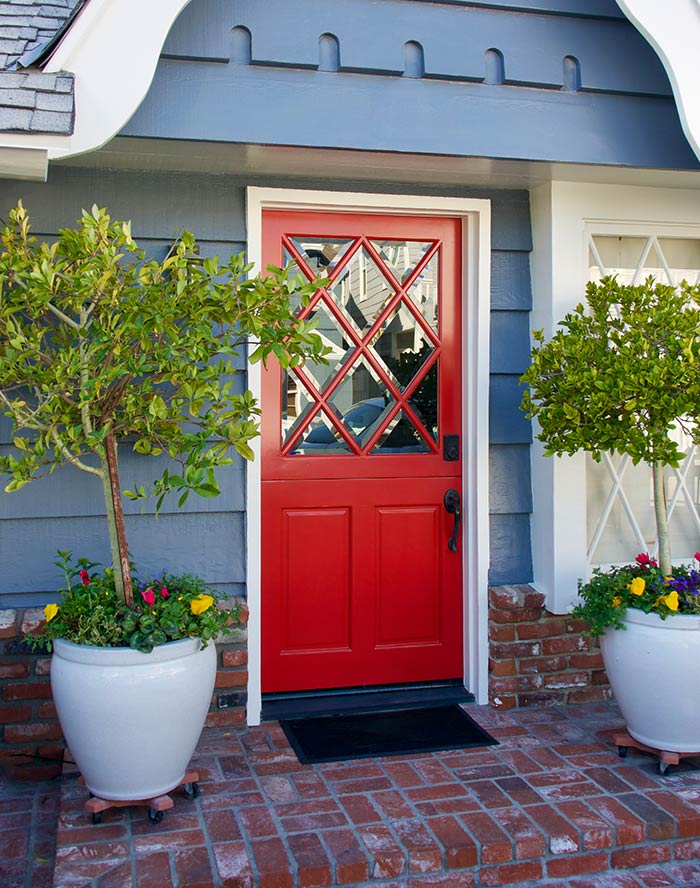 3. Bold contrast
Make a bold statement with a contrasting design. A bright red door creates a striking visual that is sure to turn heads. For a more dramatic effect, pair a dark door with a light-colored façade. The contrast will really make the door pop and give your home an unforgettable entrance.
If you want to add a touch of elegance, consider using two different colors for the door and the frame. This will create a flawless look that is sure to impress. No matter what combination you choose, remember that bold contrast is the key to creating a stunning front door design.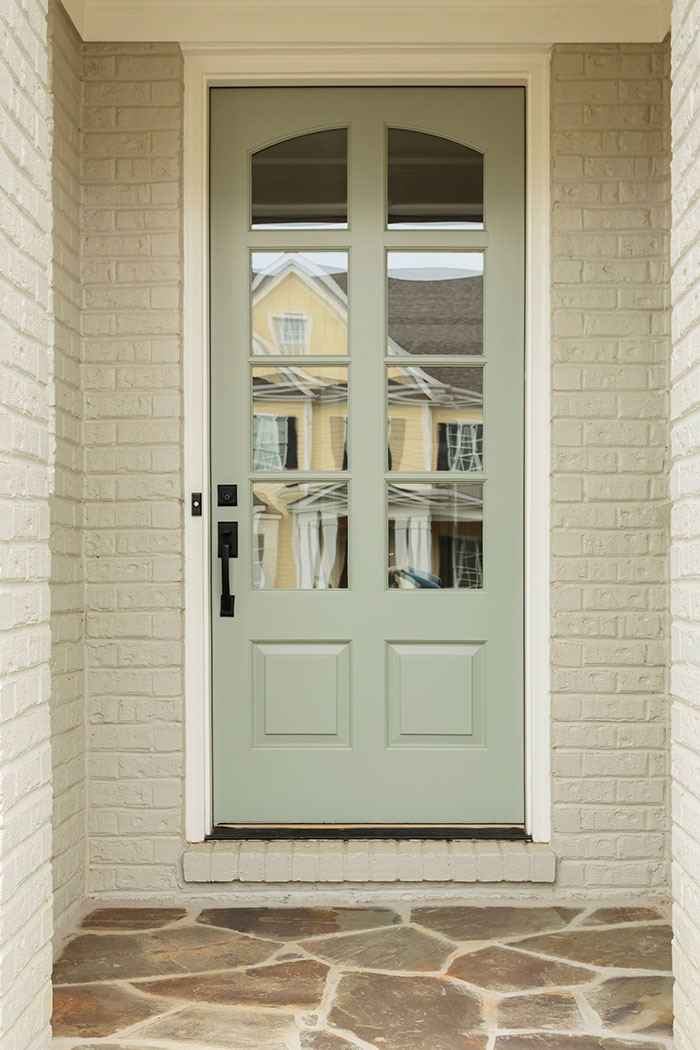 4. Inviting neutrals
If you're going for a classic look when designing your front doorway, opt for a neutral like white, gray, brown, or olive green. By using soothing earth tones, you can create an entryway that is both stylish and inviting while complementing the rest of your home's exterior. Consider installing a matching handle like the Schlage Custom 3/4 Trim Handleset for added consistency in the design.
You can also add a pop of color with a bright welcome mat or a colorful door knocker. An eclectic assortment of potted plants will also add visual interest to the exterior entryway's design.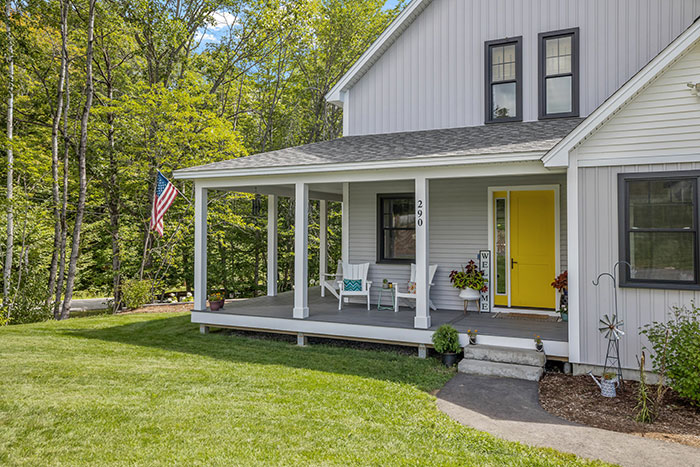 5. Contemporary color
When it comes to front door design, don't be afraid to think outside the box. If you're looking for a front door that is both stylish and modern, consider a contemporary color option. A bright door with clean, simple details is the perfect way to add curb appeal to your home.
Try pairing a bold yellow door with clean lines and a contemporary aura. Guests will have no trouble finding this house. A vibrant color option is a perfect way to make your home stand out from the rest.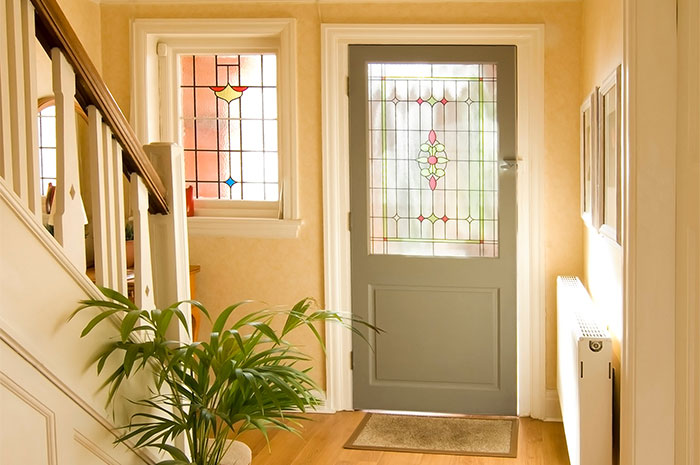 6. Timeless stained glass
If you're looking for a distinctive way to add beauty and value to your front door, consider adding a touch of stained glass. Whether it's a traditional Victorian-style design or a more modern abstract pattern, stained glass can add a touch of class and elegance to any home.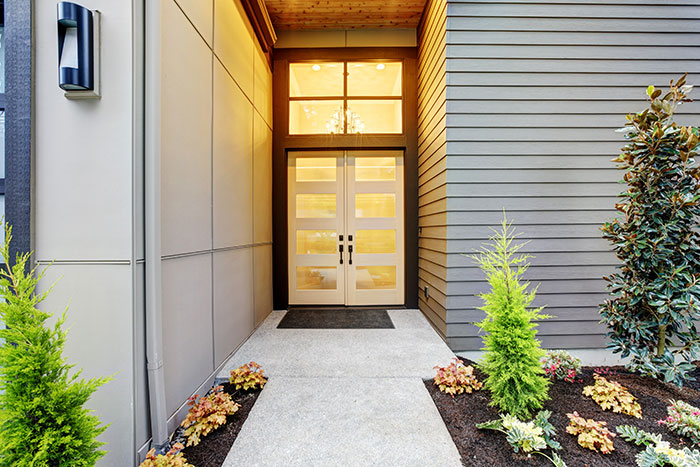 7. Modern simplicity
Elevate your home's exterior with a classic brown wooden door with black accents. This design featured offers the perfect blend of natural and simple for a warm take on a modern look. The matte black front entry handle gives the right amount of edge while still being inviting.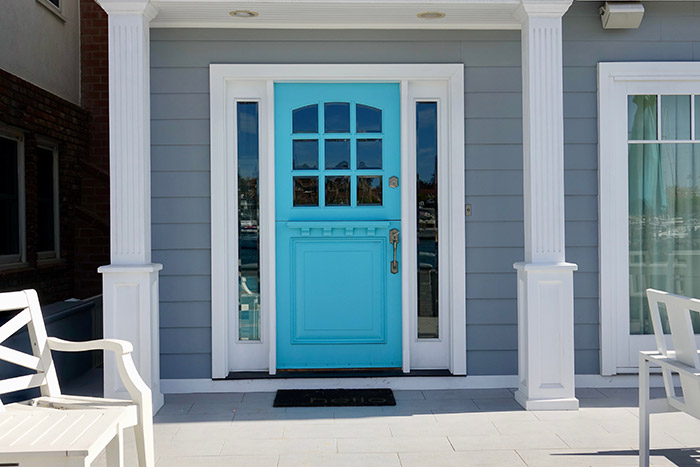 8. Dutch doors
The Dutch door is an increasingly popular choice for front doors, thanks to its rustic charm and simple elegance. This design is perfect for homes with a country or cottage style, as it adds a touch of charm and authenticity. Whether you're looking for a classic design or something more modern, a Dutch door is an excellent option.
This example by Jenny Komeda features a bold, black color against a crisp white backdrop. If this isn't quite your style, this type of door can be easily customized to suit your taste. You can choose from a variety of woods, stains, and hardware to create a unique look that complements your home.
A front door is more than just an entryway into your home. It's a reflection of your style, and it should make a statement. With a little bit of thought and planning, you can design a front door that makes your home look its best. For more ways to boost your home's curb appeal, visit the Schlage blog, or keep up with all the latest trends on our Facebook page.