How to paint a door for a simple style refresh.
By monica.reedy
How to paint a door shouldn't be a mystery. It's one of the quickest and simplest ways to refresh a room with your personal style. Between our budget-friendly ideas that add a creative touch to any home and the must-know door painting tips below, Schlage has you covered.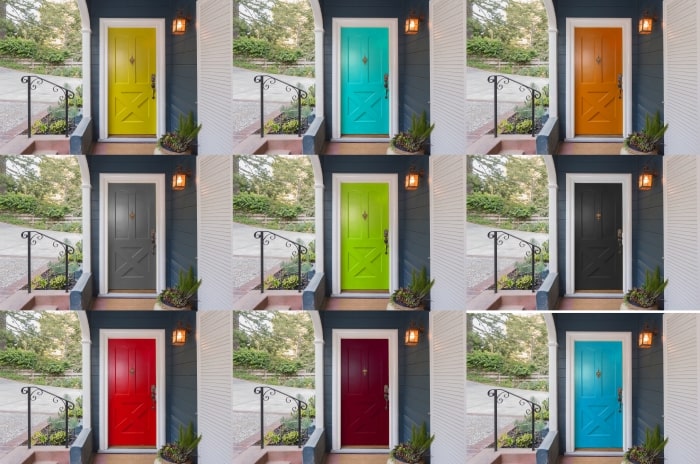 What tools do I need to paint a door?
When it comes to achieving a professional look, we recommend using a 4-inch foam roller brush for consistent coverage, an angled sash brush for hard-to-reach places and small touchups, and painter's tape or some other protective material for door hardware. Especially if you plan to leave the door up while you paint, you'll want a drop cloth or newspapers to protect the floor.
Can I paint my door without removing it?
The easiest way to paint your doors is to leave them on the hinges. This will save you time if you plan to paint both sides and prevents the hassle of re-installing. If you remove the door first, you'll have to wait for one side to dry completely before flipping it over and painting the other.
How do you prep a door for painting?
Give your doors a thorough cleaning before you start. A dusty door not only leaves tiny clumps of dirt imbedded under the paint, but it can keep the paint from adhering correctly in the first place, resulting in chipping later. Use a heavy-duty household cleaner and let the door dry completely before filling holes, priming or painting anything.
Do I have to sand the door before painting?
A best practice is to always sand your door lightly and coat it with a good primer. This will help the new paint adhere to the door rather than the previous layer of paint. The last thing you'll want is for your beautiful paint job to chip away with everyday use. If you sand, be sure to clean the door thoroughly again to remove new dust and debris before painting.
How do I protect the hinges and hardware when I paint a door?
If you're painting around existing hardware, you'll want to cover the hinges, knobs and levers. Cleaning paint drips from your hardware is not only difficult, but it can damage some finishes. There's always painter's tape, but Real Simple suggests covering knobs and levers with aluminum foil instead. This will allow you to fully protect awkwardly shaped trims.
Another hack for painting around door hardware comes from Glidden. Apply two coats of rubber cement to your hardware before painting. It will peel off easily – paint drips and all – when you're finished.
What's the best way to paint a door with panels?
If you have doors with multiple panels, start with the interior angles at the top of the door. Work your way down, painting the edges with the angled brush. From there you can move on to the dividing panels, starting with the most center, working outwards. Paint the bottom of the door last.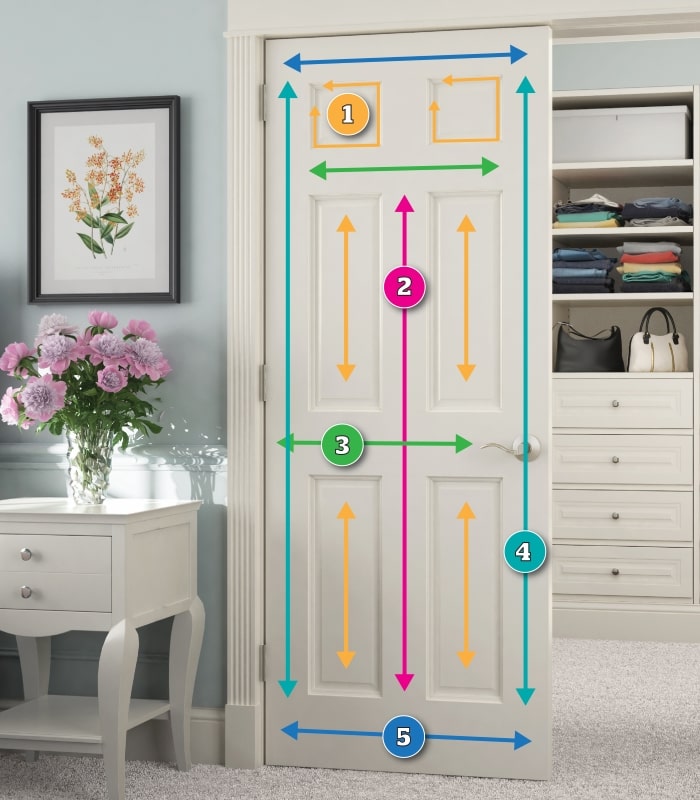 Painting a single-panel door is pretty straight forward. Just be sure not to leave any roller marks behind by smoothing over the whole door with another roller.
Once you've painted your door, you might want to put the finishing touch on your new look. Make Schlage door hardware the pièce de résistance that sets it apart. Our Style Selector Tool can help you find the perfect knob or lever for your beautiful door.