How to secure a door with windows.
By emily.bailey
If you have sidelights or windows near your door, we can help you take steps to make your entryway more resistant to intruders.
There are lots of things that go into making your home, and especially your front door, secure – sturdy building materials, high-quality locks, maybe an alarm system. But sometimes there are weak spots, such as glass doors, that make security more challenging. How do you improve the security around those areas? If you have sidelights or windows near your door, we can help you take steps to make your entryway more resistant to intruders.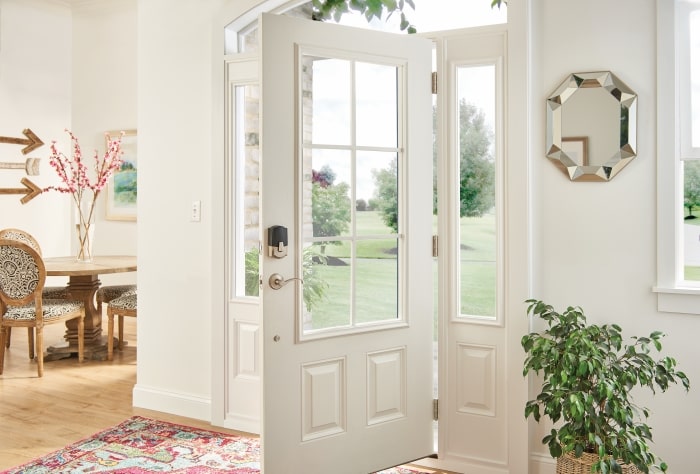 Deadbolt possibilities
The danger of having glass in or near your door is that potential thieves can break the pane and reach through to let themselves in without having to pick or break a lock. There are two ways to reduce the odds of these individuals being successful.
First, if your area's building codes allow it, install a double-cylinder deadbolt. These require a key to lock and unlock the deadbolt on both sides of the door. That means that if the thief does break the glass, they'll still need a key to get in. The risk you take with a double-cylinder deadbolt, and the reason they are regulated in some areas, is that they can make it more difficult to get out of the house quickly in the event of an emergency. If you choose to go this route, it is vital that your household has an emergency preparedness plan in place. so that everyone can exit the home safely, even when anxiety and distress are high.
Second, you can install a smart lock. The Schlage Encode™ Smart WiFi Deadbolt as well as Schlage Sense™ Smart Deadbolt and Schlage Connect™ Smart Deadbolt with built-in alarm have sensors to detect disturbances at the door. When the lock is connected to the internet and synced to a compatible smartphone app, you can then choose to receive a push notification to your phone if it registers that someone is trying to tamper with the door.
No matter what kind of deadbolt you choose, make sure it is properly installed and that the door is also constructed well enough to deter unwanted entry. Using screws that don't anchor deeply enough or a door jamb of rotting wood can limit any lock's effectiveness. This goes for any door, not just those with windows.
More secure options
You aren't limited to just locks to secure your door. Alarm systems, some of which integrate seamlessly with Schlage smart locks, can be an effective deterrent against thieves.
Another kind of alarm is glass break sensors. These sensors use an audio microphone that registers when glass is broken. Typically with a range of several feet, one sensor can generally protect several windows – and sliding glass doors – in a single room.
You can also replace glass with reinforced windows or add a security film to existing panes. Check out this tutorial from Pretty Handy Girl for reinforcing your windows with film that makes them especially difficult to shatter.
If you have a sidelight on just one side of your door, one suggestion is to move the location of the hinges so that your knob or lever are on the opposite side as the glass. That will typically reduce intruders' ability to reach through a broken window to unlatch your door.
Visit Schlage.com to see our wide variety of locks and door hardware that work to keep your home secure. You can also find more ways to improve your home's overall security on our blog.