How to move your home office outdoors.
By emily.bailey
The temptation to get away from your desk and enjoy the outdoors doesn't change even when you're working from home. Here are our top tips for working outside when you're working remotely.
It's hard to stay in the office when the weather warms up and gets nicer. That cubicle feels a little smaller, the florescent lighting a little more energy-sapping, the uncontrollable air conditioning a little more frigid (and not in a good way).
The temptation to get away from your desk and enjoy the outdoors doesn't change even when you're working from home. The good thing, though, is that you probably have the flexibility to cut the ties that keep you glued to your chair. Here are our top tips for working outside when you're working remotely.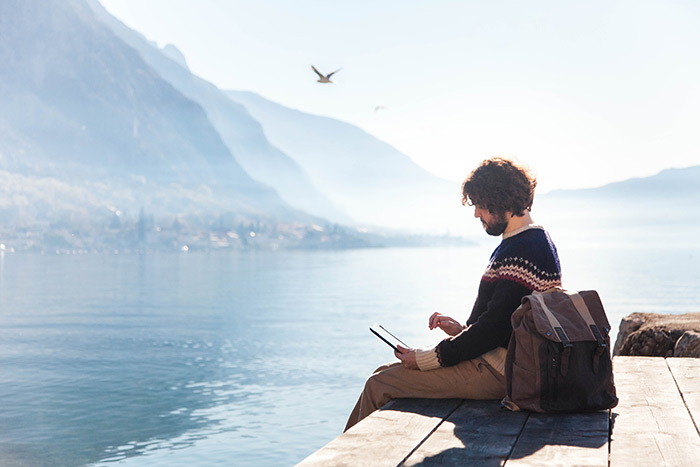 Why is it good to work outside?
We all know your day is simply more fun when you don't feel cooped up. But working outdoors also has plenty of tangible health benefits. Being outside has proven to reduce stress and lower your blood pressure. It's one of the reasons all those 2021 Colors of the Year are natural, earthy tones. We find them soothing. Working outdoors also exposes you to natural sunlight, which can provide much-needed vitamin D as well as reduce anxiety.
Finally, it can provide healthy distractions. Sometimes you need to put your nose to the grindstone to meet a deadline. You also need to look up and take a deep breath from time to time, though. Working outdoors gives you the opportunity to gaze at the sky, relish the soft breeze on your skin, listen to chirping birds and reset your mind in the process. You may find that these "distractions" actually improve your focus over the long haul.
How can I reduce sun glare when working outside?
Sunshine and warmth are some of the main appeals of working outdoors, but intense sunlight can cause problems. If you're fighting with glare on your computer screen, you're not only more likely to make embarrassing typos, but you also might experience more eyestrain and headaches. Both you and your laptop can overheat in the sun, so you need to take precautions.
The natural way to reduce sun glare is to set up your work station in a shady spot like under a tree or building overhang. You can also install a patio umbrella or hang porch curtains. You'll probably enjoy those even when you're not filling in that spreadsheet. Talk about a bonus!
If it's still too difficult to see your computer screen, you might call on technology to help. An anti-glare screen protector or laptop dome – it looks like a tiny camping tent for your computer – are good solutions. Throw in a laptop cooling pad, and your devices will thank you by preserving their battery life.
Remember to keep yourself cool. Working outside won't be as fun if you're overwarm or getting a sunburn. Wear a brimmed hat, apply sunscreen liberally and frequently, use a portable fan and drink plenty of water.
How can I make my outdoor seating more comfortable?
Just as too-intense sun can ruin what seemed like a good idea, uncomfortable seating can be a real pain in the neck … and back and shoulders. This might be a good time to invest in more comfortable outdoor seating or to upgrade to the larger patio table and chairs. If all-new patio furniture isn't in the budget, stick to new cushions, including an outdoor lumbar support pillow.
You're still in luck even if you don't have room for a large table. A balcony desk that attaches to a railing is small enough for even the most modest porches but large enough for your laptop. You might also choose a lap desk. It's less permanent, obviously, but no less comfortable when crossing tasks off your to-do list.
Do you have a tall pub table or an outdoor kitchen with counters? These surfaces can also make a great standing desk.
How can I improve my power and WiFi when working outside?
A walk in the woods sans cell phone can be a great way to disconnect and recharge your personal batteries. But when you're working remotely outdoors, you need something to charge your devices' batteries and make sure your internet connection is strong enough for those Zoom calls.
To solve your power woes, a simple extension cord or surge protector could be all you need. You could also try a portable power station, which will not only keep your laptop and phone fully charged, but can also run speakers, lights or your guests' phones when you're hosting a backyard party.
Depending on where your router is in the house and how many obstructions there are between it and the patio, you may need something to boost your internet signal. A WiFi extender or a mesh-networking system are possibilities. The entire family might appreciate this, too, when everyone is doing homework in their bedroom, gaming in the basement and catching up on TikTok from the couch at the same time.
How can I reduce noise distractions when working outside?
We know we said working outdoors can provide healthy distractions, but not all noises are created equal. If you live near a busy road, you might want to block the sound of traffic. Or if you're on a call, you might not want your boss to hear the neighbor's barking dog.
Noise-cancelling headphones or earbuds are one solution. A portable Bluetooth speaker could also work if you're just trying to drown out distracting sounds for your own benefit. For all those calls and video conferences, invest in some quality headphones with a built-in microphone. We can't say they'll make those virtual meetings fun, but they'll be a bit more tolerable and you'll seem more professional if you aren't yelling over ambient noise or sound like you're driving through a tunnel.
What's the easiest way to move my WFH station outdoors?
Working outdoors isn't like working from your home office/guest room. Since you can't just shut the door when you're done, you'll need an easy and convenient way to bring your supplies in and out each session. Depending on your tasks and how long you plan to stay outside, you'll need your laptop, phone, chargers, notepad, pens, snacks and water, your floppy brimmed hat … Get yourself a laptop bag or backpack. Pack it at the end of each day just like you would if you were going into the actual office. You'll forget less, have to make fewer trips in and out, and be ready to start work first thing in the morning. Or second thing, after coffee.
Another idea is to repurpose your bar cart or the ever-popular IKEA Raskog cart. Again, load it up with all your supplies – don't forget your new lumbar support pillow – and roll your new desk caddy wherever you need it.
Lastly, install a keyless lock. How does a smart lock or electronic deadbolt help you transition your WFH station easily? Think about what would happen if you rolled out your bar/office cart, put in a couple hours of good work and then need to use the restroom, but the door locked behind you and you don't have a key. With Schlage smart or electronic lock, you can simply enter your access code and voila! You're not locked out, but the house is still secure. This feature isn't just about working outside. It's also helpful when you're gardening, hosting guests or grilling out with the family, or playing with the dog out in the yard.
Like many of you, we've spent a lot of time in the last year thinking about how to make working from home easier and finding creative ways to build a home office. Find all our tips at the Schlage blog.