Smart locks for aging in place.
By emily.bailey
Consider how a Schlage smart lock can help your loved ones keep the independence they desire and give everyone peace of mind.
They took care of you. Now you can take care of them. According to the
U.S. Census Bureau
, the elderly population will more than double to 80 million by 2050, and most of that growth is happening right now. More and more families are looking to help relatives age in place safely. Consider how a Schlage smart lock can help and give everyone peace of mind.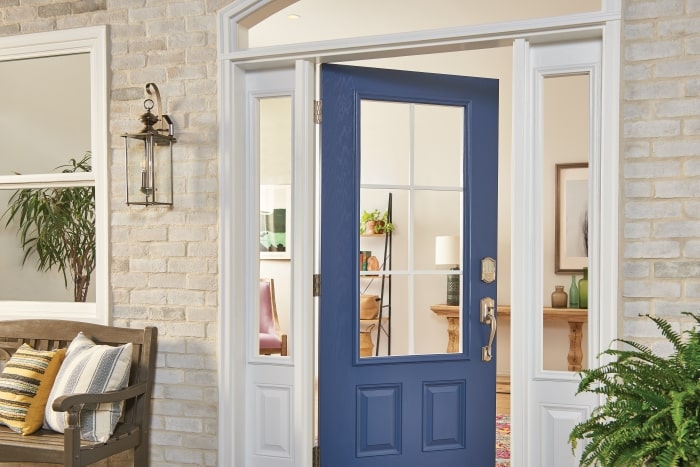 Access codes
Schlage smart locks allow you to create unique access codes, so you never need to use a key if you don't want to. Assigning access codes to trusted family, friends and caregivers can add another level peace of mind. Maybe your parents have a healthcare aid or housecleaner who stops by a few times a week to help out. With access codes, you don't have to worry about handing out spare keys. Particularly when mobility or illness is a concern, this is a great option for simplifying something as critical as welfare checks or as mundane as household chores.
Even if you're the one primarily visiting your family members, access codes can be helpful to you in that you don't have to carry or remember a separate set of keys. No more making a special trip home to find other keys or losing the spare just so you have the flexibility to stop by and say, "hello" at any time.
It's easy to create and manage codes. The Schlage Encode™ Smart WiFi Deadbolt can store up to 100 unique codes, while the Schlage Sense™ Smart Deadbolt has memory for up to 30. No matter which lock you choose, you can then use the Schlage Home app to add, delete or change settings for codes.
This includes creating schedules for individual codes. For example, if the housecleaner is only expected Wednesdays between 9 and 11 a.m., you can schedule the code to be active only during that timeframe. When you no longer wish someone to have access to your parents' home, you can delete the code at any time, all from your smartphone or the lock's touchscreen.
On a side note, if you already have a Schlage smart lock on your own home, you can continue to manage that lock as well as your parents' from the same Schlage Home app. The app is designed to work with multiple locks in multiple locations as easily as if you were monitoring only one door.
Lock Status
Many of us struggle with memory as we get older, and forgetting to lock our doors can be a safety concern. Would you be more comfortable with elderly relatives living alone if you could be sure that their home was locked at night? With the Schlage Encode and Schlage Sense deadbolts on your door and the Schlage Home app on your smartphone, you can check the lock's status remotely. And if you find it hasn't been locked, a single tap on your smartphone's screen lets you change that.
You can also use the Schlage Home app to unlock the door from anywhere when your Schlage Encode or Schlage Sense deadbolts are connected to WiFi. This may be appealing to you in the event of an emergency when first responders need to enter the home and no one can come to the door. We hope you never need this feature for that reason, but it is available just in case.
Voice commands
The Schlage Encode and Schlage Sense smart deadbolts work with hands-free voice assistants like Amazon Alexa and Google Assistant. If you're thinking that this type of technology and artificial intelligence aren't a right fit for your older parents, consider these capabilities:
Set daily reminders to take medication or complete other regular tasks


Use speech-to-text functions, perfect for those with hearing disabilities or who struggle with smartphone touchpads


Make hands-free calls and texts, similar to how you use your phone's Bluetooth technology in your car
Forbes also reports on a study that also found voice assistants help older adults feel less isolated and that that connection to family, friends and their community can maintain or improve brain function.
So what's voice commands' relation to locks? For one, you can use voice commands to control your Schlage smart deadbolt. A simple, "Hey, Google. Is the front door locked?" will give you a status update. And "Alexa, lock the front door" will secure the deadbolt. There's no more worrying about going down the steps at night just to check the lock when you can do it from bed.
You or your family member can also create simple scenes, essentially a chain reaction of "events" that gets triggered with a single voice command. Just say, "Alexa, it's time for bed," and the scene you built will turn down lights, lock the door, adjust the thermostat and more.
At Schlage, we strive to make life safer and more convenient for you and your entire family. Get help deciding which of our smart locks is the right fit for your family at any stage in life.