Parents moving in? Choose stylish, accessible floors, doors and lighting.
By emily.bailey
Monday, December 21, 2020
We're sharing four home features to update to help keep your older relatives safe without compromising your own style.
Whether for health, economic necessity or simply to be nearer to loved ones, it's becoming more common for aging parents to move in with family. While that can solve many problems, it can also create new ones. Do you have the space for more people? Is your home set up to accommodate older relatives with health or mobility issues? If you do make changes for accessibility, will your house start to look like a hospital or nursing home?
In the second installment of our three-part series on adapting your home for aging relatives, we share four home features to update to help keep your older relatives safe without compromising your own style.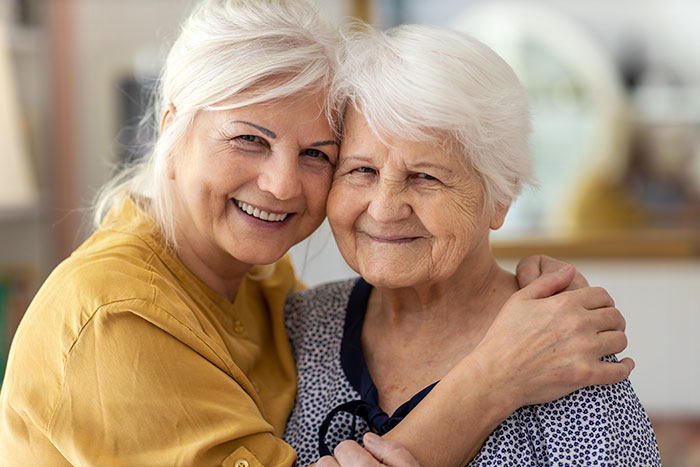 How to make flooring safer for aging parents
What you do or don't have on the floors is key when it comes to making your home accessible for older family members. The key is to reduce tripping hazards.
Thresholds
Transition points from tile to carpet or changes in elevation can be tricky for those with visual or mobility impairments. Some experts suggest adding orange tape at these spots, but if you're looking for something more stylish, you might take the plunge into new flooring altogether. Aim for a consistent, slip-resistant material throughout the house, without bumps or steps. Vinyl, linoleum and cork rate among the top choices for seniors.
Rugs
Throw rugs are beautiful, but they can catch toes, canes and walkers, making them dangerous. People with dementia might also find them confusing. According to this Houzz expert, they may see them as holes and try to jump over them, walk around them or simply become too confused to move. Instead, replace or deep clean the carpet instead of covering it up with a throw rug, try an inlaid border on hardwood flooring or, if it's just the tripping hazard you're getting rid of, try painting the floor to keep a beautiful aesthetic.
Stairs
It's no secret that stairs are a fall hazard, but you can reduce the danger. Make sure the surfaces are non-slip, either by changing the flooring material or adding treads for better traction. Lighting is also important, and we'll talk more about that in a minute. Finally, remove clutter from around the stairs and handrails. Place a stylish table at the top and bottom of stairs to place belongings instead of putting them on the steps themselves.
Ramps
If the grade isn't too steep – no more than eight percent is recommended for wheelchairs, walkers and canes – you might choose to install a ramp. Don't think it has to be some kind of sterile, metallic setup either. You can find a ramp that is both ADA-compliant and good looking.
How to use lighting to protect older relatives
Proper lighting also helps reduce tripping hazards, but that's not all. Those with visual impairments can often be more independent and our moods may improve. There are lots of solutions for healthy lighting.
Motion-activated lights
These plug-in sensors can be used just about anywhere, from the bedroom to the bathroom, the hallway to the kitchen pantry and anywhere else you might be passing through and need better visibility. And if you choose a battery-powered model, you don't have to worry about rewiring or being able to reach a switch, making one of the easiest and most cost-effective changes on this list.
Nightlights
Whether you've built your relative an in-law suite with their own bathroom or they have to use the facilities down the hall, illuminate the path from the bedroom to the bath. No one likes being blinded by suddenly turning on a lamp, but older adults may become disoriented by the drastic change as well.
Task lighting
Especially in an area like the kitchen, task lighting can help them see what they're doing and keep fingers safe while using knives. They might also appreciate it in the bathroom when they're applying makeup or shaving. Look for undercabinet LEDs, closet lighting and vanity sconces.
Near the stairs
If they're not there already, add light switches at both the top and bottom of the stairs. If that's not possible, consider lamps on those tables we talked about earlier.
On the stairs
Most often seen outdoors, stairs with underlighting is a beautiful safety improvement. You can use treadlighting inside the home as well. Similar to the nightlight, it's a nice feature when you're trying to get to bed without turning on bright, glaring lights.
Elbow-operated switch plates
Push-button or plates that can be operated with an elbow are nice alternatives to the typical light switch. This can be helpful if your parents have arthritis or when fine motor skills start to deteriorate.
Hands-free lighting
The USC Leonard Davis School of Gerontology recommends installing light switches near beds as well as bathtubs and showers. That can get expensive if you have to rewire your house. A nice alternative is to connect lighting to a smart home hub and voice assistant. That way, even if your relative can't reach the switch, they can still ask Alexa to turn on the light.
How upgrading doors and door hardware can protect your parents
These solutions pull double-duty – they'll help keep your family safe and make simple daily tasks that much easier.
Levers
If your older relative has arthritis or trouble gripping things, replace your door knobs with levers. They're easier to operate and push or pull open.
Door width
Particularly in older homes, doorways may be quite narrow. If your parent uses a wheelchair or you anticipate needing to bring in large medical equipment, it might be worth the expense of widening doors. A Certified Aging-in-Place Specialist (CAPS) can help you figure out these modifications and, because they're often also remodelers, help you execute them.
French doors
To enhance the style of your newly widened entryway, you might use this as the perfect excuse to install beautiful French doors. Depending on what you choose, you can decide whether both sides are always swinging or use a flush bolt to keep one side in place until you need the extra clearance.
Sliding doors
When you're converting your house to accommodate new family members, you might not have the space for major changes. That's why sliding doors, including pocket doors and barn doors, are ideal for your new situation. Use them to close off a room when you don't want to disturb sleeping parents or if you simply need a bit of privacy for a phone call while working from home.
Glass doors
You might not think twice about it, but those with visual impairments or cognitive diseases like dementia can become confused by glass doors and run into them. AARP recommends placing stickers on the glass, but you might also opt for etched or frosted glass, window pane-like framing or blinds.
Using décor to help them feel at home
No matter how you choose to accommodate your loved one, keep in mind that it's everyone's home. Include photos and other décor around the house that inspire fond memories. You might also love to change up that décor and update photos as you continue to make new memories together.
Looking for more? Check out the rest of our series on adapting your home for aging relatives without losing your sense of personal style. In part one, we talk about updating bedrooms, bathrooms and kitchens to make your multigenerational home more accessible and comfortable. And in part three, you'll find ideas for making your outdoor space and home security more elderly-friendly.