Color all around: Tips for painting floors and ceilings.
By emily.bailey
Updating the look of a room by painting above and below does provide a unique set of challenges, but these tips and tricks can help you successfully paint your ceilings or floors.
Of all the surfaces to paint in a room, floors and ceilings are probably the most overlooked. Maybe you lack inspiration or maybe you're overwhelmed by how to tackle these DIY projects. Updating the look of a room by painting above and below does provide a unique set of challenges, but these tips and tricks can help you successfully paint your ceilings or floors.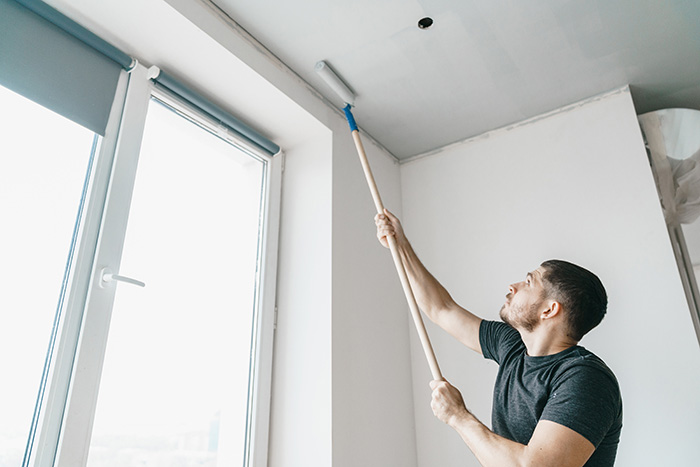 Prepare for success
The right tools make all the difference. You'll be glad you picked a light-weight pole extender for painting ceilings. It doesn't have to be fancy, but it should be easy on the arms. A high-quality brush is also a must to

cut in

cleanly along the edges and in corners. While you're at it, invest in a

stain-blocking primer

for your ceiling as well.


Sanding is a dirty job, but you'll be glad you did it if you want paint to bond well to the floor. Just be sure you clean really well before laying down your first coat. You don't want dust mucking up your new-looking floors.


When you

paint walls

, you don't always have to remove all the furniture. Sometimes moving it to the center of the room will suffice. But when you're painting a ceiling or the floor, everything has to go. Don't forget to remove the light fixtures, either. It's tempting to just paint around the medallion, but if you ever switch it out, you'll probably be left with a weird combo of old and new paint. It's also easier to paint without it in the way since you don't have to cut in.


Painting ceilings and floors have their own unique safety concerns. You probably need a respirator since some of these special paints come with serious fumes. When it comes to ceilings in particular, get yourself a ballcap and some goggles to protect your head and face from splatter. While not technically safety-related, you can make cleaning splatter off your body easier by applying lotion to arms and hands, according to

Family Handyman

.
Keep your head up
When should you paint your ceiling – before or after the walls? We recommend painting ceilings before walls (and definitely before the floor) but after the

trim

. That way, when you slop paint on the walls or drip on the floor, you'll be able to simply paint over the mishaps later.


Textured and popcorn ceilings are a bit of a different ballgame. First, that high-viscosity latex paint we mentioned before will need to be thinned. Thicker paint will weigh on the texture and cause it to peel. Other tricks include rolling in only one direction – no W's and no back-and-forth – and choosing a roller made for textured surfaces so you get the paint in all the nooks and crannies.


Have a really big space? Don't shy away from spraying the ceiling. It will probably cost more money, but it might be worth not having cricks in your neck and shoulders.


Some people swear by the "W" technique when painting a room. While that's perfectly acceptable for walls, not so with ceilings. Work in grids when working overhead.


Here's an often-overlooked hack for painting ceilings (or anything, really). Use a drop cloth that's a different color from your paint. You'll be able to see drips and spills more easily. And make it a non-slip drop cloth while you're at it.


What do toddlers and rollers have in common? Nap length matters. When painting ceilings, you want a longer nap than what you use on walls because it affects texture.

Brad the Painter

suggests at least 3/4 inch.
Build a beautiful foundation
Patience is the name of the game when painting your floor. Think lots of thin coats to get good coverage that will last. And especially if you're doing decorative work – painting designs or staining to create a certain pattern – you may have to wait for your previous coats to dry completely before tackling the next step. As much as you want to finish the job yesterday, give it time. You won't regret it.


Stenciling your floors is a great way to add a design if you have no artistic talent.

Young House Love

, who has taken on several stenciling projects for both walls and floors, offers some handy tips. Use a roller instead of dabbing to apply the paint, but be careful not to overload the roller to avoid smudges getting under the stencil. Also, as you get closer to the wall and want to keep the stencil from accidentally transferring paint where it shouldn't be, simply use cereal boxes or other cardboard to create a convenient, low-cost barrier.
It's easy to overlook the floors and ceilings when you're thinking about painting. If you like the idea but are in need of inspiration, check out Schlage on Instagram and Pinterest.