How to upgrade your curb appeal and make it accessible for aging parents.
By emily.bailey
Monday, December 28, 2020
In this final installment of our series on adapting your home for when an aging parent moves in with you, we share our suggestions for making your outdoor space accessible without losing your personal style.
When an aging relative moves in with you – and it's happening more and more often these days – one of the first challenges is making sure your home is ready for them. Older family often brings with them mobility and health concerns, and your house needs to be accessible so that they can feel welcome, comfortable and safe. In this final installment of our series on adapting your home for when an aging parent moves in with you, we share our suggestions for making your outdoor space accessible without losing your personal style.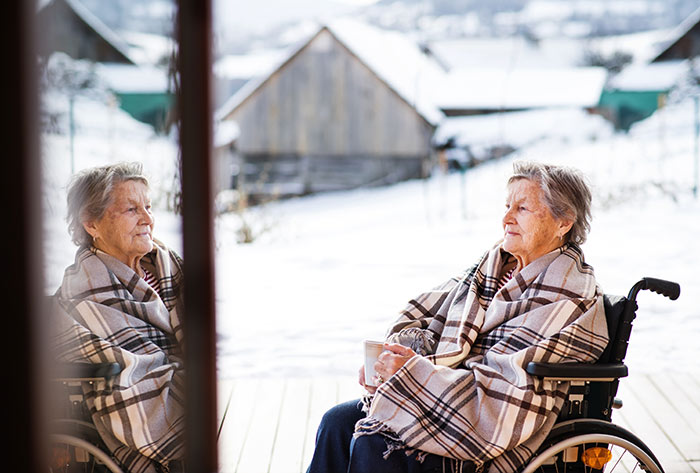 How to protect aging family with home security
When we think about protecting our homes, we usually think about keeping thieves out with strong perimeter security. But sometimes we need help keeping an eye on our loved ones or making sure they're where they need to be. Peace of mind comes in many shapes and sizes, so use this list to start thinking about what you need to protect your home's exterior and outdoor spaces.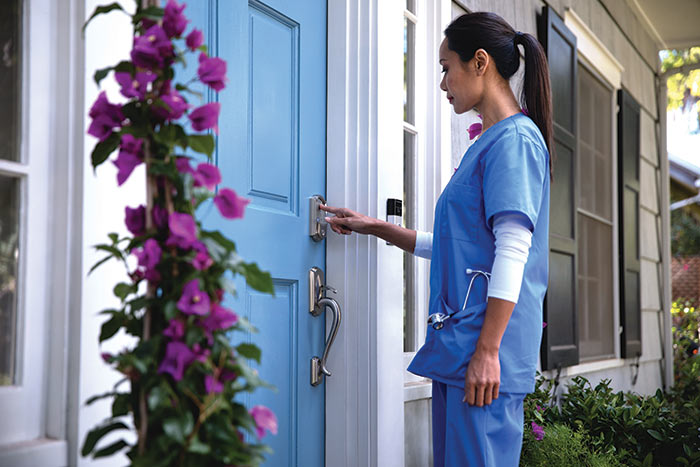 Smart locks
Smart locks are the perfect fit for a multigenerational home for so many reasons. Not only do you not have to make extra keys and worry about them getting lost, but you can also create and monitor unique codes for everyone. That includes the kids, so you know when they got home from school; your parents, so you know if they got dropped off from their book club; and in-home caregivers, so you know if the nurse visited while you were at work. Schlage smart locks are designed to not only be secure and convenient, but stylish as well.
Alarms
Electronic locks and home alarm systems often allow you to receive notifications if the door is opened or an access code is used. If you're caring for someone with dementia or other cognitive impairment, this can be hugely important if they try to leave the house unassisted. High-tech solutions are getting better looking, and in some cases, better able to blend with their surroundings, so you're likely to find an alarm system that is effective without being an eyesore.
Gates
When adding or upgrading your locks, remember to secure more than just a front or garage entry door. Make sure you're able to lock outdoor gates, whether it's to keep your relative from straying away from the yard or to help keep them from falling in the pool. Choose a lock that matches the finish of other fixtures – porch lighting and metal handrails, for example – to add to your curb appeal.
Hazardous items
Particularly, if you're caring for a loved one with a cognitive disease, it's important to help protect them by keeping dangerous items out of reach. Consider adding locked storage to your garage for chemicals like antifreeze, propane or gasoline, or sharp tools like gardening sheers or saws. Also, cover and secure your grill. There is plenty of stylish outdoor storage available. If nothing else, you can use landscaping – bushes, ornamental grasses, tall wildflowers – to obscure more unsightly options.
Vehicles
AARP reminds us that aging relatives who no longer drive can sometimes get creative about recapturing that independence. For everyone's safety, control access to bicycles, riding mowers and golf carts. Overhead storage for bikes , for example, is not only a good way to secure them. It also helps keep your garage organized and clean.
Ways to create a perfect garden for older adults
One of the greatest appeals of a garden is having somewhere to enjoy nature – the sun, the breeze, the fresh air – and reap all its healthy benefits. A few adjustments can help everyone get in on the action or retreat from it.
Paths
Paved paths are probably your best option. Their flat surface, as opposed to pea gravel, makes for easier walking if your relative loses balance frequently or if they use a walker or wheelchair. It doesn't have to be boring concrete, though. Try tightly-laid pavers as an alternative. Remember that whatever material you decide on, make it wide enough for a wheelchair – ideally at least 42" – if necessary. Once you've chosen your surface, make sure it's well-lit to reduce stumbling when coming and going at night. Plus, the extra lighting adds a touch of curb appeal, not to mention can deter thieves who don't want to be seen.
Raised garden beds
Stooping and kneeling on the ground to garden can be tough on the joints. Raised beds make it easier for green thumbs of all ages. If your loved one is in a wheelchair or needs to sit while gardening, pay special attention to the bed's height. You'll want enough clearance underneath for their knees while still not be so high that they have to reach awkwardly overhead.
Space for the kids
You don't have to pave your entire yard to make it easier for Grandma to get around. Think of ways you can create different zones in your yard that meet everyone's needs. Include some soft greenspace for the kids, complete with sensory garden plants to explore and a place to stash their toys where they won't get underfoot, alongside the more accessible adult zones.
Backyard bonus room
This suggestion might be more for you than for your parent. If indoor space is feeling a bit cramped with extra people, a "shed" can become a home office, art studio, playroom for the kids or meditation retreat for when you need some alone time. Accessory dwelling units, or ADUs, became increasingly popular thanks to coronavirus, but they're perfect for accommodating all kinds of new living situations.
Create an accessible deck or porch for older relatives
Whether you love hosting backyard parties or like to have a place to sit and relax, you can turn your porch into a secure and comfortable place for everyone, aging parents included.
Seating
The type of seating you choose is just as important as where it is. Look for sturdy chairs with a good backrest and arms to help people push themselves up to standing. Low Adirondack-style chairs might be attractive, but they won't do your loved one any favors if it's hard getting in and out of the seat. Think about the kind of outdoor experience your family member wants, too. Active adults might love being in the midst of activity, sitting near where your kids play. Others who prefer a more low-key environment or who get easily stimulated (and confused) might prefer their seating at the back of the yard, for example, away from the hubbub.
Slip-resistant surfaces
Slips and stumbles will happen, but you can reduce the risk with the right non-slip surface. Concrete is one of the more obvious solutions and can be easy to maintain. Wood decking is another good option and, with a variety of woods and finishes, can be a stylish one as well. Composite wood, although made partially of plastic, can also be used. As long as it is cleaned regularly and maintained, it shouldn't be too slick.
Ramps
Entryway stairs need special attention if the relative who's moving in uses a wheelchair, walker or cane. If the grade isn't too steep – no more than eight percent – consider installing a ramp. Weigh the pros and cons of a ramp for different entryways as well. If you don't have room to add one at the front door, what about a side entrance? And if you spend a lot of time in the backyard, add one to your garden. Houzz shows how one homeowner made their garden more accessible, and it certainly doesn't look cold and institutional.
Handrails
Railings are always a good safety feature. They're practically imperative when you have an elderly individual using steps or when stairs are too steep to replace with a ramp. Make sure the handrail runs from the very first tread all the way to the top, not just something decorative in the middle. Pay attention to the material as well. Some metal railings, especially when they get wet, can be slick, defeating the purpose of having a railing in the first place. Like many décor elements, your handrail can be as stylish as your imagination allows.
Tiers
Rather than sticking to the two extremes for deck design – ground level and raised – think in tiers with mid-range landings. This will reduce the steepness of stairs and give loved ones a place to stop and rest if needed. It also gives them options. If climbing all the way to the top level of a deck is too much, they can still enjoy outdoor time.
Maintenance
The best-made ramps, handrails and decking surfaces can lose their accessibility benefits if not properly maintained. At least once a year, be sure to check that railings are still secure and not wobbly. If boards in the deck or porch are warped or splintering, replace them. Again, this is as much about safety as it is about curb appeal.