Stimulate the senses with these sensory garden tips for kids.
By emily.bailey
When you plant a sensory garden, you can ignite the imagination, give family a healthy dose of outdoor time and possibly turn kids into lifelong plant lovers.
The perfect garden can do much more than simply enhance your curb appeal. It can do more, even, than just helping the environment. When you plant a sensory garden, you can ignite the imagination, give family a healthy dose of outdoor time and possibly turn kids into lifelong plant lovers. Try these tips to create your own sensory garden.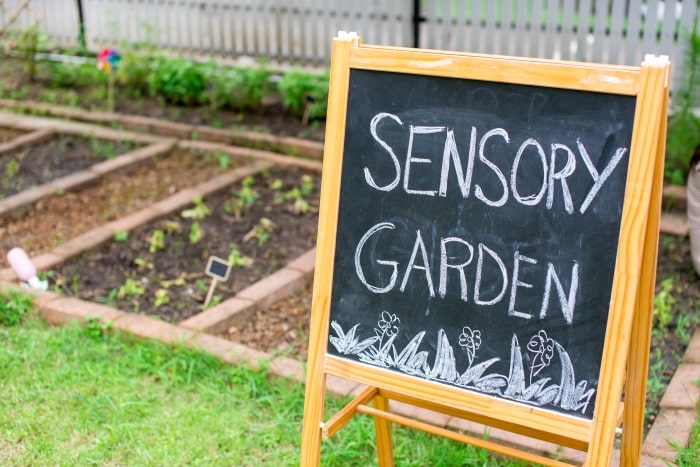 What is a sensory garden?
Sensory gardens combine a variety of plants, materials and features that stimulate all five senses. By considering textures, sounds and taste in addition to the more obvious sight and smell, you create a space that allows visitors, from children to seniors, to experience the outdoors in new and healthy ways.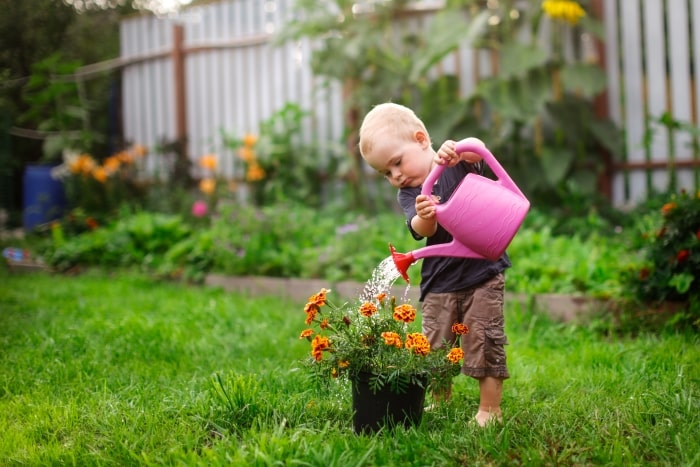 What are the benefits of a sensory garden?
Children are often exposed to experiences and stimulations they won't find anywhere else, which can boost brain development, cognition and curiosity.


Spending time outdoors has been shown to

improve mood, confidence and physical health

.


Working in a garden or simply interacting with different plants

can help develop kids' motor skills

.


Studies have shown that sensory gardens can help with emotional regulation, which may be particularly beneficial to children with

autism

and attention-deficit disorders.


Non-verbal children can learn cooperation and may improve non-verbal communication skills by working in sensory gardens.
How do I make a sensory garden?
Like we said, a sensory garden relies on elements that fire up the eyes, nose, hands, ears and taste buds. There's such a wide range of plants that can achieve this, so don't be afraid to get creative. Just be sure to choose plant species that are native to and thrive in your area.
Sight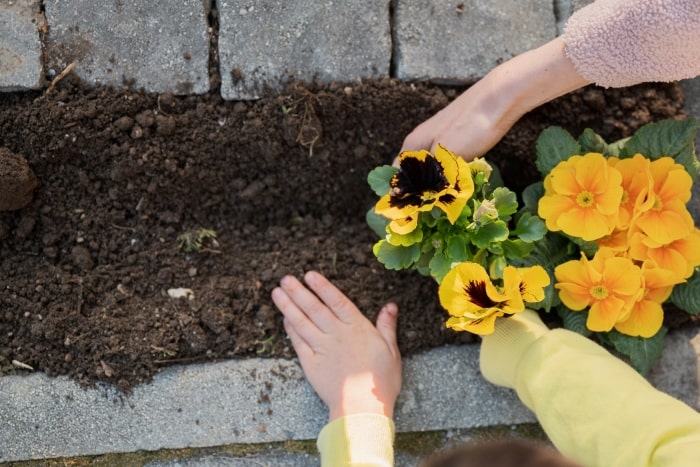 Perhaps the easiest sense to stimulate in your sensory garden, sight calls for brightly colored. While flowers are the obvious choice, you'll also find plenty of vibrancy and even some unexpected colors in fruits and vegetables.
Our picks: Bright red roses and golden daisies are a good start. Also consider something like campanula or pansies, which often have multiple colors on a single bloom. KidsGardening.org has a nice list of annuals and perennials to make your garden a sight worth seeing.
Smell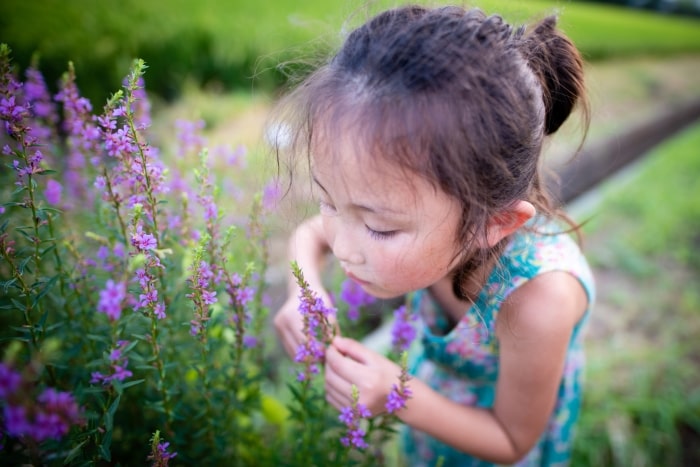 Again, flowers are your obvious choice to get the nose working overtime. Herbs, lavender and fruit trees when they're in bloom can be super fragrant as well.
Our picks: Thyme, lemon balm and rosemary are some of our favorite fragrant herbs. For flowers with scents as beautiful as they look, we're partial to honeysuckle, lilac and chocolate flower, which is a type of daisy that, of course, smells like chocolate.
Texture often gets overlooked in a garden, so now is your chance to experiment. Soft and wooly, prickly or spikey, wrinkly, tough and fibrous, leathery, smooth … plants cover it all. Just make sure they won't cause injury. There are other ways to add texture as well. Consider a water feature, stones and pathways made of different materials as well.
Our picks: Lamb's ear is a classic choice for a soft plant, and it's hard not to love the equally pettable artemisia. Ornamental grasses often have a spikey feel without pricking fingers. Lavender, while not typically that interesting texturally, releases its best scent when rubbed between your fingertips.
Sound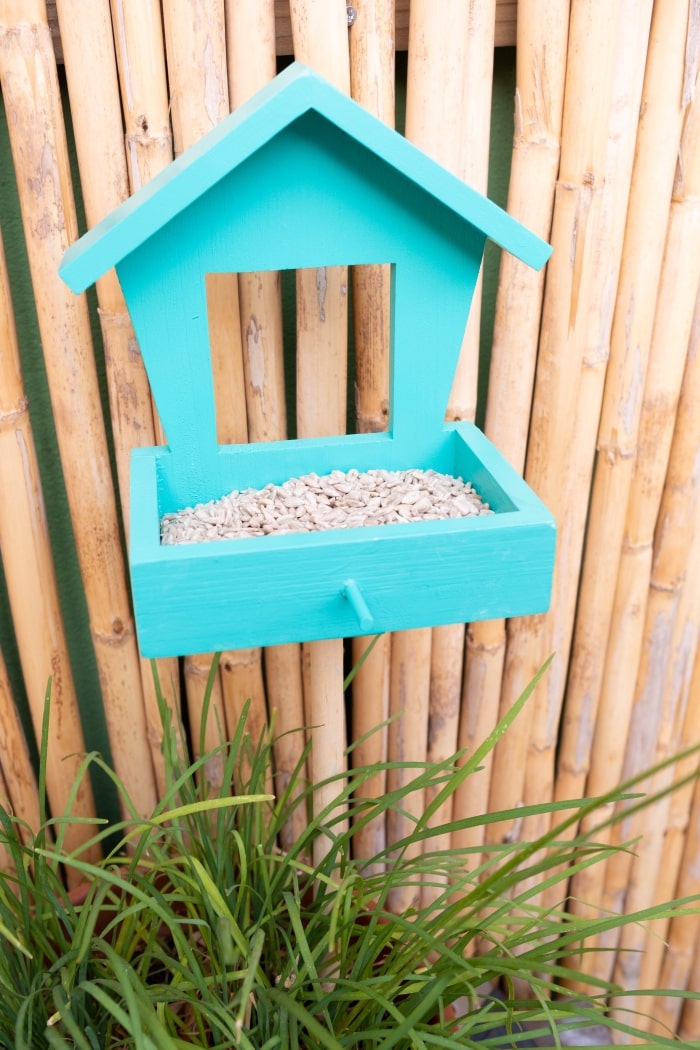 Sound might be a tougher sense to capture in a garden, but it's 100% possible with some creativity. Dried bean pods and leaves shake and rustle. Beyond plants, a water feature offers calming sounds, wind chimes are always musical and a bird feeder will attract your favorite birds and (love them or not) chittering squirrels.
Our picks: False indigo seed pods rattle when you shake them. Bamboo, if your region can support it, is a nice choice as stalks click against each other. Consider other plants that make a soft, relaxing sound in the breeze like wheat and tall grasses. To attract songbirds, try putting out their favorite foods: sunflower seeds, suet and mealworms.
Taste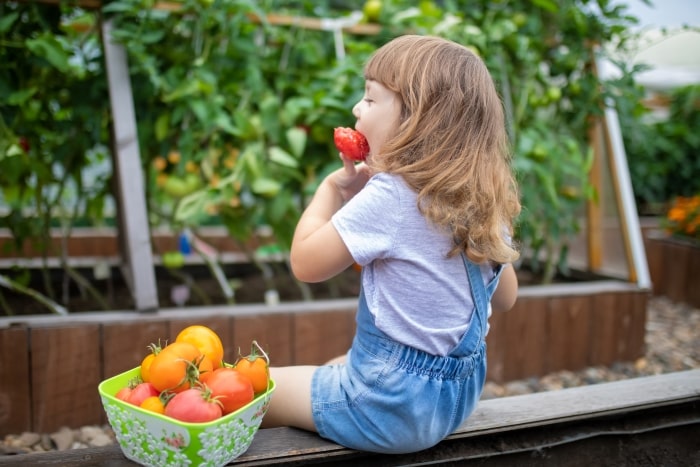 Fruits, vegetables and herbs all have a place in your sensory garden. The great thing about planting for taste is that you get delicious food that is also healthy for the family. If you have picky eaters, a pizza garden might tempt their taste buds.
Our picks: Tomatoes as well as bell and hot peppers are good options to start from plants thrive in pots or the ground. If you want to start your tasty garden from seed, you could try beans, squash or kale.