Twists on cookie classics to make your home smell like the holidays.
By emily.bailey
Friday, December 18, 2020
Real estate agents say their smell can help sell your house quicker. A deep breath at holiday time might take you back to Grandma's kitchen. We're talking about cookies. So why is Schlage talking about baked goods? Because we believe that our job isn't just about making high-quality door hardware. It's about helping you make your house a haven, somewhere you can relax, enjoy family and feel at home. And yes, sometimes that means baking cookies.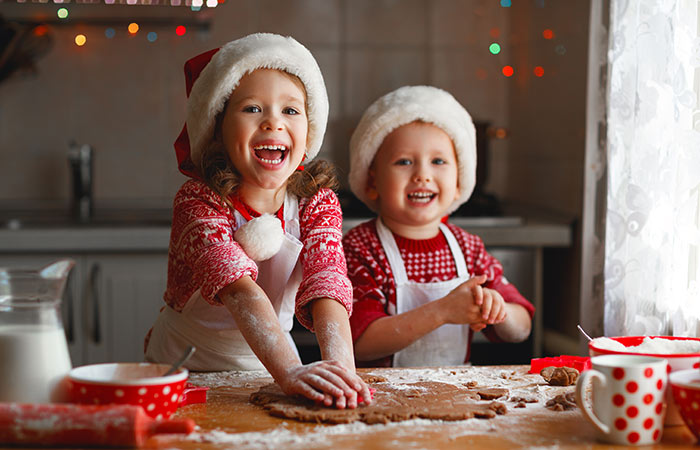 Bite-sized Christmas cookie history
Feasting around what we now consider holiday time dates back to for winter solstice celebrations, when you basically stuffed yourself silly in anticipation of winter famine, according to History.com. It wasn't until the Middle Ages when Christmas festivities became more popular than those for the solstice, however, that Christmas cookies were added to the menu.
It was during this time that spices, along with sugar and butter, were available a bit more readily in Europe. They were still incredibly expensive, though. Deciding it was worth it to splurge on the celebrations, this was the one time families bought ingredients like cinnamon, ginger and lard. Basically, everything you need for the perfect yuletide treat.
A few centuries after the Middle Ages, in 1796, the long-titled "American Cookery: or, The Art of Dressing Viands, Fish, Poultry and Vegetables, and the Best Modes of Making Puff-pastes, Pies, Tarts, Puddings, Custards and Preserves, and All Kinds of Cakes, from the Imperial Plumb to Plain Cake" cookbook was published. Generally considered the first American cookbook, it included a recipe for "Christmas Cookery," otherwise known as cookies. These were not quick treats you'd whip up at the last minute. According to the original cookbook, they were "hard and dry at first" and needed to be stored in a damp room for a few months before they were edible.
If you're looking for some classic Christmas cookie recipes with a twist, here are some of the tastiest to be found. Even if you're baking with inexperienced, pint-sized bakers, we promise you won't have to wait months to eat them. So enjoy the taste of the holidays, the smell of home and joy of cooking with family.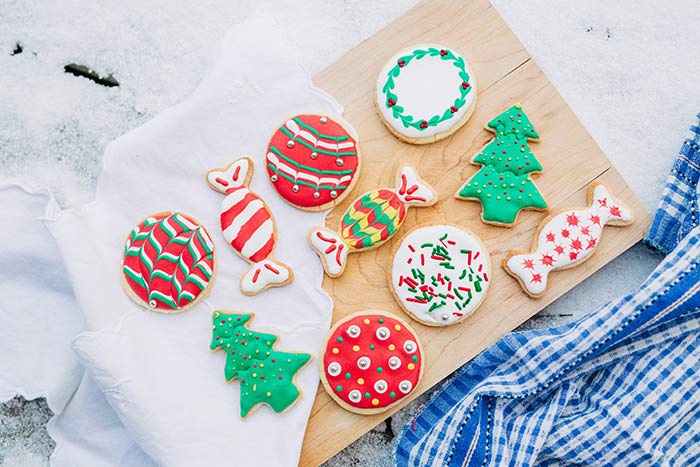 Sugar cookies with a twist
It's time to play with your food. Taste of Home shows how to make a

sugar cookie puzzle

with cut-out trees, snowmen and more to set the scene.


There's something about these sugar cookies that will leave even the most experienced taste testers trying to figure out your secret ingredient. Food & Wine shows us how to make

cardamom sugar cookies

for a bit of spice to tickle the tongue and the nose.


Keep the recipe classic but make the look unique. Use your favorite sugar cookie recipe or store-bought dough to make cookies in various sizes, then stack them to form a Christmas tree. Get the

recipe from Taste of Home

.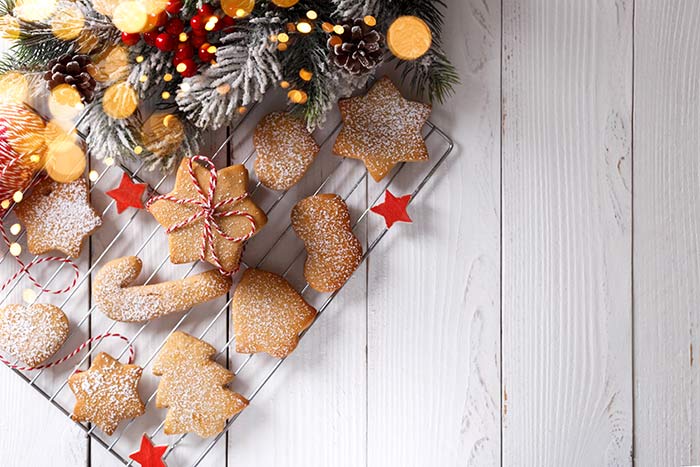 Shortbread cookies with a twist
Shortbread is delicious. Chocolate is delicious. Put them together and you have a treat no one will be able to turn down. Try this

chocolate shortbread recipe

from Cookies & Cups.


What's Cooking Good Looking brings us a

vegan and gluten-free shortbread recipe

. But just because there's no flour or butter, don't think there's no flavor. Try their recipe for pine nut and peppercorn shortbread.


We didn't think shortbread could have a kick to it, but this one proved us wrong. Slide Willow Bird Baking's

toasted pecan shortbread

in the oven and don't forget the spiked toffee sauce.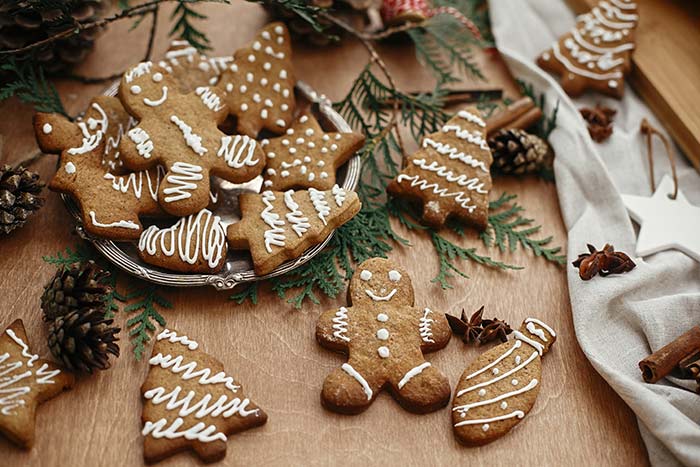 Gingerbread cookies with a twist
Leave it to Marth Stewart to take a classic and make it even classier. These simple

gingerbread tree cookies

are elevated with her lemon icing. When you want the smell of Christmas, you can't go wrong with gingerbread and citrus.


Combine

gingerbread with thumbprint cookies

using this recipe from Tablespoon. Of course you can make your own gingerbread, but we appreciate this recipe's hack of using boxed mix. Simple never smelled so good.


Making gingerbread houses is a tradition in many families. Crying over architectural cookie failures is a tradition in others. If that's you, try this

graham cracker gingerbread house

hack from Happiness is Homemade.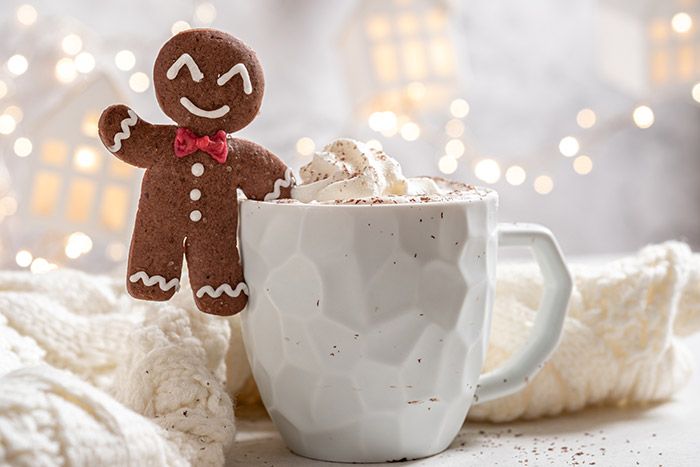 Cookies inspired by holiday drinks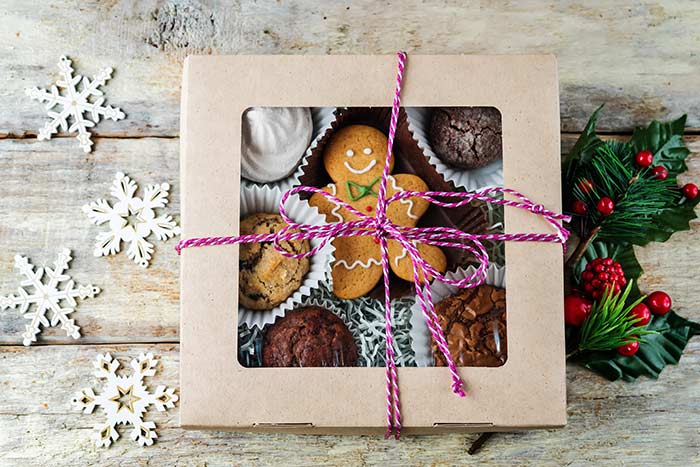 Cookies inspired by cake and candy
The Middle Ages taught us that the holidays are a time for indulgence (read above if you skipped over what you thought was a boring history lesson). Since we're being extravagant in the kitchen, it's time to make

triple chocolate cheesecake cookies

from Tablespoon.


Does your family set out a

gumdrop tree

at Christmas? It's nostalgic but it might also not be the most sanitary tradition. Bake the candy in a cookie instead. Get the

coconut gumdrop cookie

recipe – yes, coconut – from A Farmgirl's Dabbles.


Fruitcake gets a bad rap, but maybe we can save that reputation by making it into something slightly different. Make

fruitcake cookies

with The Seasoned Mom.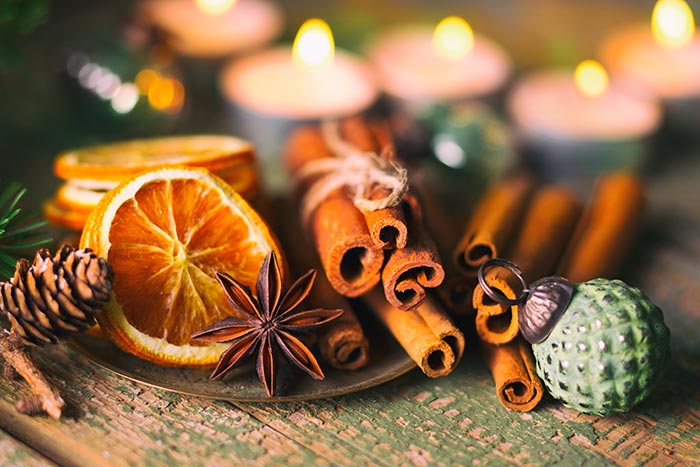 More welcoming scents
There are other great ways to bring your favorite holiday scents to the home. It seems like every year there's another baked good-inspired candle on the market, and they keep smelling more and more like the real thing. We're also seeing more scented artificial fire logs. There's the obvious pine and cedar, but don't stick your nose up at cinnamon, pumpkin spice or, if you're feeling daring, chicken.
If flames aren't your thing – we know they don't always mix well with pets – try adding fresh greenery around the house or make a pomander. Make a simmer pot on the stove with oranges, cinnamon and cloves, or hang a sachet of Christmas-inspired herbs in a closet.
Keep the holiday spirit high. Decorate your home for Christmas or try some of these cold-weather family-friendly activities with ideas and inspiration from the Schlage blog.