Bold colors of 2023. 
By emily.bailey
Color can be tricky, so we've rounded up a few of the top colors of 2023 to help you envision all the fun possibilities that are currently trending.
This is the year to get adventurous with color in your home. Rather than a statement pop of color on one wall, 2023 is seeing richer shades and unexpected hues delighting in every room throughout the home. Bland neutrals are giving way to strong colors that allow you to add distinction and personal style to your home. Look for playful shades, unexpected pairings and moody neutrals to give your home a warm impact. Color can be tricky, so we've rounded up a few of the top colors of 2023 to help you envision all the fun possibilities that are currently trending.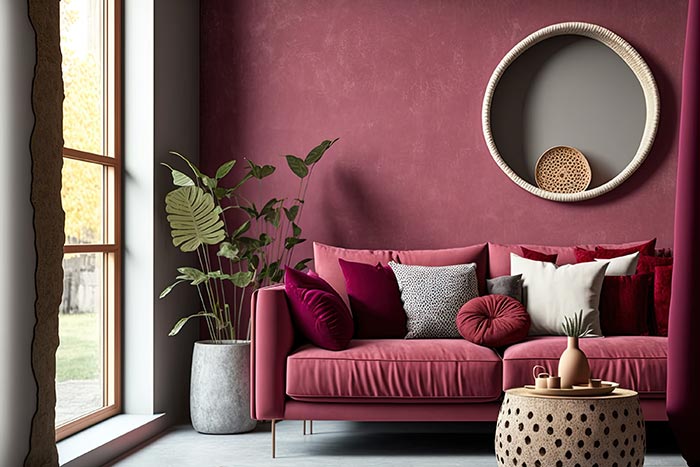 Color with charisma
Pantone's color of the year, Viva Magenta, is the perfect example of how color can pack a punch in your home. This vibrant red/pink is anything but shy. Positive, joyful and exuberant, this is a color that roots us in the present and encourages us to enjoy the vibrancy of life. Similarly, Benjamin Moore makes a bold, optimistic impact by blending red, orange and pink for their 2023 color of the year, Raspberry Blush. For a pink hue with a more neutral influence, try Terra Rosa by Dunn-Edwards. If pink isn't your jam but you still want something energetic and on-trend, explore lavender and purples to make an unexpected statement. WGSN trend forecasters and Coloro color experts have predicted Digital Lavender as the 2023 Color of the Year because it balances calmness and cheerfulness for a relaxed home that doesn't sacrifice fun.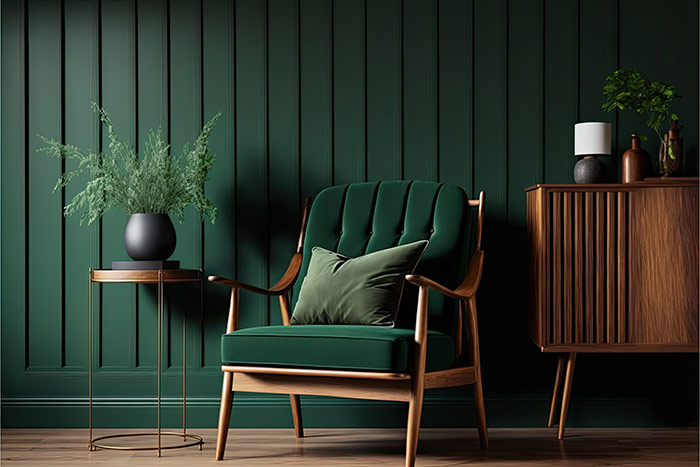 Dramatic greens
Green is a constant favorite in interior design. It is classic, natural and soothing without being boring. 2023 is highlighting dramatic greens to fill your home with vibrant serenity. Krylon's Spanish Moss, as the name suggests, is a midnight green that promises to connect your home with the richness of nature. Sophisticated without being too formal, this is the perfect hue for bringing an uplifting comfort to your living spaces. For a complex green-blue, look no further than Glidden's 2023 color of the year, Vining Ivy. This versatile color is soothing and welcoming – ideal for an entryway, front door, or powder room.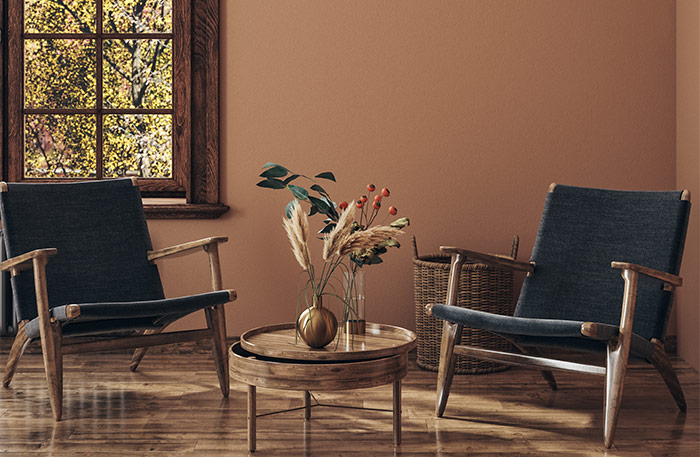 Nature-inspired neutrals
Gone are the days of wall-to-wall gray throughout the home. With all the bold colors trending in 2023, you may be wondering what in the world to choose if you prefer neutrals but don't want your home to look dated. Enter complex, nature-inspired neutrals. When deciding between neutral options for your interiors this year, look for depth of color that is rooted in natural elements. Shades of brown are seeing a major comeback, and Minwax even named Aged Barrel their 2023 color of the year. This warm brown is a comforting, rich neutral that highlights natural wood grain and sets your home up with endless possibilities for styling and pops of color. If you want to brighten up a room with a classic neutral, Blank Canvas by Behr is a light, airy off-white that can easily bridge the gap between warm and cool colors throughout your home. Rustic Greige from Dutch Boy is another trending neutral that offers both versatility and a sense of timeless calm. For a more unexpected neutral, Sherwin William's 2023 color of the year, Redend Point is a lovely mid-toned brown with pink and coral undertones. Try pairing this blushing clay color with natural materials and curved accents to ground your interior in comfort and warmth.
No matter what trends appeal to you, 2023 is the year to go bold with interior color. The most important thing is to pick colors you like, after all, self-expression is a central theme for 2023 interior design trends. If you can't decide which colors would look best in your space, buy a few samples – either paint or stick-on – to help you better envision each color on your walls. Check back to view the samples at different times of day to see how changing lighting affects undertones. Taking this extra step ensures that you don't paint a whole room only to realize the color is too warm or cool at a different hour of the day. Another paint tip to keep in mind is that most major retailers will color-match paint samples from different brands, so you have lots of flexibility to choose both the brand and the color that fits your needs. For more home design trends and tips, make sure to check out the Schlage blog and follow us on Pinterest and Instagram.