Natural materials to weave into your home decor.
By emily.bailey
We've gathered our favorite examples to help you envision the possibilities natural materials can bring into your home.
If you're tired of trying to keep up with the latest home décor trends, 2023 might feel like a breath of fresh air. With an emphasis on the unique, eclectic, imperfect and unexpected,
styling your home in 2023
is all about expressing your personal tastes and elevating timeless staples. One simple approach to making your home more timeless and upscale is to begin weaving in natural materials. Natural wood, stone, and fabrics may seem like more of an up-front investment, but they will fill your home with classic character that only gets better with time. We've gathered our favorite examples to help you envision the possibilities natural materials can bring into your home.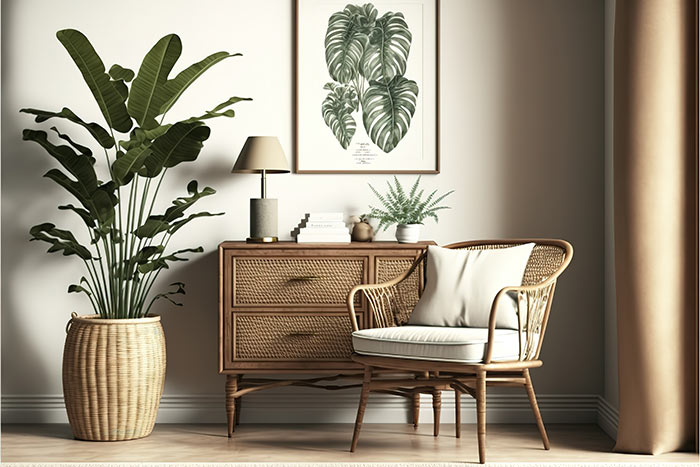 Natural woodgrain
Wood has an organic warmth that brings peace and balance to home décor. A myriad of texture possibilities and wide variety of stain and finish options make wood an incredibly versatile choice for interior design. Light wood in a matte finish is a modern take on this natural material, while dark, glossy finishes can skew more traditional and vintage.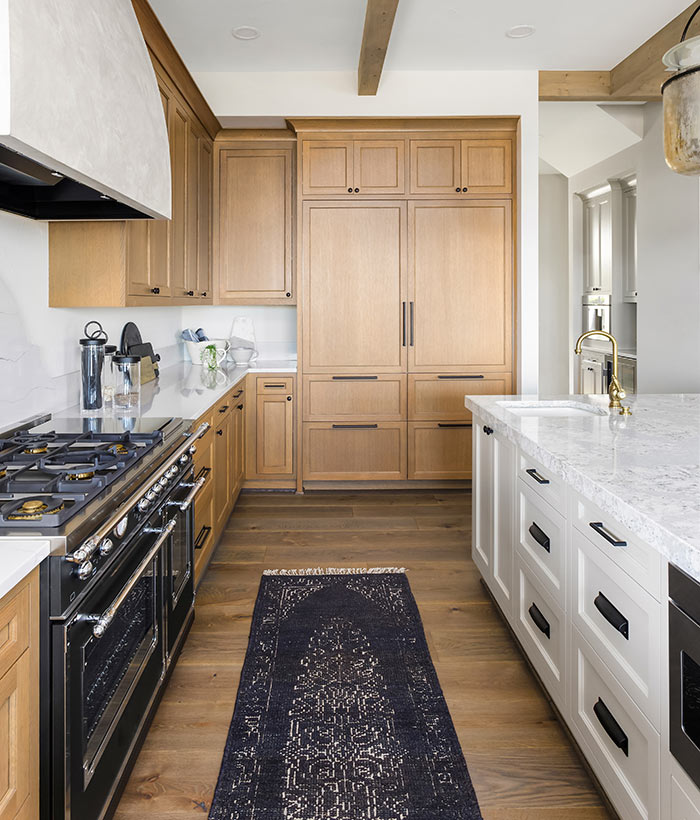 Wood cabinetry
When we think of wood cabinetry, often the first thing to come to mind is a dated kitchen from the 80s or 90s – glossy, yellowed wood that looks dated and heavy. Not a style most of us are looking to revive! However, wood cabinets are making a comeback in 2023 – but with a much more modern, timeless appeal. For kitchen cabinets and bathroom vanities, real wood can make a statement with modern lines and hardware.
Wood flooring
Timeless and kind underfoot, wood is a longstanding popular flooring choice for a reason. Hardwood flooring is always classic and lends comfort and style to your home. To avoid wood floor tones that may go out of style, stick to neutral stains ranging from very pale, light-colored wood floors to mid-toned brown or even a dark, espresso hardwood. Yellow, orange and gray-toned wood floors are more likely to feel dated rather than classic.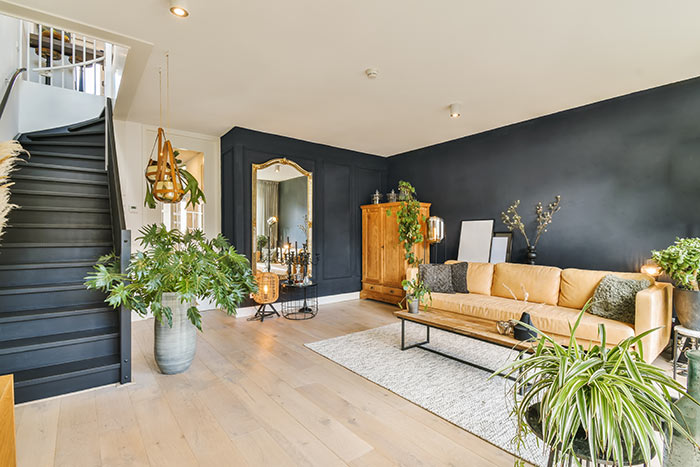 Wood furniture
To keep wood furniture looking fresh and contemporary, opt for light wood, matte finishes and simple shapes. Playful curves and modern lines provide the silhouettes to make your natural wood furniture hip and on-trend.
A quick word of caution: because light wood is a popular choice for furniture right now, many fast-furniture suppliers are selling cheap veneers and faux options. Make sure to read the specifications to see if an item you're considering is made from solid wood – if not, it is more likely to look cheapy and fall apart with use. If new wood furniture isn't in your budget, scour estate sales, online platforms, and resale stores to find real wood furniture that you can easily breathe new life into. Stripping an outdated finish and re-sealing is a great DIY option for scoring solid wood furniture on a budget.
Wood home decor accents
If you're not ready to commit to large-scale wood elements like kitchen cabinets or flooring, you can still incorporate wood home décor accents throughout your home to help create a natural, organic feel. Style shelving with wooden bowls, picture frames, candle sticks and other wood elements. In the kitchen, styling your counters with cutting boards, rolling pins, and wooden spoons can create a cozy charm that can lean as sophisticated or rustic as you prefer.
Natural stone
Stone can make a lovely statement in the home – with so many gorgeous varieties and applications to choose from, it can be hard to know how and where to add natural stone into your space. The most on-trend interior designs incorporate stone as an unexpected, dramatic way to usher in organic beauty. Look for unique hues, bold veining, and even imperfections that bring character.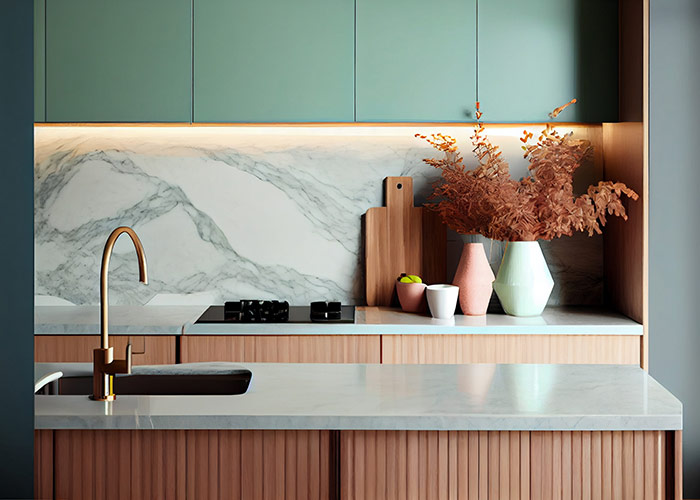 Natural stone countertops
White marble countertops are perhaps the most common natural stone element found in modern kitchens. While this aesthetic is timeless and rightfully beloved, interior designers are often opting for more dramatic colors and less-common materials like soapstone, travertine, and limestone. Stone is also being used more and more as a backsplash material; think dark, moody colors and pronounced patterns.
Stone flooring
If you're on the hunt for a super durable flooring that will patina over time, natural stone flooring is an ideal solution. Oversized slate or limestone tiles can ground your space and live up to harsh wear and tear. Yet, don't expect your natural stone floor to always look as perfect as the day it's installed. Natural stone flooring is intended to change with wear; a scratch from moving furniture or a slightly worn pattern from constant traffic are expected ways your natural stone floor will charm you with a lived-in, authentic appeal.
Stone accents
Another way to go bold with natural stone is to layer this material in throughout your styling of shelves and surfaces. Slate coasters, marble lamps, and stoneware vases are a fun way to lean into the trend of blending the old and the new. Look for natural stone accessories at antique stores, estate sales, and even flea markets. Once you find a vintage treasure, pair it with a modern design element in your home for a luxe visual impact.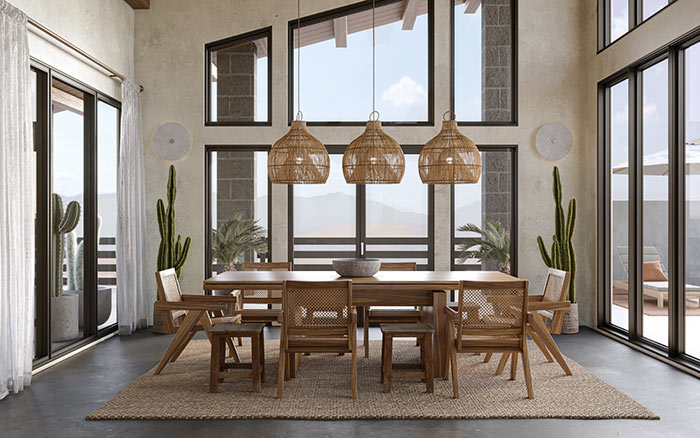 Woven Natural Materials
Furniture, rugs and baskets woven from natural materials are an amazing source of texture and visual interest for your home. They provide an airy and light mood that can perk up dull spaces. You may hear terms like wicker and rattan and be confused on what makes each unique and desirable. Below, we've outlined the most common woven natural materials to make it easier for you to identify the styles you prefer.
Rattan
Harvested from climbing palms native to Southeast Asia, rattan is a natural material that looks a bit like bamboo but is more flexible and thus more suitable for weaving. Rattan can be used on its own to make furniture and is usually sealed or painted to protect against moisture. Rattan can also be processed to be woven into caning or wicker.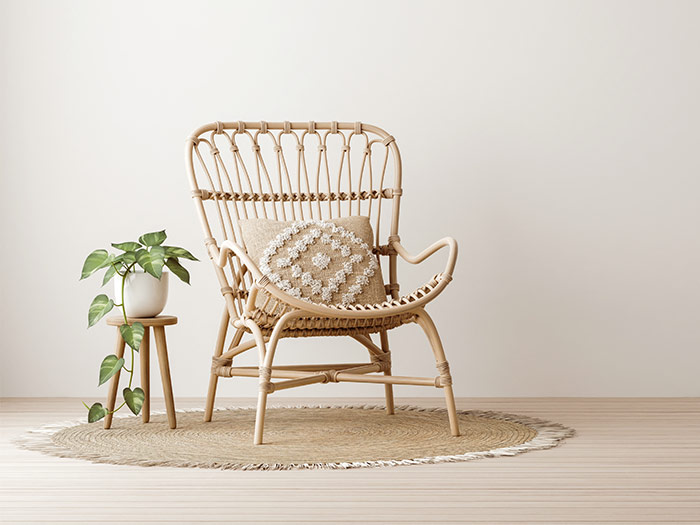 Cane
Cane is processed from the outer bark of the rattan plant. Thin strips of cane are woven, usually in a flat, web-like pattern to be used in various furniture applications like the back of a chair or face of a cabinet.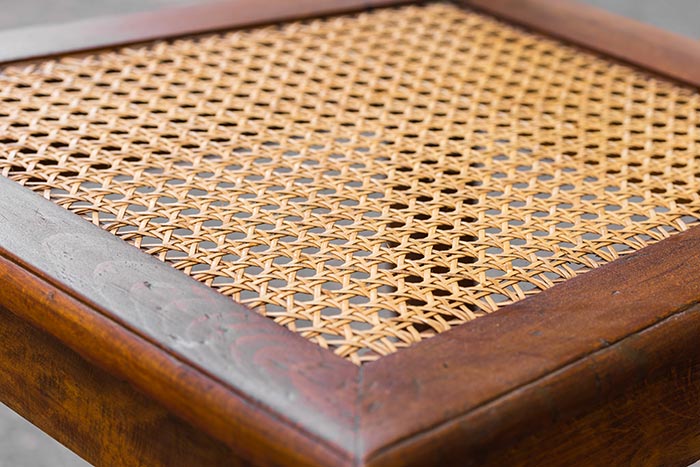 Wicker
Wicker refers to the process of weaving rather than the material itself. While wicker can be woven from the interior, reed-like part of the rattan plant, it can also be made from bamboo, reeds, willows, and other natural materials. For outdoor furniture especially, wicker is often crafted from man-made materials to better withstand the elements.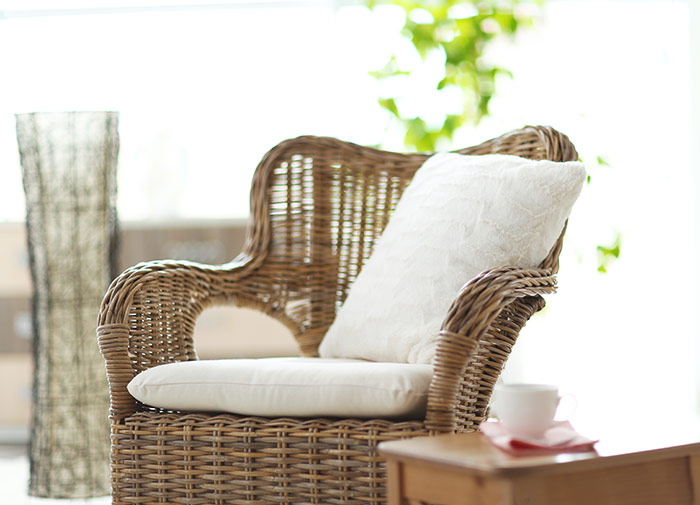 No matter your personal tastes when it comes to home décor and interior design, look to incorporate your favorite natural materials to increase your home's value and aesthetic. As you begin to weave natural materials into your home, work to create a balance between old and new styles for a more lived-in, organic feel. If you're struggling to make the look cohesive, consider what metal hardware finishes might be outdated, creating a clash. Natural materials tend to pair best with matte black (a nod to vintage ironwork), satin brass, and chrome finishes. For more interior design ideas to help elevate your home, browse our blog, Pinterest and Instagram!