Create your own smart house with a smart device for every room. 
By emily.bailey
With some high-tech and smart gadgets, it's obvious why you would want them in your home. But with rapid changes and the onslaught of products straight out of science fiction, there's still plenty to be surprised about. Here are some of our favorite smart devices for every room in the house.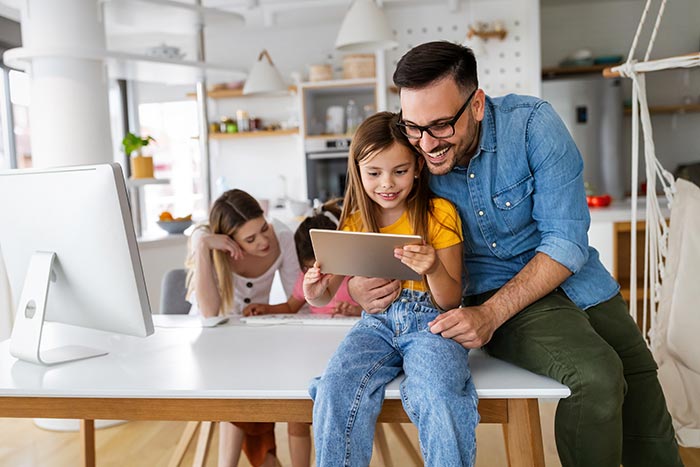 Bedroom
We need our bedroom for sleep, which is why being able to wind down before bed and feel safe throughout the night is so important. Having a smart speaker in your bedroom enables you to easily control smart devices throughout the home. Instead of making multiple trips downstairs to turn off the lights, lock the door, or change the thermostat, simply use voice commands. "Hey Google, lock the front door" is all it takes to give you peace of mind through the night. Smart speakers can also help you fall asleep faster with calming music, guided meditations, or white noise. And you can use a smart speaker as your alarm in the morning, which can be a more calming start to the day than having a jarring alarm on your smart phone where you immediately see the emails and to-dos on your list.
Kids' bedroom
Help your kids sleep better with a smart device that combines a clock, sound machine, voice monitor and night light. The Hatch Rest+ sleep machine is ideal for helping babies and kids develop a consistent sleep schedule. With 11 sounds, 10 colors and the ability to adjust light intensity, you can customize routines for gently helping your child fall asleep at night and get out of bed in the morning. The touch night light is easy for even littles to operate, making it a great self-soothe tool for a child who battles nightmares. In the event of a scary dream, they can quickly touch the night light for reassurance that everything is okay. Parents can control the device from their phone or through voice commands with Amazon Alexa, making it easier to manage your child's environment without having to walk into their room.
Bathroom
Smart toilets do some pretty interesting things like clean themselves, provide warmth and light up, but they're still new enough that their price puts them out of reach for many of us. A more approachable smart upgrade for your bathroom is switchable privacy glass, which is available from a variety of brands as either an adhesive film or laminated glass. Ideal for bathrooms with large windows that open onto the master suite or with a shower near an exterior window, the glass goes from transparent to frosted at the flip of a switch. Enjoy views when you want them, privacy when you don't.
Kitchen
Smart ovens, refrigerators and even microwaves are top of mind when talking high-tech kitchens. For something a bit more modest (and maybe ideal as a gift for a loved one), try a smart meat thermometer. This wireless device has dual temperature sensors to detect the internal meat temperature and external cooking atmosphere at the same time. And the best part is that you can monitor your cook from either a smart phone or tablet over Bluetooth or WiFi. With cook time estimates and alerts through the app, this techy kitchen utensil takes the guess work out of cooking.
Living room
You've just crashed for some R&R after a long day. Your honey is dozing on your shoulder, the cat is on your lap, and you want to turn the ceiling fan on. With a smart overhead fan, you can easily control air flow without disturbing anyone. The Haiku L from Big Ass Fans can be controlled via a remote, smartphone app or voice command. You might end up wanting one for your bedroom, too.
Home office
From company-owned technology and assets to passwords and important papers, you protect more than you might think in your home office. The Schalge Encode Smart WiFi Lever gives you the convenience and premium security of a smart lock for any residential door with a knob or lever. With this quick and easy upgrade, you can secure your home office without sacrificing the ease of keyless access.
Laundry
Sadly, the clothes-folding robot is not yet available. In the meantime, we'll go with a smart leak detector. Regardless of whether your washer and dryer are also smart, the FIBARO Flood Sensor will notify you if it detects water on the floor.
Garage
Once you've installed a smart garage door opener, expand your horizons to the smart bike lift. This one from Garage Smart holds multiple bikes that you can raise and lower from ceiling-mounted hooks using nothing but your smartphone. It helps to keep your bikes safe and your garage clean and organized. The Schalge Encode Smart WiFi Lever is also an innovative solution for your side garage door or the door from your garage to house. These are often the most heavily trafficked doors in our homes – with the Encode WiFi Lever, you have premium security and access control in the palm of your hand through the Schlage Home App.
Entryway
We know it's obvious, but we honestly can't think of a better smart device for your front door than a smart lock. Improve home security when there are no spare keys to lose. Gain peace of mind by being able to lock and unlock your door remotely through a smartphone app. Add convenience when you know trusted friends and family can come and go as they please by using an access code. It's great for overnight holiday guests and everyday life.
Schlage offers a variety of smart locks depending on your lifestyle and preferred technology. Find the right lock for you and your family with our Get Help Deciding Tool.
Backyard
Whether you want internet outside for backyard parties or need it for better connectivity with security cameras, garage door openers or smart irrigation, a WiFi extender can save you a lot of headaches. With a range of weather-resistant options available, CNET.com walks you through other considerations like choosing one that's compatible with your router.
Smart homes go beyond lighting, thermostats and smart speakers. The trick is to find the devices that best complement your lifestyle and add the greatest levels of convenience and security. For more smart home tips and ideas, visit the Technology archives at the Schlage blog.