Round out your home design with this playful trend.
By emily.bailey
Pick and choose from these design ideas to add a sense of movement and calm to your home through curved shapes.
Sharp corners are taking a back seat in 2023. Instead, look for ways to incorporate circles, arches and playful rounded shapes to keep your home fresh. For a trend that can skew as timeless or funky as your tastes prefer, curved motifs in home design are more popular than ever. Pick and choose from the ideas below to add a sense of movement and calm to your home through curved shapes.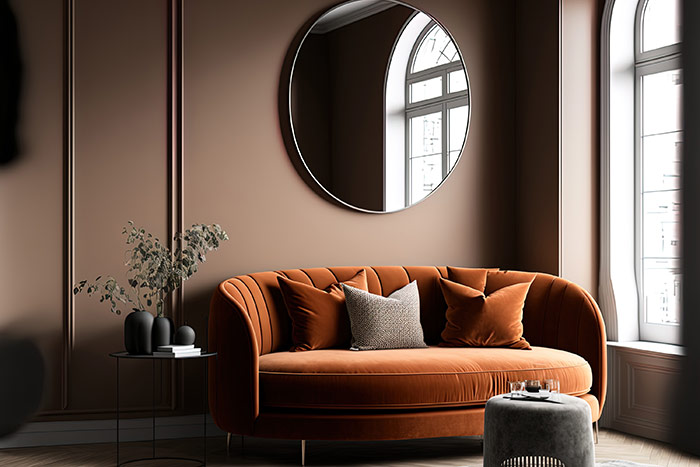 Rounded accents
The easiest, most cost-effective option for bringing curves into your home is through décor and accents. Think vases, planters, pillows, rugs and wall art – rounding out a room with soft shapes will make it hip and on-trend. Circular, pill-shaped and arched mirrors create a dynamic and modern presence on a wall. More playful interpretations of the trend include stacked circles for lamp bases, wavy parallel lines and subtle references to moon and mushroom shapes. Get creative by mixing design eras; a trip to the local antique store or flea market might just turn up the perfect curved accent to make your space pop.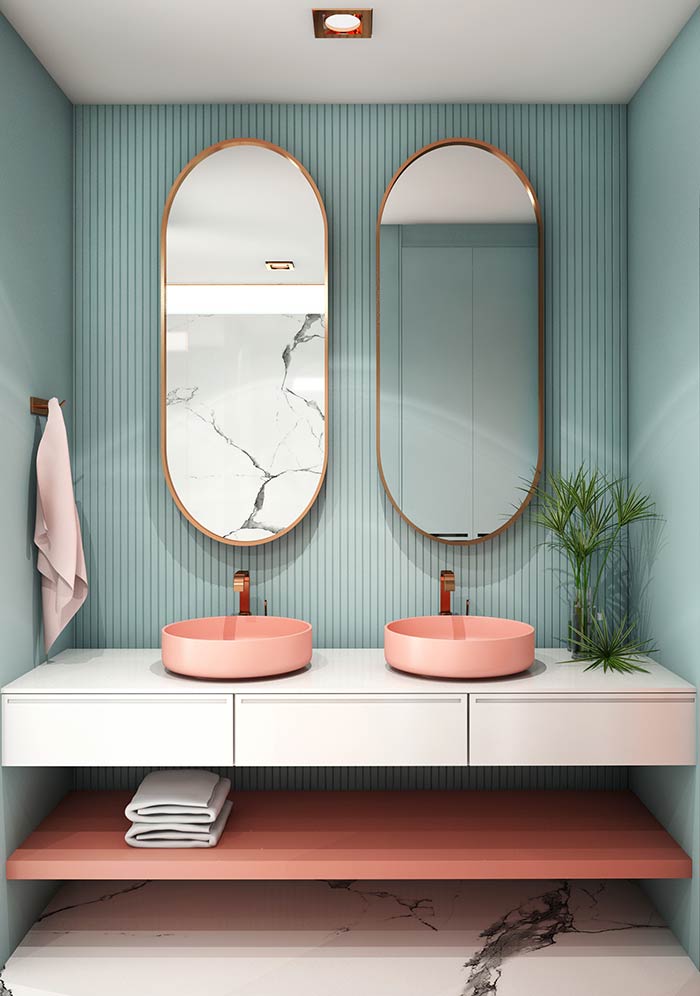 Curved furniture
If you're looking for a statement furniture piece, curves provide interest and exude a sense of cozy. Curved couches can be both fun and sophisticated; the perfect opportunity for you to express your personal style. When paired with extra soft upholstery such as bouclé or velvet, rounded furniture appears cloud-like and inviting. Curved backs, cylindrical cushions and rounded edges are all design elements to prioritize when picking your next piece of furniture. From coffee tables and shelving to armchairs and ottomans, curved furniture is a sure staple for 2023 interior design.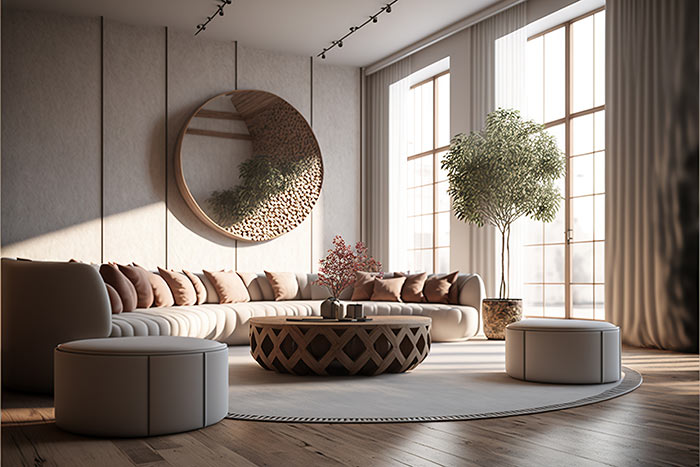 Arched doorways
Open doorways with an arch at the top create extra height and can really open up a room. They add visual interest while still being timeless. Though it isn't the easiest DIY (you may want to call in the pros for this one!), upgrading a square doorway to an arch is a small project that can make a big impact to your home's aesthetic. If you want to really add some personality to your home, paint an arched doorway with a bold color that makes you smile. And if a construction project isn't in the budget, you can mimic this look by simply painting a half moon above the top of a square door in the same color as your trim!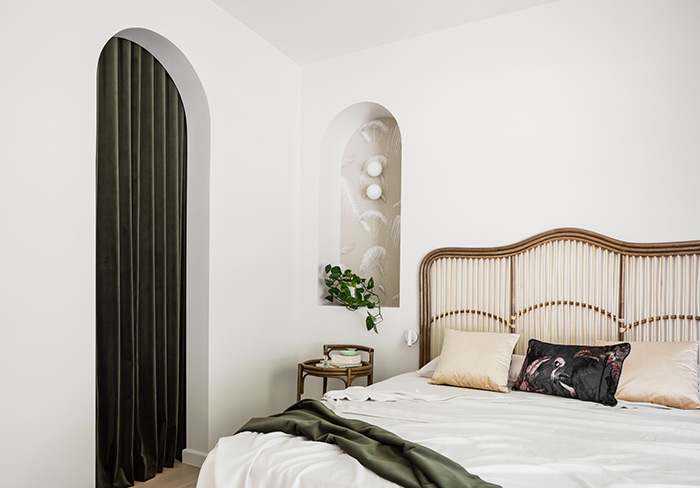 Soften corners in the kitchen
Develop extra warmth and movement in your kitchen by softening corners and adding curves. Consider swapping out old lighting for globe or half moon shapes. Pill shaped kitchen islands are also trending. They're a unique way to add both functionality and sculptural interest to your kitchen layout. Arched oven hoods are another fun way to keep your kitchen ahead of the curve. For a more subtle impact, consider adding a round rug, circular stools, or an oversized globe vase.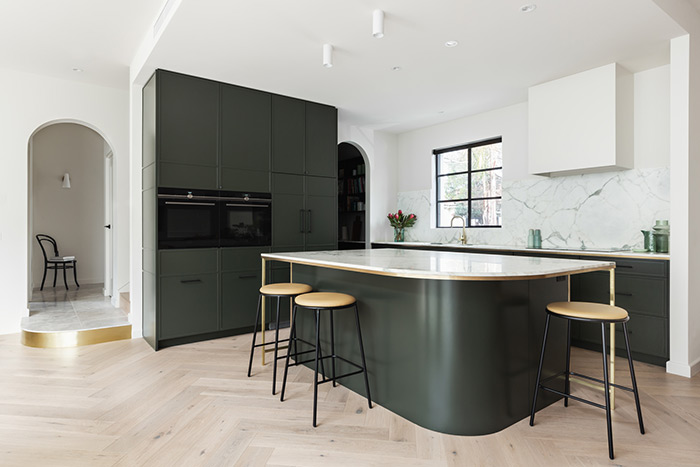 Playful wiggles and waves
2023 interior design is all about self-expression. If you want to up the fun and embrace the playful, infuse your home design with wiggles and waves. Modern wallpapers, scalloped borders, abstract shapes and marbled textiles can all bring a lighthearted vibe to your interiors.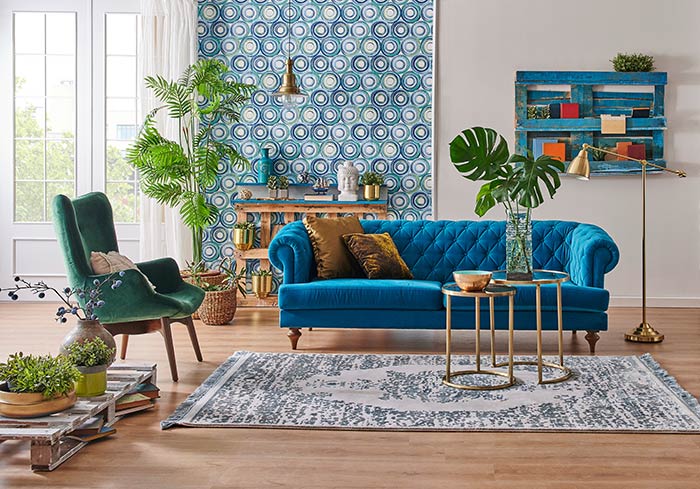 Our favorite thing about the curve interior design trend is that it can effortlessly blend into any personal style. Whether your home is traditional, modern, maximalist, minimalist or anything in-between, adding rounded shapes throughout your home will bring a fresh wave of inspiration.
To keep your home up to date in 2023 and stay on top of the latest trends, check back for more tips at the Schlage blog or follow us online. We're on Pinterest, Facebook, Instagram and Twitter.