Looking at home design trends of the past, present and future.
By emily.bailey
Tuesday, December 20, 2022
With a nod to Charles Dickens, we give you the ghosts of design trends past, present and future as we look toward 2023.
Ebenezer Scrooge needed some ghostly guidance to show him the error of his ways and lead him to a better life. Schlage isn't paranormal, but we can help you see the opportunities – and avoid some of the pitfalls – in popular home décor. With a nod to Charles Dickens, we give you the ghosts of design trends past, present and future as we look toward 2023.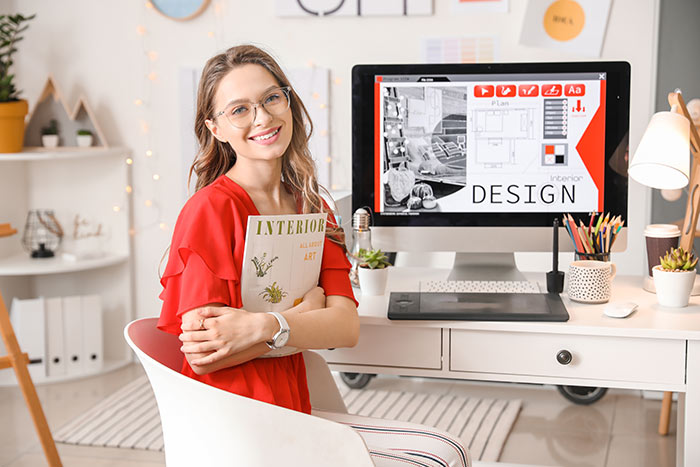 Ghosts of design trends past
Whether in clothing, hairstyles or home décor, there are always some old trends you wish you'd avoided. Although they may have served us well for a time, these home design trends went out of fashion in 2022.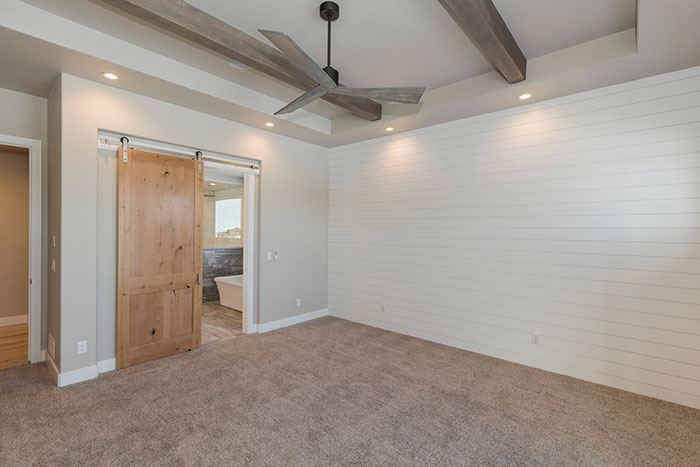 The modern farmhouse trend
While the cozy, relaxed feel that the modern farmhouse trend celebrates is here to stay, the more on-the-nose elements of this trend like barn doors, buffalo check prints and shiplap accent walls are gradually fading in popularity. Expect to see this trend evolve from a purely country aesthetic to a more sophisticated, classic take on lived-in comfort.
Grey interiors
It's clean, it's modern, it goes with everything…and it's boring! In 2023, designers are ditching gray as the one-size-fits-all neutral for interiors. In fact, neutrals in general will be taking a back seat as we welcome more vibrant hues into our homes.
Fast furniture
During the pandemic, quick fix solutions to home organization and furnishing were the name of the game. If the suddenly necessary work from home desk could be ordered online and delivered within a week, who cared how long it would last? Despite the convenience of fast furniture, many consumers are pivoting to shop for quality pieces with solid construction that will stand the test of time. Whether that means saving up for a top-quality couch or scouring flea markets and Facebook marketplace, fast and cheap are no longer the most important considerations when it comes to purchasing furniture.
Open floorplans
COVID clearly changed the way we see and use our homes. After more than a year of everyone occupying the same space, we learned we needed a bit more privacy. All the expansive sightlines of open floorplans seemed like a good idea at one time, but they proved to be a challenge when Kiddo Number 1 was watching TV, Kiddo Number 2 was trying to do homework, Mom was taking a work call and Dad was cooking dinner – all in the same room. Even back in 2021, The Spruce called open floorplans "the worst."
In 2023, the focus is on floorplans that work efficiently for a variety of purposes. The connectivity and flow created by open floorplans is still valuable, but thoughtful design within those spaces is more important than ever. An open concept living room/kitchen is no longer desirable as the central place for everything. Instead, there is a shift to more dedicated spaces and room dividers. Pinterest saw a 150% increase in searches for "bookshelf room divider" and it wasn't because of our growing collection of novels. Enclosed spaces for a bit of peace and quiet are now a must-have.
Ghosts of design trends present
If some trends made their exit in 2022, others took root. When we look back decades from now, these home décor trends will stand out.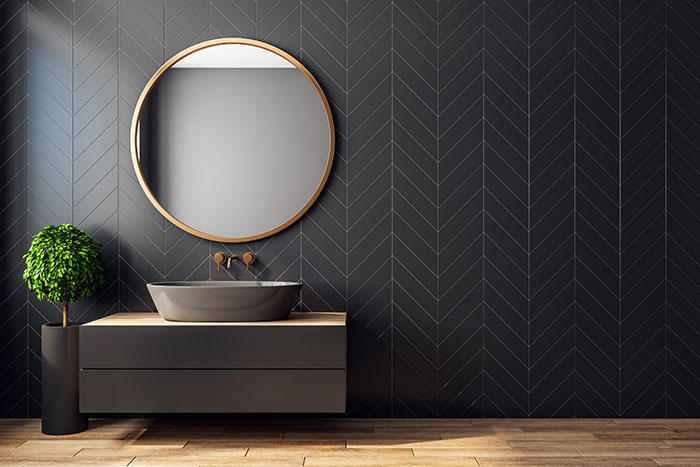 The modern-organic trend
Fewer people cringe when they hear the word "wallpaper" now that it's easier to work with and more beautiful than ever. From subtle patterns to bold palm-themed botanicals to entire murals, matching a wallpaper to your design tastes is easier than ever. And with temporary wallpaper options, you're not locked into the look forever like you were with papers of old.
This wasn't just a bedroom or living room trend, either. An accent wall with bold wallpaper was one of the hottest trends in bathroom design, especially in small powder rooms.
Black accents
In the wake of maximalism, we've become more comfortable with bold statements and in few areas is that more obvious than the use of black. Black accent walls gained popularity, as did smaller accessories like plumbing fixtures, lighting and tilework in this dark and moody hue.
Studying hashtags on TikTok and Instagram, Plumb Nation determined the most popular home improvement trends in 2021. Among them was "Black Bathroom" with more than one million posts. Also making the list of top-20 bathroom trends was #blackbathroomdetails and #blacktilebathroom. In 2023, black kitchens are also trending as a dramatic alternative to more subtle neutrals, especially when paired with wood and natural fibers.
At Schlage, our Matte Black finish became one of our most highly desired finishes for all our door hardware from smart locks and front entry handlesets to bathroom and closet door knobs.
Ghosts of design trends future
Without an actual ghost to reveal the future, making style predictions is always a bit risky. But based on what we've seen at the tail end of this year, we're confident that these design trends will gain more attention in 2023. You just might want to try them in your own home.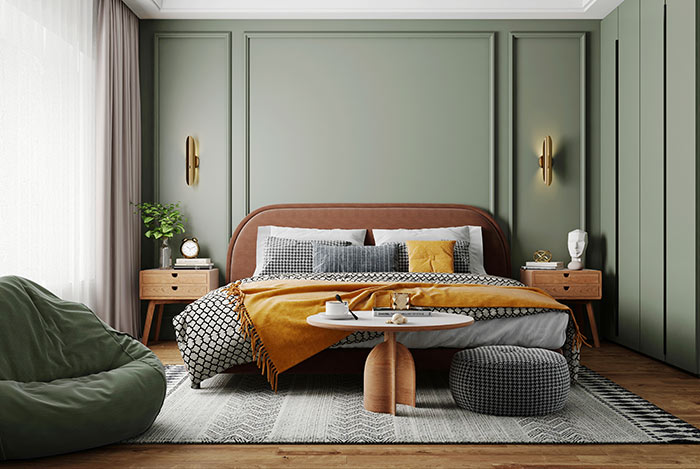 Bold colors for self-expression
Looking to make our homes a source of calm and peacefulness, we've spent the last few years painting in nature-inspired colors. In 2022, it was all about green. Tones like Evergreen Fog, Desert Sage and Breezeway were each picked as paint companies' colors of the year. But for 2023, bold colors for self-expression are taking center stage. Pantone's Viva Magenta is a vibrant red/pink that makes a powerful statement. Other colors of 2023 like Raspberry Blush, Redend Point, and Vining Ivy all celebrate an energizing, playful approach to color in the home. So if you've ever been tempted to try a bold color you love, 2023 is the year to have fun with paint projects!
Natural materials
This might not seem like much of a prediction at this point as many homeowners have been on the environmentally friendly train for a while. What we do anticipate is that incorporating more sustainably produced materials, and energy efficient solutions in the home will become easier and more cost effective. Sustainable practices won't be limited to new home builds, either. Renovating homeowners will increasingly choose upgraded appliances that put less strain on the environment and seek new ways to make their existing home better for Mother Nature, whether it's fixing drafty windows and doors or improving insulation around pipes and water heaters.
We'll also lean further into natural materials for furniture and accessories. Rattan, wicker, cork and upcycled woods will be featured. We'll continue to use plants – houseplants and outdoor gardens filled with native species – to add beauty to our homes and the environment and blend our indoor and outdoor living spaces.
Soft shapes
Look for shapes with curved edges and playful curves in 2023. From round wall décor to pill-shaped accents, gentle curves create a minimalist appearance that still exudes warmth and comfort. If you're shopping for new furniture or décor, look for pillowy textures or playful, undulating waves to stay on trend and create a sense of natural movement that puts you at ease. This "meditative modern" vibe is sure to help keep you grounded and at peace as you enjoy your home.
Japandi
Given the two previous emerging trends, it's not a big leap to predict the rising popularity of Japandi. A mixture of Japanese and Scandinavian style, Japandi, also known as Scandinese, is often described as a warm minimalism. To get the look, you want to combine natural materials – live-edge wood features or natural stone, for example – with artisanal touches that shun anything that looks mass-produced and too perfect. Natural lighting and earthy colors like brown, green and charcoal is what warms it up beyond your typical Scandinavian décor.