Best fall decor ideas from home experts.
By emily.bailey
Thursday, September 8, 2022
At Schlage, we've been writing about how to decorate your home, no matter the season, for years, so we thought we'd pull together a list of some of our favorite suggestions.
We know you can google "simple fall decor ideas" and get millions of results. But why not jump straight to the best? At Schlage, we've been writing about how to decorate your home, no matter the season, for years, so we thought we'd pull together a list of some of our favorite suggestions. We now present: Schlage's Best of Fall Decor.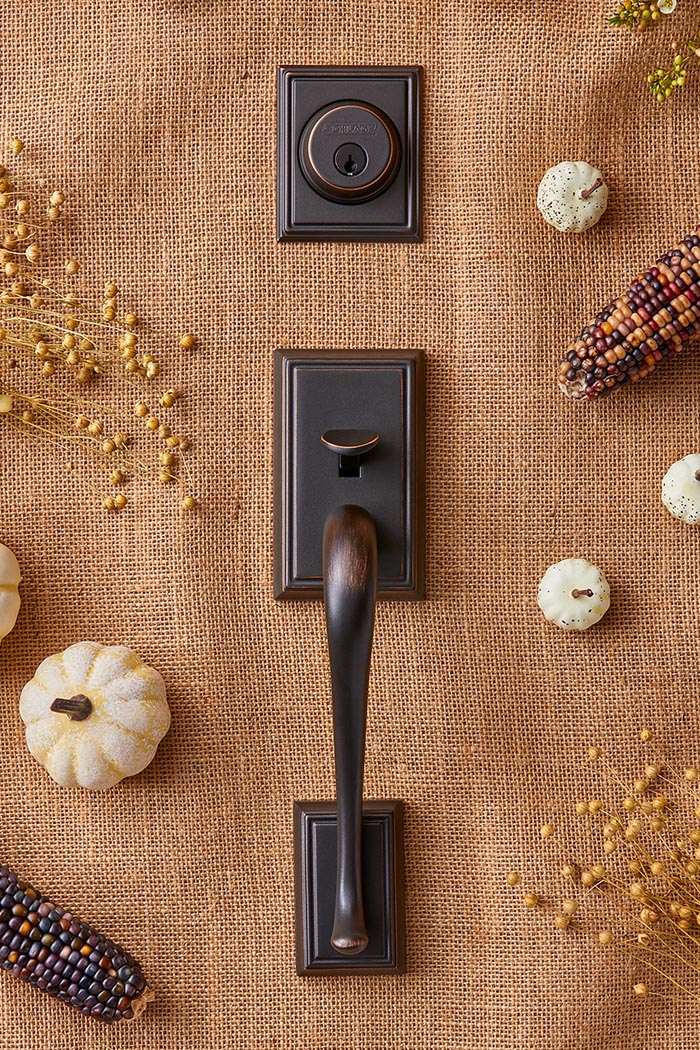 Best Color Tip: Choose copper
There's no need to ditch the beloved reds, yellows and browns of fall. Just give them a bit of extra pizzazz with metallics as well. Including accessories with a copper finish will keep your fall décor from looking flat, not to mention reflect some of that magical light that comes in autumn. Try accessories like shimmering lanterns and other light fixtures, copper and gold-toned plant containers or pumpkins painted with metallics.
Here are more
fall color palettes
to try on your front porch. Don't forget the finishing touch with a coordinating front door handle. Schlage offers hundreds of different styles and finishes to match. Browse
front door handles
.
Best Porch Decor: Bring out the textiles
The coldest weather hasn't moved in yet, so you can still enjoy some front porch relaxation. You just need to take a few extra steps to make it cozy. Add some pillows to a porch swing, freshen up some patio chairs with plush cushions or wrap up in a fluffy throw blanket. With these finishing touches, it doesn't even matter if you're lounging solo or hanging out with family.
But how can we pick just one thing to make our fall front porch decor really shine? Give some tips from these past Schlage blogs a shot:
Best Curb Appeal: Plant a veggie window box
You can't go wrong with fall container gardens, but if you want to put a unique spin on them, try a window box with seasonal vegetables. We highlighted Driven by Décor's arrangement in our DIY fall front porch décor ideas blog, so you can see how stunning the curb appeal is with peppers, gourds and cabbage of all things.
Best Halloween Decor Ideas: Personalize your pumpkins
Do you like your pumpkins to be cute or scary? Carved or painted? Is it called a pumpkin or a jack-o-lantern? Our top Halloween décor tip is to personalize your pumpk … jack-o-lan … whatever, to make it your own. Our blog of DIY Halloween decorations with pumpkins has ideas everyone will love, whether you're letting folks know you're a food allergy-friendly home during trick or treat, you like the glitz and glam of Art Deco or you want to be a fairytale princess.
Best Thanksgiving Tip: Be thankful
There's no better time than right now to express gratitude for what and who you have around you. And especially if you aren't one for grand gestures, décor can be the perfect simple way to show your appreciation. It could be a porch sign that welcomes guests with a positive message. Maybe it's a cheerful wreath to remind you every day of the good things in life. This is one simple fall décor idea that keeps on giving.
Best Home Safety Project: Do a door audit
Updating your front door can do wonders for your security and your style. If your door hardware is showing signs of wear, maybe the finish is chipped or there are scratches, this fall could be the perfect time to upgrade to a new handleset or an electronic lock that adds keyless convenience.
Check the condition of your door and the frame as well. If they're cracked, warped or otherwise damaged, even the best of locks won't be able to stop an intruder. When you replace a beat-up door, it'll look good and work even better.
We have tons of other home security projects you can tackle this fall and simple tasks for a safe and cozy home for you at the Schlage blog.
Need more inspiration? Find us on Pinterest. If you're thinking about holiday entertaining, our blog has some ideas for you there, too. Get started by checking out our toast to fall with how to create the perfect seasonal bar cart or how to make overnight guests feel at home.