7 projects for a safe and cozy home this fall.
By emily.bailey
Tuesday, October 15, 2019
Before you grab the cozy sweaters and make hot chocolate, make sure you check these off the list.
Pumpkins, turkey stuffing and snowflakes are right around the corner. Before you pull your cozy sweaters out of storage and make the hot chocolate, tackle these seven DIY projects to get your home ready for fall.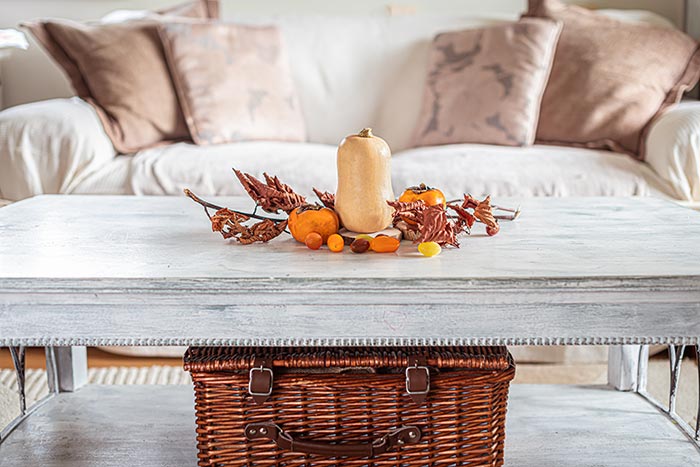 1. Repair your walkways
Ice and slipping are about to be a problem. Set yourself up for a safer winter my repairing uneven, cracked or crumbling walkways. The same goes for your driveway. It will be much easier to clear snow and stay on your feet if you do. Tighten handrails and banisters around the porch while you're at it.
2. Light the longer nights
Fall and winter mean longer nights. Replace the bulbs in your outdoor light fixtures, or install new lights so you can see when you get home in the evening. Extra lighting – around the front door, along the side of the house, near a gardening shed – is also a strong deterrent for would-be thieves. You might also consider timers for your outdoor lighting for greater convenience.
3. Inspect your doors – Part I
Deadbolts are a key ingredient to securing your home against potential intruders. Equally important is a sturdy door and door frame. Examine your entire entryway now and make sure there's no warping or cracks in the wood that will keep your deadbolt from latching securely.
Think back through the last year. Did your door stick? Did you have to push or pull on your door handle to get it to lock? It's not unusual for changes in weather to affect the seal on your door. Now's your chance to correct your door's fit by addressing any issues with the frame.
4. Inspect your doors – Part II
Sliding patio doors tend to get a good workout in the spring and summer. You should always take extra precautions to secure these doors, but the fall is a good excuse to make sure the latch is still working properly. If you don't have one already, install a rod or other mechanism in the sliding track to increase security.
5. Heat efficiently
There are plenty of DIY maintenance steps you can take to keep your HVAC system safe and operating efficiently. With an outdoor heat pump, remove nearby debris or vegetation so that it doesn't restrict airflow. Indoors, replace the air filter, clean dust and dirt from the registers, and replace the water panel or humidifier pad. You can find more heating efficiency tips at HVAC.com.
6. Get your bathroom guest-ready
Fall is the start of holiday season for many of us, which often brings houseguests and large meals. A not-so-fun fact is that the day after Thanksgiving is the busiest of the year for plumbers. Knowing your bathroom is going to get a lot of use, replace the caulking around tubs and sinks to avoid leaking. Correct any ventilation issues to reduce the risk of mold. And if you're expecting young visitors, take some extra precautions to childproof your bathroom with no-slip tub stickies, faucet guards and cabinet locks.
7. Prepare for the holidays
Planning on hanging lights or decorating for the holidays? Now's the perfect time to install hooks or even add electrical outlets in easy-to-reach locations to make that process less stressful later.
This list merely scrapes the surface of the steps you can take to make sure your house is ready for the new season. Find more home safety and security projects to complete this fall in our blog archives. Then head to our Design & Trends collection for ways to capture fall porch décor.