Enter if you dare: Halloween party décor for your front door.
By emily.bailey
We have the ultimate list of Halloween party decoration ideas to let your revelers know they're in for a real treat.
When you're hosting a Halloween party, you want to set the spooky mood for guests the minute they arrive at your door. We have the ultimate list of Halloween party decoration ideas to let your revelers know they're in for a real treat.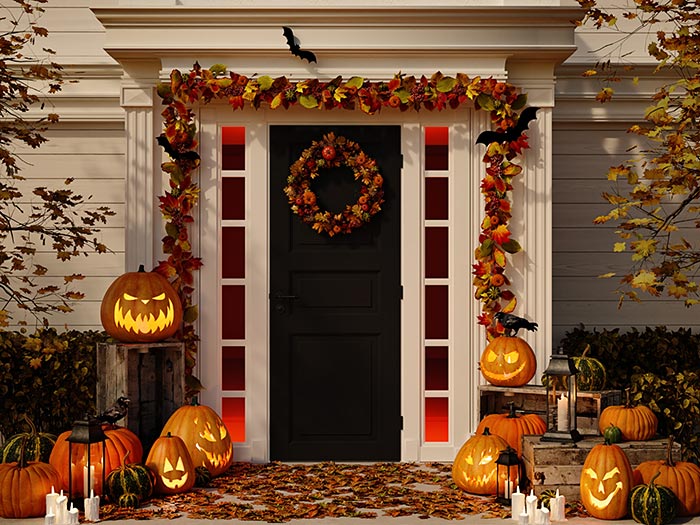 There's a monster at the door
Ever notice how scary movies have a creaking front door. It signals that whatever's behind that door is going to be terrifying. Let guests know what festivities lie in store before they even cross the threshold.
This mummy door from Dina Holland Interiors is pretty cute, but there are plenty of options out there for monsters and other creepy looks. Perhaps the best part, especially if you're looking for easy Halloween decorations, is that you often only need items you can already find around the house.
Raise your hand if you think this is the best way to transform your garage door for Halloween. If this idea from
Better Homes & Gardens
isn't quite your style, you could easily replace the arms with mysterious peeking eyes, spiders or bats.
Frighten them in the foyer
If you already have a sideboard-style table or landing strip in your entryway, start showing off your Halloween décor as guests remove their coats at the door. This layout from Country Living shows how you can avoid being too cutesy while also keeping it tame enough not to frighten your younger partygoers.
Christmas lights get called into action early with
this one
. Frame some old photos – they don't have to be your own family – and replace the eyes with tiny bulbs. The effect will be especially spooky in a dimly lit hall.
Looking for a little more involved Halloween décor DIY?
This mirror
is for you, especially if people are used to seeing a mirror in your foyer the rest of the year. Country Living used reflective paint and a creepy image to make the hairs on the back of your neck stand up.
Paranormal activity on the patio
Lighting is the perfect solution when it comes to DIY Halloween decorations for outside. Polka Dot Chair shows us how to make floating witch hat luminaries. Because you can hang them from your patio roof, they're ideal if you want glowing ambience but are concerned about jack-o'-lanterns getting knocked over during an outdoor gathering or smashed on Halloween night.
With
these cutouts
, you can turn an ordinary lantern into a haunted village. The best part might be their versatility – use them on the porch or inside on a fireplace mantel. You can find cutout templates for these houses and more at Woman's Day.
This
pumpkin topiary
from Tatertots & Jello is another example of versatile décor. In the daylight, the multicolored stack offers a unique way to display traditional jack-o'-lanterns. At night, it fools the eye into thinking they're levitating. If you've invited guests unfamiliar with your home, try carving your house numbers into the pumpkins so they know where to find the party. That's what we call a trick and a treat.
Now that you're ready to make a good first impression on your partygoers, you can turn your attention to the menu and drinks, costumes and Halloween décor for the rest of your house. We want to see how you dressed up your entryway for the haunting season, too. Share with us on Instagram.