Not your average pumpkin: 8 DIY Halloween decoration ideas you'll love.
By emily.bailey
Monday, September 30, 2019
Whatever your tastes, we have eight DIY Halloween decoration ideas you won't want to miss. We hope you like pumpkins.
From cute to spooky, chocolatey to chewy, Halloween offers a little something for everyone. Whatever your tastes, we have eight DIY Halloween decoration ideas you won't want to miss. We hope you like pumpkins.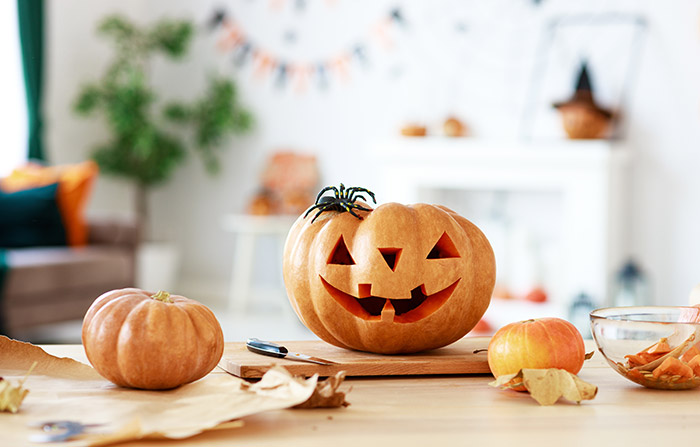 For the family
When you need to occupy the kids or if you're looking for a project you can do together, try these popsicle pumpkins and monsters from Hanging by a Silver Lining. Just a few crafting sticks, some paint and googly eyes (because you can never have too many googly eyes) are all you need for a fun afternoon with your little ghosts and goblins.
For the allergy-sensitive
Halloween can be tough on those with food allergies. Display a teal pumpkin so trick-or-treaters know you have trinkets that won't endanger their health. Simply paint the pumpkin, make it sparkle or turn it into the cutest mummy like Making it Milk-free. You can learn more about the Teal Pumpkin Project and get ideas for non-candy treats here.
For the glamorous
You know Art Deco is on its way back. Tap into the style trend and add some festive flair with these DIY velvet pumpkins. She Holds Dearly takes you through this simple sewing project. With the right colors, we think these are chic enough to display throughout the fall.
For the minimalist
Holiday decorations don't always jive with your minimalist look, but these DIY thread pumpkins from Instructables are a perfect balance. It's Halloween décor with the simplicity you seek. And with the right color thread, you could easily complement your room's color scheme.
For the upcycler
We wouldn't be doing our jobs if we didn't help you recycle the door knobs you replaced with new Schlage door hardware. Take those outdated knobs and turn them into an adorable, waste-free pumpkin patch with this tutorial from Stephanie Lynn. We're pretty sure you won't mind looking at that outdated hardware when you try this.
For the wine lover
Reuse the wine corks left over from summer parties for these DIY pumpkins from Always the Holidays. Add some paint, glue and crafting paper and you're all set for as many pumpkins in as many sizes as your party days allow.
For the phantasmal
Turn what you think you know about pumpkins upside down and make DIY Network's gourd ghosts for a bit of spooktacular fun. A mouth that says "Boo!" and a tattered-looking base are simple but out-of-the-ordinary.
For the DIY princess
If you're looking for a bigger project, try this Cinderella pumpkin carriage. Some creativity and elbow grease will make you the talk of the neighborhood with this DIY décor perfect for a fairytale princess.