Transform your home with these garage storage ideas.
By emily.bailey
Interested in a garage that works with your lifestyle? Explore these garage organization ideas.
Garages are often neglected and easily end up with random odds and ends piled everywhere. To turn your space into a functional and enjoyable part of your home, you need some good garage storage ideas. Whether you want a workshop for all your projects or just a convenient spot to park, organization is essential. Check out these great garage organization hacks to get some inspiration.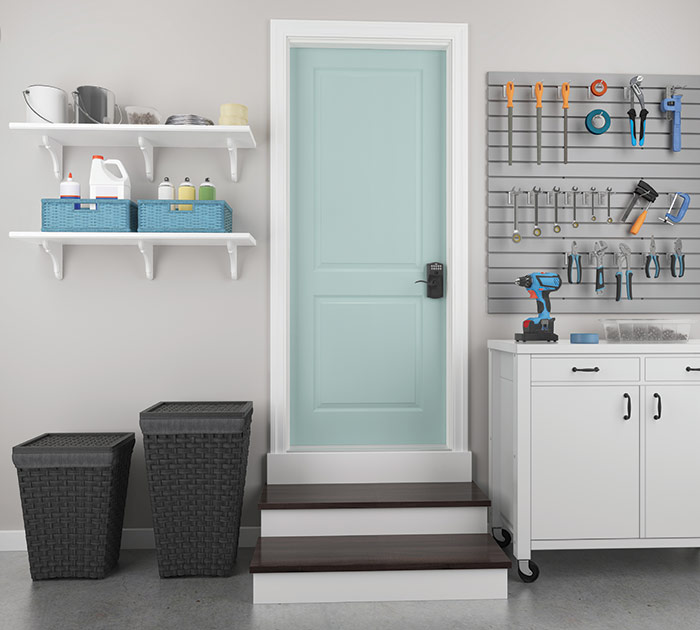 Maximize vertical storage
When you're looking for ways to add storage to your garage, turn to the walls. Adding spots to hook or hang items will instantly make your space more organized. You can add storage by installing permanent fixtures like pegboards, or just set up some shelves. Like NEAT Method Boston shows, vertical storage has many benefits. It increases your floor space so that you can park a car or set up exercise equipment in your garage. It also makes it easier to see all your belongings at a glance. Instead of having to dig through a pile in a corner, you can just look at the wall and instantly locate a toy or tool.

Organize your garage in zones
One of the big challenges of garage storage is that it often contains so many items. The typical garage can end up holding everything from power drills to tennis rackets and coolers. How do you find a particular item you need? This genius idea from Consumer Reports recommends creating storage zones throughout the room. Carefully consider the types of items you store and sort them into categories. Then, create a defined storage space for each piece. Try to take into account how you use each category. For example, if you have a lot of power tools, you might want to store them near an outlet. Meanwhile, your overhead storage is perfect for items you rarely use.
Get creative with boxes and bins
Garage storage can get tricky when you have several small items to organize. How do you organize screwdrivers, gardening stakes, batteries, or other small tools? This is where storage boxes, bins, and baskets come in handy. You can get a sleek, minimalist aesthetic by creating a monochromatic color scheme like Peterreis on Reddit does. Another option, like this design from Abby Kahn of @abbsolutelyorganized, is to use clear boxes that let you see what's inside. Once you have everything sorted, you can stack the bins on shelves to create a tidy, accessible row of belongings.

Upcycle your old furniture for extra versatility
If you have old storage furniture lying around your home, you don't have to spend a lot of money to organize your space. A few simple alterations make standard dressers, cabinets, or bookcases perfect for your garage. For example, Amanda Hendrix from LoveRenovations turned old kitchen cabinets into a row of tool storage. A fresh coat of paint, some pegboards, and a Schlage Touch lever on the door make the space both practical and charming

Another neat option is this
saw table on wheels
from ladieswhodiy. It provides both storage space and room to work on projects. And thanks to the wheels, you can do tasks in the middle of the garage or clear up floor space as needed. It might look expensive and complicated, but it's actually just an old dresser with wheels attached to the bottom and butcher's block attached to the top.
Think outside the box with your storage
When it comes to garage organization ideas, there's no "one size fits all" solution. Many items stored in this area are abnormally shaped and won't easily fit in a drawer or hang on a pegboard. With a little patience and some basic DIY know-how, you can craft custom storage solutions that fit your needs. Here are a few of our favorite ideas from Pinterest:

Cut small pieces of PVC, and screw them to the wall to slide rakes, shovels, and other long-handled tools into.


Mount jar lids to the underside of shelving and then screw on containers filled with bolts, nails, and other tiny items.


Install rows of bungee cords along the front of a shelf to make a ball corral kids can quickly grab toys from.


Hang 5-gallon buckets sideways to make a cheap storage rack.


Use over-door shoe storage racks to store cables and small tools.


Don't Forget About Your Interior Door
For attached garages, don't forget the space that is available around your interior door. We like how this homeowner created a charming space to sit with baskets for storage and a convenient place to hang a jacket before heading inside. A few finishing touches can make your interior door even better. To complete your adorable landing space, consider adding a cute sign and some decorative hardware.
Upgrading the space around your door is also a great opportunity to enhance your security. Many homeowners make the mistake of leaving their interior door unlocked, which can lead to problems if someone gets inside your garage. Try using a
Schlage Keypad lever
or
Schlage Touch lever
to let you easily access your home. Our electronic keypad locks keep your home secure without requiring you to remember a key every time you step into the garage.
Interested in more great ideas for upgrading your home? The Schlage blog provides expert advice on products like electronic locks, affordable DIY projects, and more. Browse our guides to learn how you can make your home comfortable and functional while reflecting your personal style.