How to choose the best smart lock to protect your home.
By emily.bailey
Tuesday, September 20, 2022
Technology moves fast, and smart homes are getting more and more advanced by the day. Smart home ecosystems can be intricate or easy, depending on how tech-savvy you are and which devices you need in your space. Regardless of what you prefer,
Schlage smart locks
are compatible with multiple smart home devices and ecosystems for your best hands-free comfort and protection. Here are some things to consider when choosing the
best smart lock
for your home.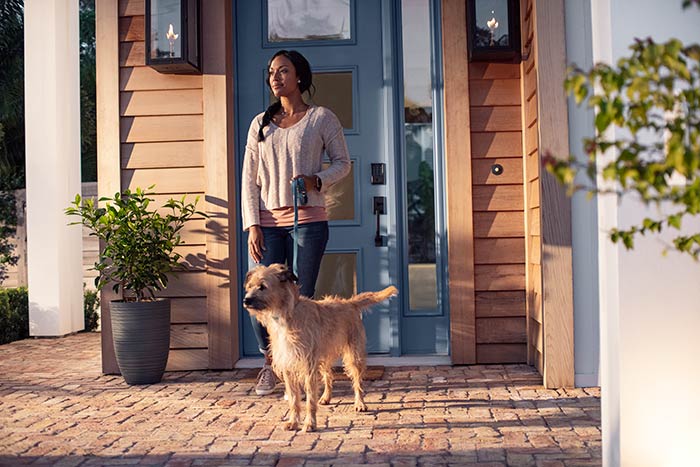 Enhance your smart home
What smart devices are already in your home? Which smart features are your favorite? If you're already using automated smart home devices but unsure of which door lock is best for your system, Schlage is a smart bet. Before purchasing a new smart device, think of the smart ecosystem already in your home and its compatible brands. Schlage works with Apple HomeKit, Google Assistant and Alexa, making it a trusted partner in most smart home automations and advancements.
Identify security features
When choosing a smart lock to protect and secure your home, look for extra security features. Some Schlage smart locks feature an audible built-in alarm that is triggered by tampering or attempted forced entry. We always recommend exterior door hardware with its own security protection, but more importantly, think of your home's location and any existing security measures. What smart devices or features will bring your peace of mind full circle?
Schlage locks offer customizable auto-lock technology, so you'll know your door is locked, even when you're away. You can choose to program your smart deadbolt to automatically lock behind you, setting the timing for anywhere from 30 seconds to 4 minutes. This makes your home safer and gives you peace of mind.
Consider ease of access
You have a variety of secure options for keyless entry and sharing access with guests. Choose to give access seamlessly through the Schlage home app on your smartphone with virtual keys. Or, if you prefer not to use your smart phone, there is always the option of granting unique access codes for the touchscreen keypad. Before choosing a smart lock for your home, know the difference between Schlage smart locks and the features to best accommodate your household.
Discover remote capabilities
Locking and unlocking your door with a smartphone adds major convenience to your life, especially when you can do it from anywhere. A smart lock can provide peace of mind with the ability to check the status of your lock at any time, from any place. Be sure to know the remote access capabilities of a smart lock and how to integrate it in your home and lifestyle before purchasing. Keep in mind, some smart locks need an extra hub to enable communication with your phone via WiFi and integrate with other smart devices. Simplify by choosing a lock with built-in WiFi, such as the Schlage Encode Smart WiFi Deadbolt or Schlage Encode Plus™ Smart WiFi Deadbolt.
Know the smart lock's battery life
Before installing a new smart lock, learn what to expect from it—about how long will the batteries last? Do you need a Bluetooth or Z-Wave compatible device to match your preferred smart home system? How may the deadbolt's technology and amount of use affect its battery life? These are all important things to consider, but the most important thing is to look for locks with clear low battery warnings.
With Schlage, you can check the status of your battery at any time through the Schlage home app. Additionally, you will automatically be warned of a low battery through the lock's touchscreen keypad long before your battery fails. If you're upgrading your smart lock, we recommend the Schlage Encode Plus™ Smart WiFi Deadbolt—our newest, most advanced smart lock, powered by AA batteries and WiFi. No matter which smart lock you choose for your home, count on our products to warn you of low battery weeks before losing power. And if your [digital key] device dies or you don't change the battery to your lock in time, all our locks come with a backup mechanical key. With Schlage, you'll never need to worry about locking yourself out of the house again.
Trust before you buy
For the most secure locks on the market, let the BHMA residential grading system speak for itself. BHMA is a board of industry experts who grade the performance of residential door hardware on Security, Durability and Finish. A grade of 'C' is good, 'B' is better, and 'A' is best; 'AAA' is the best grade possible in all three categories. The Schlage Encode Plus™ Smart WiFi Deadbolt and Schlage ConnectTM Touchscreen deadbolt with alarm were graded AAA by the BHMA and backed by Schlage's product warranty.
It's best to choose a lock supported by its manufacturer with a generous warranty like Schlage. We offer customers a limited lifetime mechanical and finish warranty and a limited three-year electronics warranty to the original user. Other manufacturers' warranty terms can be found on their product packaging or website.
If you value quality craftsmanship that is meant to last, choose a smart lock (and any other smart home device) manufactured by a brand with a tried and true legacy. For more information on our smart lock offerings and a look at which smart home ecosystems our locks are compatible with, visit schlage.com.