A toast to fall: How to create the perfect seasonal bar cart.
By emily.bailey
Whether you're hanging on to the tail end of warm weather for an outdoor gathering or preparing to entertain for the holidays, try these tips to create, stock and enjoy the perfect fall bar cart.
It's one of the hottest décor and entertaining trends out there right now: bar carts. They're versatile – use them inside or out, on the deck for party drinks or in the bedroom as a nightstand. They're convenient – everything's in one place and portable. They're stylish – no matter your design taste, there's one for you. So whether you're hanging on to the tail end of warm weather for an outdoor gathering or preparing to entertain for the holidays, try these tips to create, stock and enjoy the perfect fall bar cart.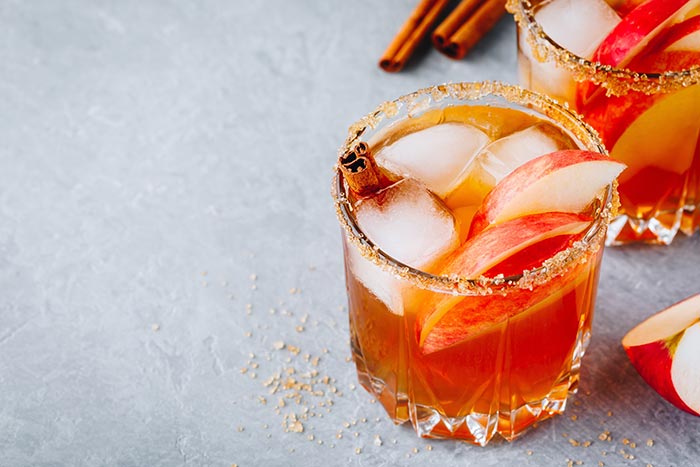 Build it
Bar carts fit nearly any personal style – industrial for a masculine feel, Lucite or metallic for Art Deco, bright and colorful for springtime whimsy. For fall, we're fans of wooden carts since they complement the colors and other décor of the season. They're also great for outdoors when entertaining on your porch or patio.
To build your own wooden bar cart, check out what Shanty 2 Chic created. The handy hooks for hanging glasses and mugs are such a smart use of space! If upcycling rather than starting from scratch is more your style, try this tutorial from Runway Chef. They transformed an old kitchen island into the ideal backyard bar cart. And all they needed was all-weather wood stain and some time.
Decorate it
Step one, no matter the season, is to use your ingredients and glassware as décor. The bottles, shakers, coasters and napkins will be sitting out for everyone to see, so make sure they're worth looking at.
Next, match your bar cart's décor with the rest of your home. Choose complementary colors, although with fall, it's hard to go wrong with reds, oranges and coppers. Marigold is a popular interior décor color right now as well. You can also commit to a party theme like apple décor to go with apple-inspired drinks (keep reading for those tasty tips).
A bar cart is appropriate for any kind of party – they were originally Victorian-era tea trays – so you can adjust your drink station décor based on your particular gathering.
Seasonal soiree – Focus on drinks that speak to the season and décor like apothecary jars that double as bottles for mixers and other "poisons" at Halloween. Try leaves and wheat husks later in the year. The beauty of these fall decorations is that they can easily be swapped out for winter garland in a few weeks.
Appetizer party – Transform your bar cart into a

mini "food truck"

. (You can still have drinks on a sideboard or a second cart.) Multiple shelves offer prime real estate for dishes, a cheese board, some fruit and nuts, and even a platter of pigs-in-a-blanket for the young at heart. Or maybe it's a dessert cart instead. Yum!
Brunch bash – A family or friends'

brunch

is the perfect opportunity for mixing and matching function and for some dreamy décor. Drinks (coffee, tea, mimosas) and food (bagels, fruit, mini-quiches) co-exist in a single convenient location. Flowers give a feminine touch, but there's no reason you couldn't use

unique pumpkins

.
Taste it
Whether you're playing bartender or letting others fix their own drinks, it's important to have the necessary ingredients if you want your guests to feel welcome. One Kings Lane gives you their list of must-have bar basics. And don't forget to have ingredients nearby for a tasty beverage for the kiddos.
Need some out-of-the-box inspiration for wetting the whistle at your next party? We had a hard time choosing between Gimme Some Oven's easy cranberry margaritas or Cooking and Beer's apple, pumpkin beer cocktails. For the youngsters and drivers, and particularly at Halloween, try Food Network Canada's spooky apple cider punch, complete with "shrunken head" apples.
No two parties are the same and everyone has their own hosting style, so it goes without saying that your bar cart should be as unique as you are. Get more DIY tips for your whole home so you can enjoy the seasons safely, stylishly and surrounded by good friends, compliments of Schlage.