Home safety and security projects to complete this fall
By emily.bailey
Thursday, November 2, 2017
Take advantage of the cooler temperatures and downtime before the holiday bustle to tackle these must-do fall projects.
Fall is the perfect time to
prepare your home for colder weather
ahead and take care of any summer projects that may have gone undone. Take advantage of the cooler temperatures and downtime before the holiday bustle to tackle these must-do fall projects.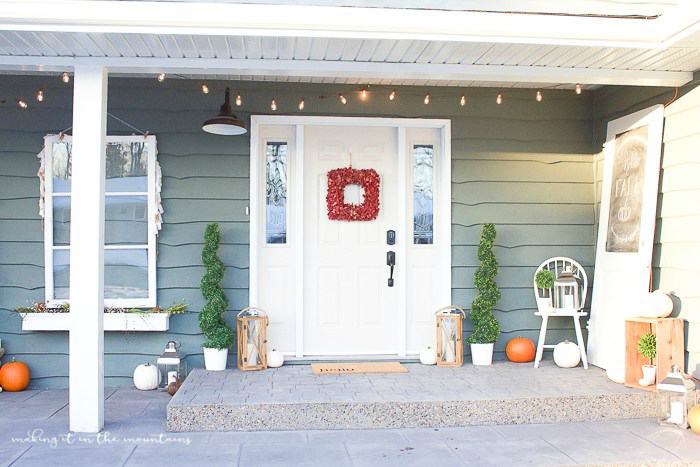 Test Alarms and Sensors
Prepping for the holidays can be so much fun, but it can also mean increased safety hazards in the house. Over the next couple months, you'll be decorating for the holidays, cooking large family meals, burning your fireplace, lighting candles, and maybe setting up a Christmas tree. Prepare for the additional hazards these activities bring by testing your smoke alarms and carbon monoxide detectors.

Also, make sure you have a functioning fire extinguisher on each floor of your home. Look for an expiration date on the label and make sure it hasn't passed. In addition, ensure that the pressure dial is in the green, or charged, area.
Check Insulation Points
Doors and windows are the primary sources for wasted energy in most homes. Apply caulk, weather stripping and insulation inside and outside of the home to ensure you don't waste any energy – or see increased energy bills – by letting heat leak out. So be sure to check on weather stripping around your doors, windows, and garage door. The felt strips seal these openings to prevent drafts, but they can wear down over time. Replace any faded weather stripping and complete any other insulation tasks you've been putting off.
Clean Your Gutters
Your gutters work hard over fall and winter, and they need your help. Clean them out before it gets too cold. This will prevent gutters from overflowing with rain or snow and damaging your roof. Remove the leaves that accumulate on your roof with a roof rake. Simply position the rake behind the leaves and pull forward until they fall off the roof. Once you've climbed up to your gutters, put on some waterproof gloves and scoop the leaves out by hand. Just remember to always keep one hand on the ladder for safety.
Prepare Your Fireplace
For wood fireplaces, clean them out thoroughly, check the chimney, and make sure that you have an ample supply of wood. Even if you plan on cleaning and maintaining it yourself, have a professional do an initial inspection. Gas and electric fireplaces can also benefit from an annual inspection before winter begins.
Clean Up Your Lawnmower, Grill and Other Outdoor Yard Tools
Your lawnmower, grill and other yard tools are probably dirty after a spring and summer of use. Don't let that dirt and grime sit around all winter. Instead, take the time to clean, tune up and properly store and/or cover these items so they will be ready to be fired up in the spring.
Clean Carpets
Fall is an excellent time to clean your carpets inside. Carpets and rugs tend to collect dirt and dust and grime all summer long, and you'll want them clean for indoor winter activities. Be sure to open your windows and air out your house as the carpet dries – another bonus of tackling this project in the fall.
Drain Outside Water Faucets and Irrigation
Not prepping your exterior water outlets could result in an expensive mess on your hands. Water lines exposed to outside temperatures, including underground irrigation lines and exterior faucets, can freeze. When water freezes, it expands, which can crack the pipes or hose bibs.

Start by turning off the water lines inside your house. The shutoff valves are usually located near the main plumbing line that brings water into the home. Then open the spigots to drain the water in the lines. (If you have to drain your irrigation lines, you'll need a pro.) Check the faucets on occasion to ensure that water isn't leaking out. If it is, the shutoff values either aren't closed all the way, or they're leaky and need to be replaced.
Trim Problem Bushes and Trees
The last thing you want are branches to freeze, get too heavy and fall on your house during a snowstorm. Now is the time to inspect nearby trees and shrubs, and cut any low-hanging or dying branches before they can do damage. Resist over-trimming though. Trimming promotes new growth, so wait until your bushes and trees are truly dormant (after winter, early spring) to do your annual pruning.