10 fading, returning or emerging trends to watch in 2020.
By emily.bailey
Here are 10 noteworthy trends that are either fading, returning or emerging, plus one more we're hoping becomes a trend.
We're turning 100! Over 10 weeks, Schlage is sharing its favorite top-10 lists. That's 100 tips, ideas and moments of inspiration so you can enjoy the safety, simplicity and style of Schlage for another 100 years to come.
Design trends come and go. Some make you scratch your head, while others stir the heart. Here are 10 noteworthy trends that are either fading, returning or emerging, plus one more we're hoping becomes a trend.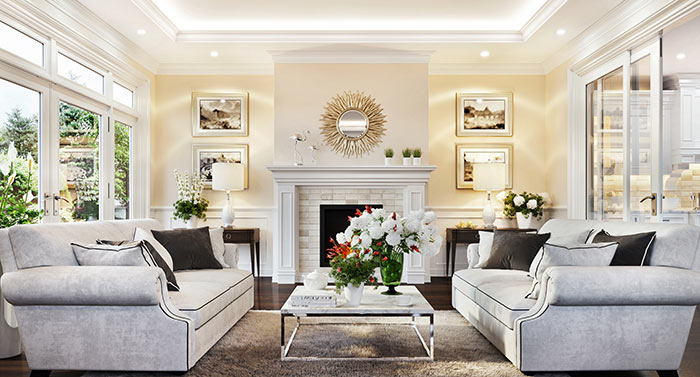 1. Fading: Rain shower heads
According to
Apartment Therapy
, rain shower heads, with all their soothing and spa-like qualities, are on the way out. While homeowners loved them at first, now they lack water pressure and leave you feeling perpetually soapy. Instead, you'll see more traditional bathroom fixtures with the money that would have been spent on the fancy shower head going elsewhere.
2. Fading: Matching furniture sets
You probably still won't see a neon couch next to a
Granny chic
arm chair, but identical furniture throughout the room is becoming a thing of the past. Instead, you'll see unique pieces with complementary shapes and intentionally chosen textures that add visual interest and let you show off your personal style.
3. Fading: All white or gray walls
One look at the
2020 colors of the year
, and you'll notice a range of nature-based hues. While there will always be a time and place for white or greige walls, expect to see more colors like these from
Valspar
– they have names like sage, moss, canyon, brook, desert, mint and garden – to add more warmth and calming properties offered by Mother Nature.
4. Returning: Maximalism
Art Deco, first made popular in the 1920s, was known for its opulence. Gold and glamorous with patterns everywhere and lush fabrics were a sign of homeowners' wealth. Memphis style, a 1980s ode to bright primary colors and bold patterns, had a similarly overstated flavor. As minimalism continues its downward slide in favor of design with more flair, prepare to see more of its opposite – maximalism.
5. Returning: Biophilia
Floral patterns have taken different forms in various decades, but they've almost always been popular. Today, it's not just about the flowers. Regaining in popularity are plants of all types with plenty of green showing up as wallpaper prints, living walls and indoor container gardens to name a few.
6. Returning: Boho
With the return of plants, it's not surprising that other aspects of Bohemian style would also make a comeback. Along with hanging plants come natural materials like rattan and jute, saturated colors like deep burgundy or hot pink, and geometric shapes. This time around, these elements are more restrained and elegant, resulting in the new Bohemian Modern.
7. Emerging: Sustainability
With concern about climate change, demand for environmentally sustainable housing is taking off like never before. Whether it's the materials used in building, energy-efficient appliances, a fully passive home or some combination of those elements, green housing just might become the design standard of the future.
8. Emerging: Universal design
More people are choosing to age in place and families are making their house a multigenerational home (some might say that's a returning trend). That means it's important to design a home that fits a variety of needs for a range of life stages. The emerging trend is to address concerns about mobility, vision and other special needs from the start. Curbless showers, good lighting around stairs and creative cutouts that accommodate wheelchair users more easily are just some of the key elements of universal design.
9. Emerging: Healthy homes
Home, for many, is a sanctuary and more homeowners are adding wellness features to the house itself. Smart technology like some of these purifiers highlighted by Review Geek can monitor air quality and filter VOCs for healthier breathing. Furniture that emphasizes comfort can create hygge for mental balance. Unique lighting solutions can help retrain your body and promote better sleep. And a well-planned entryway can help stop germs and dirt from even getting in the house.
10. Hoping: No rules
When thinking about the trend we wish were a trend, we considered wrap-around porches. Who doesn't love an outdoor oasis, plenty of space for holiday front door décor and somewhere you can welcome the neighbors for an impromptu glass of iced tea? But the trend we're really hoping for is the disappearance of design rules. Because the best style and design is what makes you happy. It's whatever makes your house feel like a home and lets you live the kind of life you want. That's a trend we think anyone can get behind.