More savings? Better living? Try a passive house.
By emily.bailey
Wednesday, February 12, 2020
Increasing your home's energy efficiency is a common goal for many homeowners. Here's what you should know about passive houses.
Increasing your home's energy efficiency is a common goal for many homeowners. Creating a smart home that gives you greater control over lighting, the thermostat and powering down inactive energy-hog devices (here's looking at you, gaming console) is just the beginning. For those really committed to conserving energy, helping the environment and saving money, there are passive houses.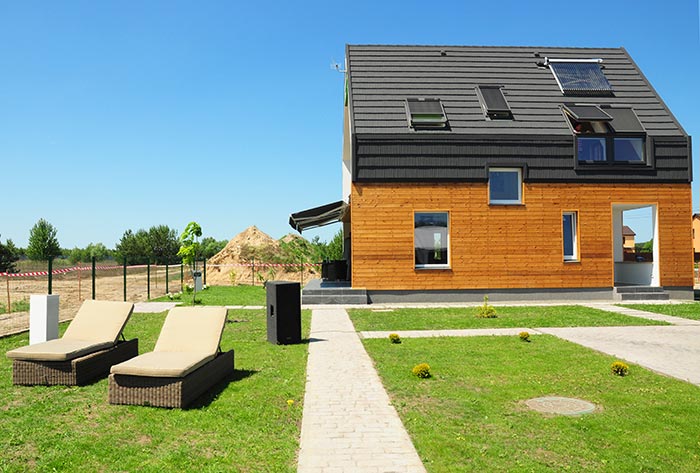 What is a passive house?
The basics of the passive house are pretty simple – control the temperature, control the air flow. When you can do those things, you'll reduce massive amounts of wasted energy. So how's it done?
Passive house designers focus on both the building materials used, like all-around insulation and triple-glazed windows, as well as the architecture of the home itself. The home's design considers everything from thermal grounding to ventless dryers to minimize residual heat loss and redirect natural energy sources where you need them most.
The forethought and extra building expense upfront literally pay off in the long run, however. Once the details of the design are complete, you can sit back and relax. Enjoy the savings that comes from reduced heating and cooling costs. A typical passive house uses up to 90 percent less energy than existing traditional homes, and that has major impact on your wallet.
Why would I want a passive house?
We all love to save money, but it's not just about the numbers. It's about feel, too. Passive homes use heat emitted from the sun, appliances and human occupants to help regulate the temperature. When the home is insulated correctly, that's typically enough heat to keep a house at a comfortable temperature. Imagine reading your book by the window in the winter without being cold or reaching for a third sweater. And with strategically placed windows and the right appliances, you could even cook in the summer without sweating over your casserole.
It's more than that, though. Temperature control in a passive house is also about maintaining consistent temperature. No more unnecessary strain on your heating and cooling system as it tries to keep up with swings in weather.
You'll also enjoy improved air quality. Because ventilation is different in passive homes in an effort to make it air-tight, you have systems that are constantly filtering out air pollutants and allergens. Some passive home owners have reported sleeping better, likely because of the improved carbon dioxide levels at night. You might also notice fewer smells in the home. And, because there's less moisture getting into the walls and creating a breeding ground for mold, passive homes may be particularly ideal for allergy sufferers as well.
How can I get a passive house?
Be prepared to pay for it initially. Realtor.com reports that for a single-family home, construction costs range 10 to 15 percent higher for passive homes compared to traditional. The good news is that you'll recoup that expense quickly thanks to lower heating and cooling costs.
When considering a passive house, keep certain architectural elements in mind. South-facing windows can make the most of the sun's energy, providing maximum natural light and reducing heat loss without having to use costlier lamps and furnaces. Extra-thick walls enhance insulation allowing for greater temperature control as well. And overhangs with certified windows can help with cooling. This architect's home featured on Houzz shows how it's done while also proving that you can still enjoy the outdoors even with an "air-tight" passive house.