5 easy projects for instant (installation) gratification.
By emily.bailey
Friday, February 14, 2020
These five DIY installation projects aren't as tricky or time consuming as you think. Tackle them with confidence for the near-instant gratification of a job well done.
Do your hands get clammy when you hear "install"? Does the word fill you with dreaded anticipation of spending your entire weekend making multiple trips to the hardware store? These five DIY installation projects aren't as tricky or time consuming as you think. Tackle them with confidence for the near-instant gratification of a job well done.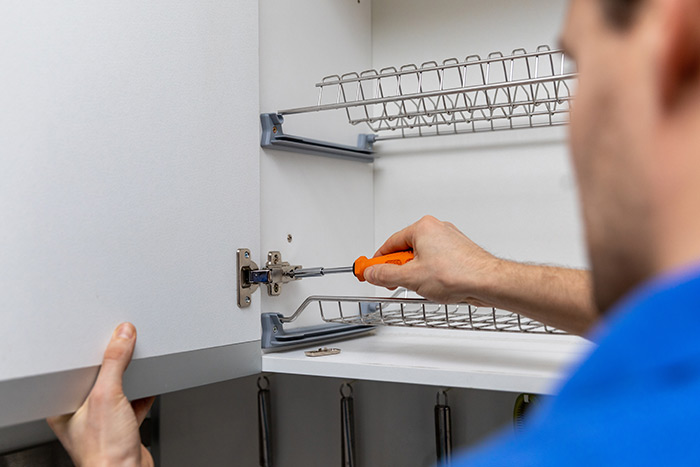 Door hardware
A door knob or lever that just isn't up to snuff can bother you more than you're willing to admit. Maybe it's just not the style or finish of your choice. Maybe it sticks or pops off in your hand. If that's the case, why are you living with those frustrations? It's so easy to change them out. Whether you're installing a smart lock or mechanical interior door hardware, all you need is a screwdriver and a few minutes. The most important rule here is to NOT use a power drill. You'll strip the screws and, unfortunately, void your warranty.
You can find complete installation instructions for all Schlage door hardware and smart locks in our How-To Center. Interactive instructions are also available for the Schlage Encode™ Smart WiFi Deadbolt and Schlage Sense™ Smart Deadbolt in the Schlage Home app.
Door hinges
Installing door hinges is a breeze, too. Tip #1: Leave your door in place. Just replace the hinges one at a time. To do that, grab your screwdriver again. If you want to use a cordless drill, you can do that here (but not when installing your lock). Use this step-by-step guide to learn how to install door hinges.
Faucet
Some people blanche at the mere thought of a plumbing project. Family Handyman takes you through replacing your kitchen faucet. Don't be intimidated by the number of steps. About half of those are simply getting you ready for your new look, shutting off the water supply and removing the old fixtures.
Like door hardware, a new faucet can do wonders for the overall look of the room. Choose styles and finishes for both that complement each other, and you're well on your way to a kitchen that'll be almost too pretty to cook in.
Soft-closing drawers
Have people saying, "Nice kitchen!" instead of "Ouch! My fingers!" when you install soft-closing drawers. You can find soft-close side-mount drawer glides at most home improvement stores. Everything else – a drill, screwdriver, tape measure and level – you probably already have. Check out Better Homes & Gardens for a simple five-step installation guide. We're willing to bet that you'll love these so much, you'll want to add them in the bathroom, home office and everywhere else before you know it.
Medicine cabinet
Whether your family has grown or your makeup collection has, storage in the bathroom is often in short supply. To install a medicine cabinet, simply find a small wall-mounted cupboard and collect the rest of your supplies: bolts, drywall anchors, a stud finder and a drill. You might also want a measuring tape and level to make sure you get it perfect. It's an inexpensive project and relatively low on the skill-level scale. Find the full tutorial at DIYNetwork.com.
With these guides, choosing the perfect look for your door hardware and other fixtures might end up being the most difficult task on your to-do list. But never fear. Find design inspiration on Pinterest and Instagram.