Front door essentials: 10 must-haves for security and style.
By emily.bailey
Monday, February 17, 2020
A door is a door, right? Not so fast. Especially when it's a front door, you want it to look great for curb appeal and work even better for security.
A door is a door, right? Not so fast. Especially when it's a front door, you want it to look great for curb appeal and work even better for security. Here's our list of 10 must-haves for your front door.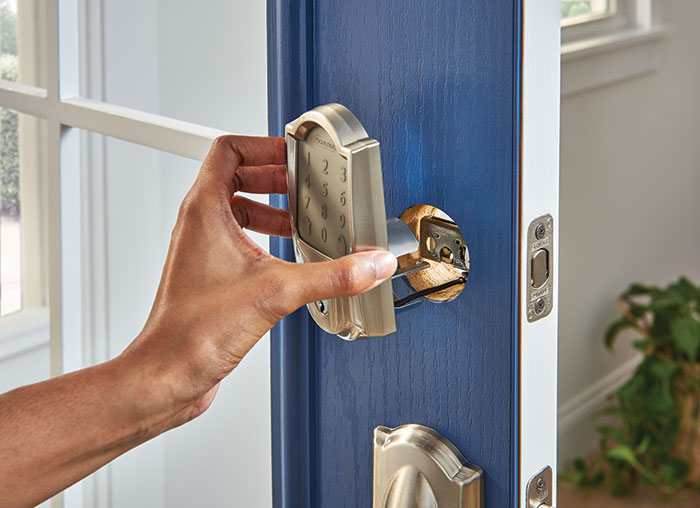 1. Quality construction
Is this a "thing"? We're making it one because a quality door is one of the most important considerations for securing your entryway. Even the strongest lock won't protect you and your belongings if your door and the surrounding frame is warped, crack or weak. Be sure to evaluate your door periodically so you can fix any problems before they compromise your security.
2. Secure handleset
Score a double victory with Schlage handlesets for your front door. You get style – we offer a variety of designs and finishes to match nearly any home – and security in one package. Our handlesets are graded Best in Security, Durability and Finish by the BHMA, so you can be confident in your door hardware's form and function.
3. Deadbolt or smart lock
Some handlesets include a deadbolt as either a two-piece or a single 3/4 trim. If you get to choose a separate lock to pair with it, there are a few deadbolt options. Single-cylinder deadbolts require a key on one side and a thumbturn on the other for locking and unlocking. Double-cylinder deadbolts need a key on both sides, which offers great security but also can pose risks in an emergency situation if you need to exit the locked door quickly. These are regulated in some areas, so be sure to check with your local codes before choosing a double-cylinder lock.
Schlage handlesets also pair beautifully with smart locks like the new Schlage Encode™ Smart WiFi Deadbolt. Regardless of which electronic lock you choose, you'll get keyless convenience and, in most cases, the option to manage access remotely via your smartphone or home automation system. Use our Get Help Deciding Tool to learn which smart deadbolt is best for you and your family.
4. Video doorbell
Video doorbells are gaining popularity because they let you see who's on your porch even when you're away from home. Keep an eye on packages, see when the kids get home or decide if it's worth getting off the couch for the magazine salesman, all from your smartphone. Your Schlage Encode Smart WiFi Deadbolt pairs with the Ring Video Doorbell 2 for additional convenience and security.
5. Peephole
It's old-school, but they're still around because they work. If you already have a traditional door viewer, consider upgrading to a video version. The Ring Door View Cam attaches to your existing peephole without the need for wiring and offers a live feed of your porch.
6. Lighting
Lighting is another opportunity to combine style with security. Fixtures can easily be matched to your home's architectural style. No matter what they look like, a well-lit home is less likely to be targeted by intruders. You're also less likely to stumble in your entryway if you can see where you're going. Consider solar-powered lights for energy conservation and motion-activated lighting for even greater convenience and security.
7. House numbers
It's hard for guests to feel welcome at your home if they can't find it. Likewise, delivery people and emergency responders, should you need them, will appreciate you making their jobs easier. Large, clear house numbers are both helpful and gorgeous. HGTV offers a variety of style ideas to choose from.
8. Welcome mat
Don't drag in all the dirt and damp from the outdoors. They don't have to be flashy, but if you're looking to make a style statement with a doormat, try layering one with a larger outdoor rug or DIY a mat with your favorite welcome message.
9. Personal statement
Your front door makes a first impression on anyone who comes to your home or even just drives by. It's your chance to say something about who you are. Consider a wreath, a welcome sign, a hanging basket with flowers or even your family's initials stenciled directly onto the door.
10. Eye-catching color
Painting your door can be trickier than you think. We suggest choosing a color that complements the rest of your home's exterior and highlights architectural details. Once you've picked the hue that makes you happy, update your door hardware in a finish that keeps the gorgeous style going.
If we were creating a list of don't-haves, the number one item would be a fake rock. It won't fool anyone and you're putting your home's security at risk. Here are better options for when you need to hide a spare.
Whether you're looking for electronic solutions or design tips for your front door, Schlage has it all. You can also ask us for tips, advice and inspiration on social media. Find us on Pinterest, Instagram, Twitter and Facebook.