Homes of the Century: 100 years of garage convenience.
By emily.bailey
Whether for actually parking your car or storing everything under the sun, garages are often a coveted feature when buying a home. So what's their history?
Our Homes of the Century series has showcased a lot of transformation already with
kitchens
and
porches
. The advent of electricity, indoor plumbing, even cabinets has changed American homelife in ways that are both innumerable and largely taken for granted today. Not all changes have been dramatic, however. No less interesting, despite its dependability, is the garage. Whether for actually parking your car or storing everything under the sun, garages are often a coveted feature when buying a home. So what's their history?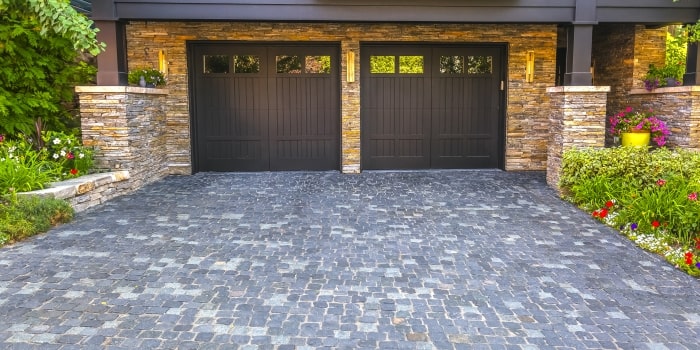 Getting attached to our garages
A century ago, cars were just emerging as part of daily life. For the first time, we needed someplace to secure the family automobile. A Sears, Roebuck & Co. catalog, which sold blueprints to would-be homeowners so they could build their own homes, had two floorplans for detached garages in 1921. Of advertising note was their "new triple folding sliding doors" that took up little space when open with "no chance of doors blowing shut while backing in or out."
Doors that stay open seems like an odd perk when today's garages can be smart, letting us check from anywhere if we forgot to close our door on the way out.
Thirty years after the Sears, Roebuck & Co. catalog was published, attached garages were in fashion. While this was more convenient, it did raise this issue of how to keep garage fumes and dirt from getting in the house. The solution in most cases was simply tacking the addition to the end of the house where service entrances have historically been.
"Modern" 1920s houses featured separate vestibules adjoining the kitchen that would house the family's ice box and eliminate the need for the ice peddler to let in the dirt and cold upon delivery. The same concept applied later in the century. We can see in this 1950s Practical Homes catalog an enclosed porch that provided a barrier to pollutants between the kitchen and the garage. A separate service entrance, now intended for the family's convenience, may also have been part of that passageway or porch. Indeed, Practical Homes touted its Trenton floorplan as being "planned throughout for servantless living, with a thought to maintenance at a maximum of ease."
As time passed, those service entrances and separate vestibules were still part of the home but had transformed into mudrooms. Their location and purpose remained the same – provide a barrier between garage grime and our clean kitchens.
Welcome to the man cave
Perhaps the biggest change in the history of garages is their size. One-car garages became doubles to accommodate the new trend of multi-car families. Then, when DIY became a household hobby in the 50s, we needed a place to store our tools if we didn't have a backyard shed. We started accumulating more belongings thanks to post-World War II economic prosperity. Storage space and adjoining workshops were added to our garages, officially beginning the shift from car park to man cave.
If we go by this 1987 Architectural Designs catalog, another publication selling blueprints, this expanded garage and workspace was something every homeowner would aspire to. The floorplans of some larger homes featured a two-car garage and shop, which actually had more square footage than nearly any other first-floor room.1 Another went the extra step with a double garage, storage space and service porch, all leading to the kitchen through a mudroom.2
Frank preferred a carport
Historically, however, not everyone has been a fan of the garage. Frank Lloyd Wright preferred carports because of his distaste for clutter. Garages, like basements which he also eliminated from his designs, were merely magnets for unnecessary belongings. Beginning in the 1930s, the famous architect advocated for carports for tidiness – with no walls, you can't hide anything – as well as their functionality and the sleek lines of modern architecture.
"Not only did the carport provide protection and storage for the car," it's reported in one
history of the carport
, "but it also served very nicely as a covered main entryway, a place to entertain and do outdoor cooking, a spacious front porch, a shady place on a hot sunny day, and a relaxing place to hang out on a rainy day."
Today, we might no longer talk about the way our garage door folds as homeowners did a century ago. We might be more concerned with
organization
and
how to secure that garage
now that we're storing our tools, holiday decorations or man cave televisions there. It's not often that we think about how our garages have changed over time, but doing so now gives us greater appreciation for how American life has altered as well. For more home history and to help Schlage celebrate its 100th anniversary, visit
Schlage.com/100
.
1 "Large High-Traditional with Two Fireplaces." Architectural Designs, April 1987, p. 22.
2 "Farmhouse Influence." Architectural Designs, April 1987, p. 111.