Leave germs at the curb: Entryway ideas for a healthy home.
By emily.bailey
Architects, designers and other experts have been predicting an increased appreciation for entryways in post-COVID housing. Here are 8 ideas for a healthier home.
When you spend a lot of time at home, you quickly learn what features of your house work for your lifestyle … and which ones don't. Is your open-plan kitchen perfect for simultaneous meal-prep and e-learning with your kids? Do you wish you'd opted for the oversized tub so you could luxuriate in your own at-home spa? For some of us, our homes and lifestyles will never be the same after quarantine.
Architects, designers and other experts have been predicting an increased appreciation for entryways in post-COVID housing. Mudrooms and foyers will be expected to pull extra duty. It won't just be about looking nice and keeping us organized. Our entryways should also reduce the spread of infection. Here are 8 ideas for a healthier home.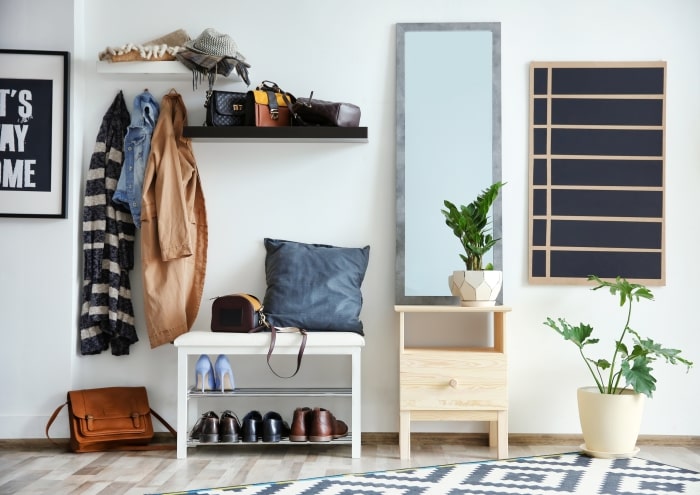 Rethink your point of entry
Where does your family usually enter the house? Does this make sense? Many people begun to change their habits and enter through a side or back door that's closer to a sink. When the need to wash your hands often, especially when you've been outside, an alternate entrance with convenient access to a sink is a good way to keep from introducing dirt, germs and more to the home and your family in the first place. This could be an entry by your kitchen, a powder room or a garage or laundry room with a utility sink.
Close the floorplan
Open floorplans can be ideal for entertaining. But as people began working from home and were surrounded by their partners and kids, some began to crave privacy that just couldn't be found. When family members became sick, having doors to close off areas of the house for quarantining became a necessity. Use this concept for your entryway as well. If you can close off your mudroom where you track in all kinds of dirt and microbes, you can help control its spread.
Create a shoe zone
Some germs, including coronavirus, can live on certain surfaces for several days. That includes clothing. Apartment Therapy suggests creating a "shoe quarantine" area to keep from tracking germs into the rest of the house. If you can leave them outside on a porch or isolated in a mudroom, that's probably best. A coat closet, boot tray just inside your entryway or even a designated square marked off with painter's tape are solid alternatives, too.
Choose touchless technology
When trying to slow the spread of contagions, the fewer things you have to touch, the better. The first thing most of us reach for when we come home in the evenings is a light switch. Consider connecting voice control technology like Amazon Alexa or Google Assistant to your lights instead. For a solution that's a bit more sophisticated than a single "Turn on the lights" command, try "Alexa, I'm home" to trigger a Routine that illuminates your entry, lets you know if you have any messages and, if you have multiple Echo speakers, announces to your family that you've returned, without you having to touch a thing.
Get smart about your locks
A smart lock also fits in the touchless category. Don't dig around in your bag for keys – when was the last time you disinfected those, by the way – or fumble around at the door trying to limit how many things you touch. Use the Schlage Home app to lock or unlock your Schlage Encode™ Smart WiFi Deadbolt and Schlage Sense™ Smart Deadbolt without touching the lock.
And although we hate to even think about it, in the event that someone in your home does get sick, you can give a unique access code to trusted individuals. There's no exchanging keys or having to answer the door in person for a caretaker to drop off groceries or check on you.
Opt for easy-to-clean surfaces
If you have the opportunity for a bigger remodel, include easy-to-clean surfaces in your new entryway. This isn't a new idea. Victorian bathrooms of the 1800s featured heavy curtains and ornate woodwork, which eventually phased out because they were so difficult to sanitize, according to NPR's Short Wave. In its place, we saw white tiled bathrooms. The materials were easy to clean and the color made people actually feel cleaner. Not everything needs to be sterile and wipeable – you still want your home to be comfortable – but choose your materials wisely.
Reduce clutter
No matter what kind of surfaces you have, they won't be easy to clean if they're covered in clutter. Streamline your entryway with just the essentials to make disinfecting quick and simple.
Make cleaning convenient
You might like to have cleaning supplies close at hand when you get home. Consider a basket or cute caddy stocked with disinfecting wipes, hand sanitizer and anything else you might need the minute you walk in the door.
When it comes time to
clean your door hardware
, make sure you take the right steps to keep it looking and working great. Get more tips for coping with COVID-19 or find inspiration for entryway décor at
Schlage.com/blog
.